It's the most wonderful time of the year – you know, the time when you have to buy a gift but have no idea what to get. Don't worry. Your favorite small town (Travelers Rest, of course) has you covered on gifts for everyone.
The Adventurer
SC State Parks – Everyone needs a break from the hustle and the bustle after the holidays. Explore all 47 of our state's beautiful parks for 12 months with the State Park Passport! (Pick yours up at Paris Mountain State Park.)
Sunrift Adventures – Grab some hiking gear or splurge on a kayak from the shop that's been serving the Travelers Rest community for nearly 40 years. 
The Coffee Junkie
Leopard Forest Coffee – A bag of their Farmhouse Roast makes a fantastic hostess gift! Or try the Extreme Dark Roast if you're feeling bold. 
Tandem – We all know about their specialty drinks – made with love and topped with the pretty designs. Grab a gift card and treat someone to a yummy crepe and one of those special coffees. 
The Dapper Dresser
Silver Lily Boutique – Accessories, clothing, and jewelry … oh my! Your best gal will love every eclectic piece from this downtown store! 
Sunrift Adventures – With apparel brands like Columbia, Patagonia, and The North Face – the fashion lover in your life will appreciate a gift that's stylish, practical and comfortable.
Goose Feathers – From your head to your feet, this darling shop has you covered. Unique earrings, cute booties and everything in-between.
Beyond the Threads – At prices you can afford, you'll love the various styles available – plus, add a monogram to make it extra personalized.
The Good-Timer
Copperhead Mountain Distillery – Spend the day learning and tasting the upstate's finest moonshine! Or, skip the tour and opt for a bottle of their peppermint moonshine – perfect gift basket addition! 
FH Cigars – Their humidor is stocked with great brands of cigars for every price point and profile. 
Swamp Rabbit Brewery – A growler of award-winning beer. Name a more practical gift…we'll wait.
The Tasting Room – Visit their "Drink in Advance" board – buy a drink for a friend, write their name on a cork, and hang it on the board. Next time they visit The Tasting Room, they can cash it in. How cool is that? 
The Foodie
Travelers Rest has ample options to choose from when it comes to eating out. Grab a gift card from one of your favorite places, and vow to share a meal with those most important to you. 
Some of our favorites, just to name a few:
The Home Decorator
Patio Flavor – Buy a fancy fire pit for your friend or family member, then invite yourself over for s'mores. It's a win-win kind of gift.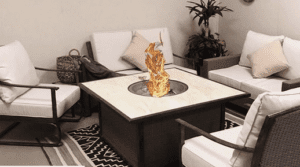 RetroMarketplace – The vintage lover in your life will appreciate any and every piece from this darling store! With everything from antiques to retro clothing, you're bound to find something unique. Looking for something specific? They also offer personal shopping!
TR Mercantile Co. – If Joanna Gaines ever came to Travelers Rest, she'd totally shop here. Ornaments, wreaths, throw pillows and everything in between.
Relax & Pamper
Crystal Valley Day Spa – With seven special holiday packages to choose from, all the hard work of shopping is done. You can even purchase one instantly online – move over Amazon! 
The Glade Salon & Day Spa – Treat someone you love to a massage with Christie and a facial with Alli, and we promise they'll love you back. Plus, Aveda products make great stocking stuffers!
Verb Beauty Studio – Those eyelash extensions everyone's been talking about? Gift them to your favorite girlfriend. Or get them yourself – we won't judge you. 
Stay and Play
Hotel Domestique – Skip out on the accumulation of "stuff" this year, and opt for quality time instead. Enjoy a guided bike ride, a good night's sleep in a luxurious room (with a stellar view), and superior cuisine from their award-winning Restaurant17. 
For the Kids
Travelers Rest Makers Co. – Kids and adults alike are bound to delight in a "Play Date" made for craft time fun! Pick up a Travelers Rest Here hat while you're there!
Other Travelers Rest Spots for Gift Inspiration
Apparel & Gifts
Food
Think gift cards and date nights.