When you step outside, you can feel it right there in front of you.
Breathe it in and breathe it out.
Spring. 
She's been a little reticent this go round, but she's on her way.
We're all over here with our arms open wide and a big grin of welcome on our faces.
Spring in Travelers Rest is a glorious bit of magic.
So many of our favorite local events fire up in the spring.  The TR Town & Art Crawl sets its Friday night fun into motion and the promise of the TR Farmers Market is just around the bend.
This spring we are excited that a new reason to celebrate is coming to Trailblazer Park and we're thrilled to be a media sponsor for this popular event.
April 21 from 10 to 4, Trailblazer Park will be alive and hopping with the Vintage Market at the Park.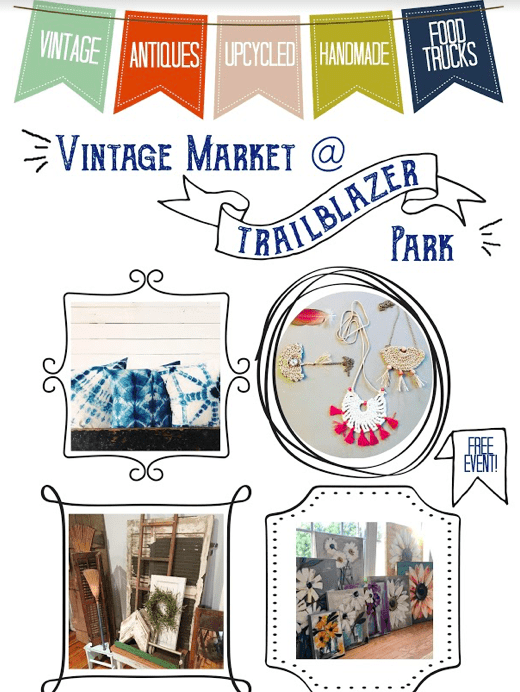 For seven years this bustling and charming market has been taking place, but this is the first year it will be taking place in our front yard at Trailblazer Park.
In 2011 Wanda Garcia saw a dream of hers come to fruition as a small group of 14 vendors hosted over 300 visitors to a private garden in Greer to create the very first Vintage Market.
Wanda says she began her love of all things vintage in the mid 2000's.  "Always a lover of history and vintage anything, I thought – what better way to preserve history and the art of American made goods than to give an item a new practical purpose," Wanda shares.  The movement has officially been dubbed "upcycling", a term you are all probably familiar with now.
At that time, the South hadn't really embraced the idea of upcycling, repurposing vintage wares into new practical items.  But Wanda was seeing the trend embraced elsewhere and was falling in love with the process.  "In the fall of 2010 my daughter and I took a trip to Round Top, Texas to an enormous antiques extravaganza," Wanda says.  "There was so much vintage inspired décor, upcycled goods and wonderful ideas from well known designers and makers that I was totally smitten! The idea of mixing up old and new was different to me. This was more than Country Living magazine, this was a movement and I wanted to be a part of it."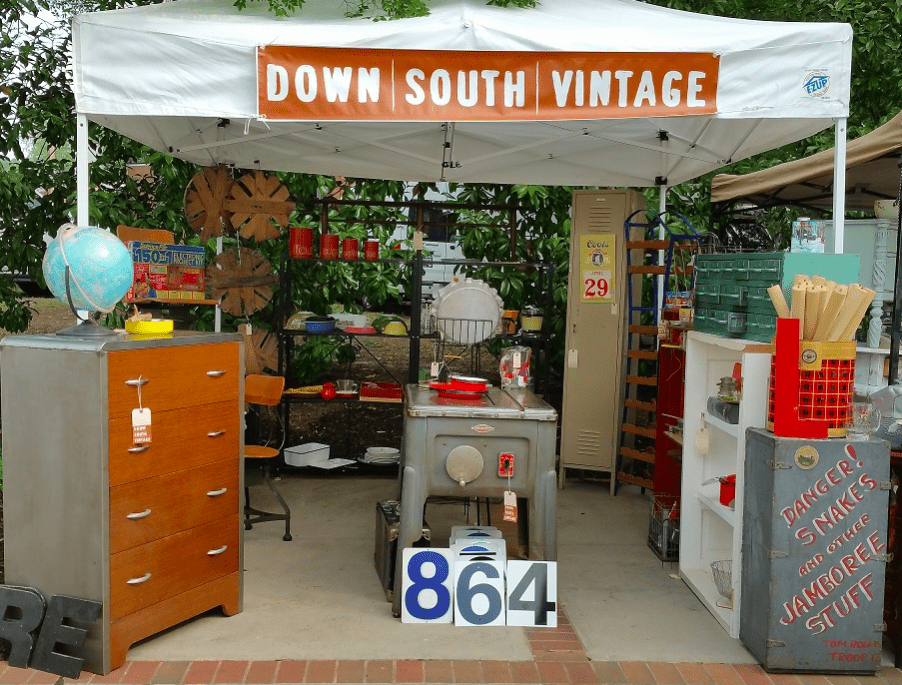 Wanda traveled to Texas once more the following spring and decided that it was time for her to bring the idea to the Upstate.
After her first year's attempt was an initial success, Wanda kept at it the following year, growing the number of vendors and the number of visitors. By 2013 there were over a thousand people attending the market and she began to do two shows each year, one in spring and one in fall.
Last year's spring market welcomed nearly 90 vendors and over 4,000 visitors!
This year Wanda realized that an even larger venue was needed and she says she has had her eye on TR for a while.  "I have several vendor friends who live in TR so it has been on my radar," she says.
The Vintage Market at the Park is a mix of local makers and vintage and antique vendors from the surrounding states of North Carolina, Georgia and Tennessee.  "We've worked very hard to have something for everyone. So we are very excited for the move, as are our 85 vendors!" Wanda says.  Wanda works hard to curate both new vendors and to keep the fan favorites coming back each year too.  This allows guests to be able to find their tried and true favorites that sometimes only do this one market and to also be introduced to new creators and collectors.
Although the event is local to us, the market attracts visitors from all around.  "We've seen visitors from all over the three states and beyond showing up," Wanda says.  The visitors are, of course, as varied as the states and the vendors themselves.  "We have die-hard shopping enthusiasists who tell us they looked for months to find an item that we had in the park to those just out for a fun day with family and friends," Wanda adds.
Included in the gigantic list of vendors and makers are some of our local favorites like our Town Guide members iViva and Local Stature.  Also locals we love like Olive and Gray and Malia's Mark, A Dapper Sandlapper, Modern Forestry and more.  You can find handmade soap and candles, vintage jewelry, upcycled furniture, unique gifts and just about anything you can imagine.  (We'll even be there with our hats, stickers and t-shirts.  You can find us by the Vintage Market's own table.)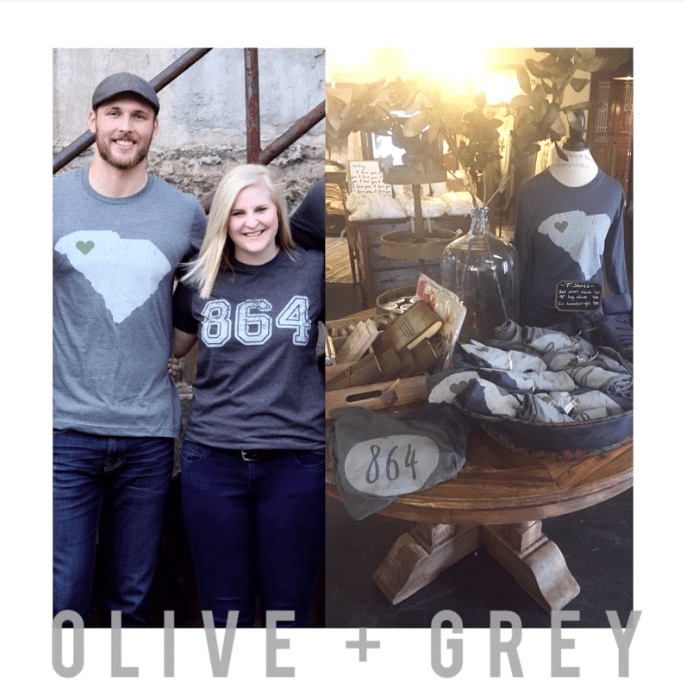 The Vintage Market at the Park is able to offer two feelings simultaneously – a sense of excitement and discovery for just the perfect piece and a leisurely day in the park.  That vibe is exactly what the market strives to produce.  And exactly what most of us love to enjoy on a Saturday in TR.
For lots of visitors, the market has become a yearly favorite tradition and we think after you visit this year at Trailblazer Park, you'll agree.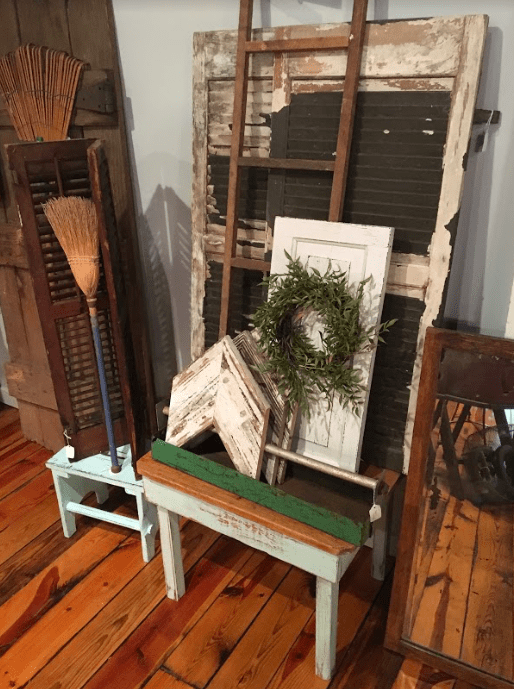 Of course, beyond the vendors for upcycled, repurposed and locally made art, you'll need sustenance for your treasure seeking.  That sustenance will come to you in the form of food trucks – of course a day at Trailblazer Park requires delicious food choices.
The choices include the following options:
Upcountry Provisions
Paradox Coffee
The Chuck Truck
The Gravy Train
Appalachian Smoke
The Chillwagon
Nomadik Few
Crazy Good Kettlecorn
Bootleg Bakery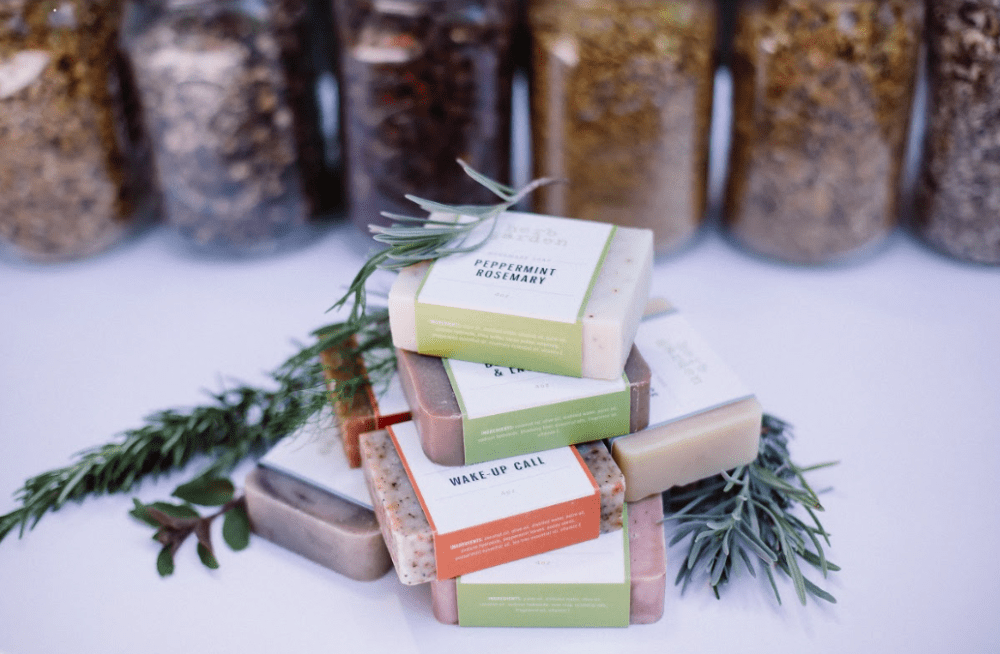 While you're strolling the park and slurping down a shaved ice (try the wedding cake and snow cream flavor, trust us) and some kettle corn, maybe a peanut butter diablo or a sandwich from Upcountry, you can enjoy the music being played at the park too.  Local musician Alex Hunnicut will be performing throughout the day.
It's a good idea to go ahead and jot down the date right now.  To clear your calendar and text your friends.  To set aside that birthday cash you've been hoarding.
We can't wait to see you April 21 at the Vintage Market in the Park at Trailblazer Park!
_________________
Photos provided by Vintage Market at the Park