As if you need an excuse to get outside in the evenings during this run of perfectly beautiful South Carolina weather we've been basking in ….
Just the same, we find it our civic duty (and privilege) to keep you, our beloved readers, informed as to what events and gatherings make this sort of weather even more enjoyable.
Of course you need to add in food.  What food doesn't taste better served up out of doors?  And what atmosphere isn't improved upon by adding twinkling lights?
Oh – and another addition to celebrate both the weekend and the breezy weather?  Music.  Naturally.
Bring along your family and your friends and we've just created for you a pretty hard to beat scenario for a perfectly pleasant weekend gathering.
Groovin' at the Grove, The Grove's fall music and food series, kicks off this Friday night at 6:30 pm with the music of talented Darby Wilcox.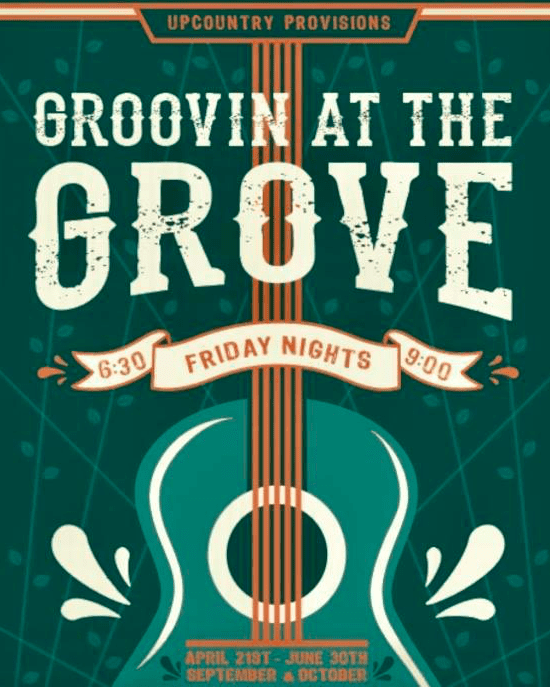 The Grove is located in the heart of downtown TR and it's nestled right in a little grove of trees just off Main Street.
The music is free for the hearing and you can purchase wine and beer at the cash bar inside The Grove.  Feel free to order up a meal or six at Upcountry Provisions and carry it over under the trees.  (It's hard to imagine their peanut butter diablo tasting better than it already does, but we've got an idea that its sweetness can only be improved upon with good music and good company outdoors on a dreamy Friday evening.)
You'll want to bring your own cozy picnic blanket or camp chairs to sit and listen and hang out.
Groovin' at the Grove takes place every Friday night in both September and October and the line up is sounding great.  (We'll have the Friday night concert series listed on our events page so you can know which band is performing each week.)