The main street of Travelers Rest is certainly at its busiest during the weekends or during the traditional 9 to 5 hours.
There are times, however, when your work schedule might not permit you to shop slowly on a weekday or to stroll the streets on a Tuesday afternoon.  And you might just want to stroll.
Last year an idea was born to meet this need – The TR Town & Art Crawl.
This once a month Friday night event is back and it begins May 19!
We are excited to partner with the good folks behind the TR Town & Art Crawl as their media sponsor this year.  (The link runs across the top of our website.)
Maybe it's easiest to imagine the TR Town & Art Crawl like TR's Friday Night Family Date Night.
Businesses stay open later, tents are placed along the Crawl Route featuring local artists and restaurants and businesses.  Participating businesses are offering specials and discounts unique to the Crawl.
There will be six Crawl evenings, always on a Friday night, and each of the six events will highlight and feature a certain theme.
"We want to support the small businesses in TR," says organizer Kristin Laroy who owns TR Makers Co., a sponsor of the Crawl.  That support of small businesses has really been the singular motivation for the entire idea of the Crawl.
This month's TR Town & Art Crawl is focused on Celebrating Mountain Life and Outdoor Adventures.  There will be a bicycle drag race happening too, beginning at Gateway Park. The Village Wrench will be out at the gazebo area showing you how to maintain your bike, talking about the programs to help kids, teens and adults learn how to do their own bike maintenance.  The conference bike which allows eight people to ride at one time will also be in the gazebo area available to ride along the trail!
The bike race is being presented with US SORBA  and is sponsored by Sunrift.  The Dual Slalom Drag Race will begin at Gateway Park at 5:45.  There is a $5 entry fee for the race, with brackets for juniors and men and women.   (The entry fee goes right back into funding the maintenance of bike trails in the Upstate.)  There will be fun prizes available for racers too!
Along the Crawl route in the various shops, you'll be encouraged to pick up a Crawl Card.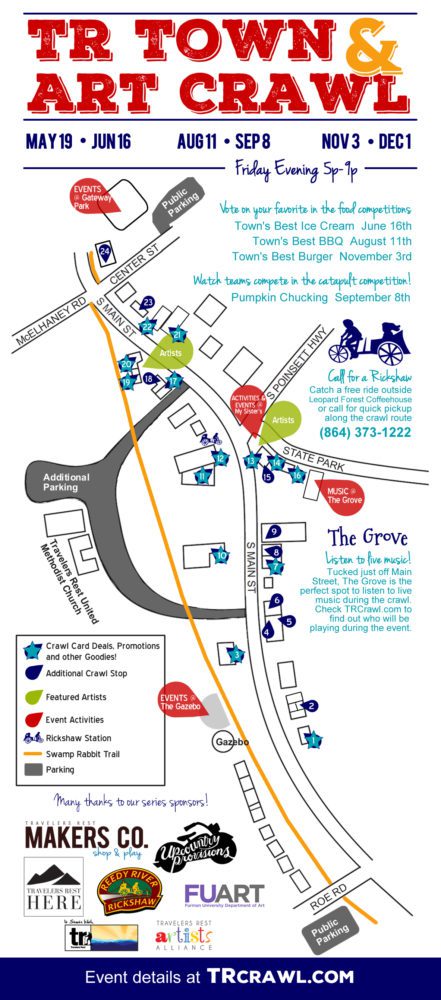 Here's how the Crawl Card works:
Participating businesses are listed on the card with their "deal".  Deals might include discounts, buy one get one free purchases, a free menu item and more.  
When you present your card to the participating business and receive your "deal", you will also receive a sticker for you to place on that business on your Crawl Card.  Don't worry, you aren't expected to use all the deals in one night.
Keep your Crawl Card throughout the season and add your stickers to it as you visit the various shops (even at non-Crawl times).
Whenever you get your Crawl Card completely filled with stickers, turn the Crawl Card in to TR Makers Co.
In November, all of the completed Crawl Cards will be put together and a drawing of one Crawl Card will be made.
The winning Crawl Card owner receives a $100 gift card!  Currently there are over 22 businesses participating, so that's a lot of great deals on one Crawl Card, ya'll.
We all know that Travelers Rest's downtown is just a few blocks long and it's a pleasure to stroll down the street, but – for added fun – this year you have another option other than your two feet if you want to get from one end of TR to the other end.  (Or back to your car.)
Reedy River Rickshaws will be bringing three rickshaws to each Friday night Crawl and offering free rickshaw rides from Leopard Forest Coffee Company to anywhere your heart desires.  (In TR, of course.)  You can call the number provided on your Crawl Card for a rickshaw to pick you up – or meet them in Leopard Forest's parking lot.  (Did you ever think you'd be riding a rickshaw in TR?)
One way you can easily identify which businesses are open after normal hours will be by the these colorful Crawl tassels.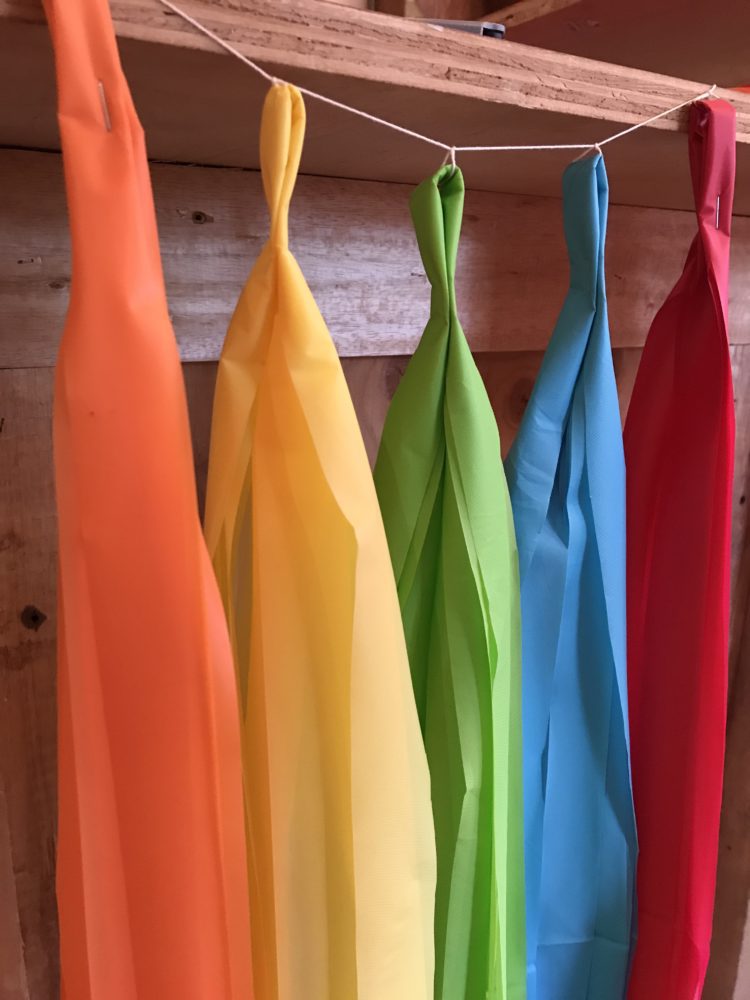 Look for the brightly colored banners hanging from the businesses to alert you to who is open for the evening.  The Crawl takes place from 5 until 9 on Friday night.
We're so pleased too announce the official Crawl Stop list of businesses for 2017!  They will be staying open late and welcoming crawlers during each event. Give them a high five next time you visit!  (And look for the colorful hassle on Friday night when you're strolling downtown.  (Or riding in the back of the rickshaw!)
And, it's becoming the tradition to greet one another on the street on those Friday nights with the anthem of the Crawl – Happy Crawl, Ya'll.