The tassels come out this Friday night, June 16, all along Main Street.
It's time again for the TR Town & Art Crawl from 5 to 9 pm.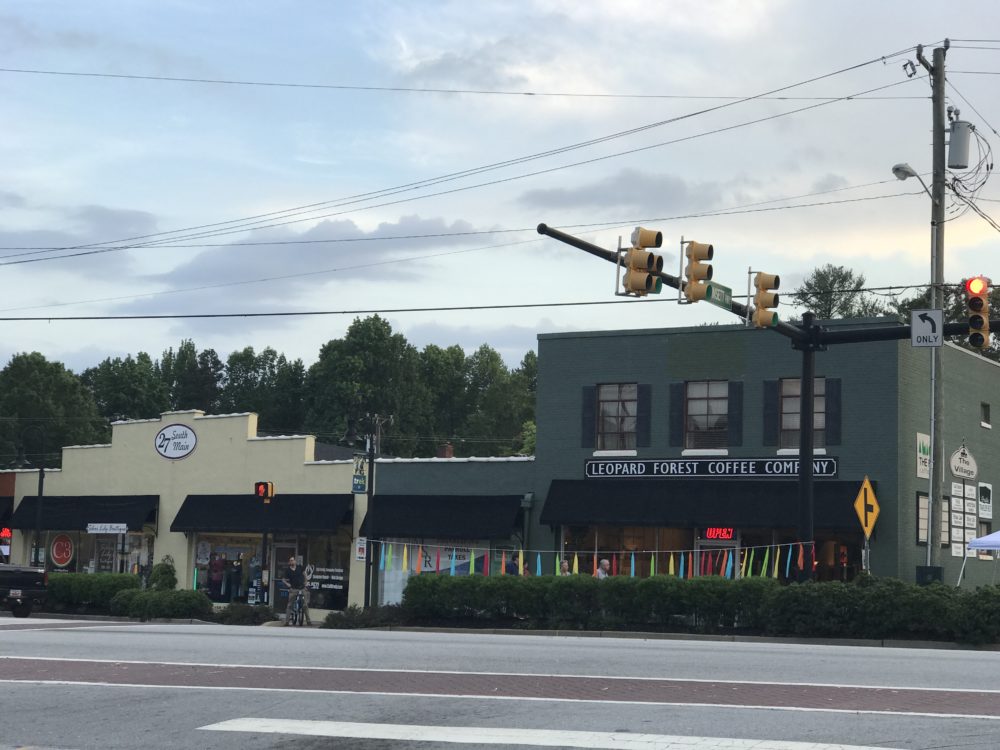 We all are growing increasingly familiar with the heat and the humidity of a southern summer.  This month's crawl has exactly what you need to combat those two h's.
Ice cream!
June's Town & Art Crawl is also the 1st annual Ice Cream Tasting Competition.  (To make the evening even sweeter, the competition benefits our local charitable organization, the North Greenville Food Crisis Ministry.)
Stop at the gazebo on Main Street during the Crawl between 6 to 8 pm and buy an ice cream tasting spoon for $2 and decide who serves up the best ice cream in town.  (We all know who the real winners will be at this event – the ice cream tasters!)  At 8:30 at the gazebo you can find out who wins the title of Best Ice Cream in Town.
Of course, ice cream alone is absolutely a great reason to come downtown on a Friday evening, but bring the kids along because there's more than just the sweet treats available.
June's Crawl also features our own Travelers Rest Fire and Police Departments.  Kids will have the opportunity to touch and to look at the fire and rescue engine as well as the police Humvee.  (These will be parked near My Sister's Store.)  Also in front of My Sister's Store there will be an area for a kid friendly craft and the fine folks with the Swamp Rabbit Tales will be outside, sharing stories and history.
Cross the street and take the kids over to the parking area in front of TR Makers Co. for a face painting too.
The entire Main Street section is filled with the hanging tassels of the more than twenty businesses that are staying open late and offering special deals and events to encourage shoppers to visit along the Crawl.
Don't forget to bring your Crawl Card – or pick up one if you have not done so already.

Here's a reminder of how the Crawl Card works:
Participating businesses are listed on the card with their "deal".  Deals might include discounts, buy one get one free purchases, a free menu item and more.  
When you present your card to the participating business and receive your "deal", you will also receive a sticker for you to place on that business on your Crawl Card.  Don't worry, you aren't expected to use all the deals in one night.
Keep your Crawl Card throughout the season and add your stickers to it as you visit the various shops (even at non-Crawl times).
Whenever you get your Crawl Card completely filled with stickers, turn the Crawl Card in to TR Makers Co.
In November, all of the completed Crawl Cards will be put together and a drawing of one Crawl Card will be made.
The winning Crawl Card owner receives a $100 gift card!  Currently there are over 22 businesses participating, so that's a lot of great deals on one Crawl Card, y'all.
This month music will be featured at both The Grove and at Sidewall Pizza.  Tru South Band will be performing at The Grove and James Tucker will be performing at Sidewall.
While you're at Sidewall, keep an eye out for a sidewalk chalk exhibit and get inspired by seeing what sort of magical art can be created just using simple sidewalk chalk.
Don't forget, ya'll.  You don't even have to wear out the soles of your shoes traipsing up and down our charming Main Street Friday night.  The rickshaw rides are back.  You can easily hail a rickshaw on the street, but if you aren't seeing one of the rickshaws when you most need it, just give them a call at 864-373-1222 and they'll be over in a snap to peddle you along the street.  (Trust us, you don't want to miss this.  It's such a fun little jaunt.)
Up and down Main Street you'll find your favorite TR shops open late with special incentives to stop in and stay a while.  There'll be a wide variety of artists and businesses set up under tents along the street too.
It's the perfect way to spend a Friday night in your favorite small town.
Happy Crawl, y'all.
_______________
Established in August 2016, the Travelers Rest Town & Art Crawl is a grassroots event series highlighting the southern charm of Travelers Rest and bringing together our local business and arts community. The six-event series is held on Friday nights beginning in May and running through December, each event focusing on a different part of Travelers Rest history, community and arts.  For the full event calendar and program guide, visit TRcrawl.com.