What do a band, an entire cow, excellent chefs and Travelers Rest have in common?
A whole lot, actually.
And it all merges together in a familiar place with an unfamiliar name.
Bovinoche.
(If you need a guide, you say it like this — bo-vuh-no-chey.)
Upcountry Provisions is hosting this unique and food-centric event on May 20 from 3:30 to 9 pm at The Grove in Travelers Rest.  The event is sponsored by Spinx and Steve Borklund State Farm.
This year it's Bovinoche IX.  And if you're still wondering what Bovinoche is, we'll help you out a little.  Bovinoche is a food event celebrating fire and meat that has been featured on Food Network, the Cooking Channel, Destination America and the Travel Channel.  It features a whole cow roast around an open fire.  (Plus – on the spits will be pig and fish as well – they've got all your meat needs covered, for certain.)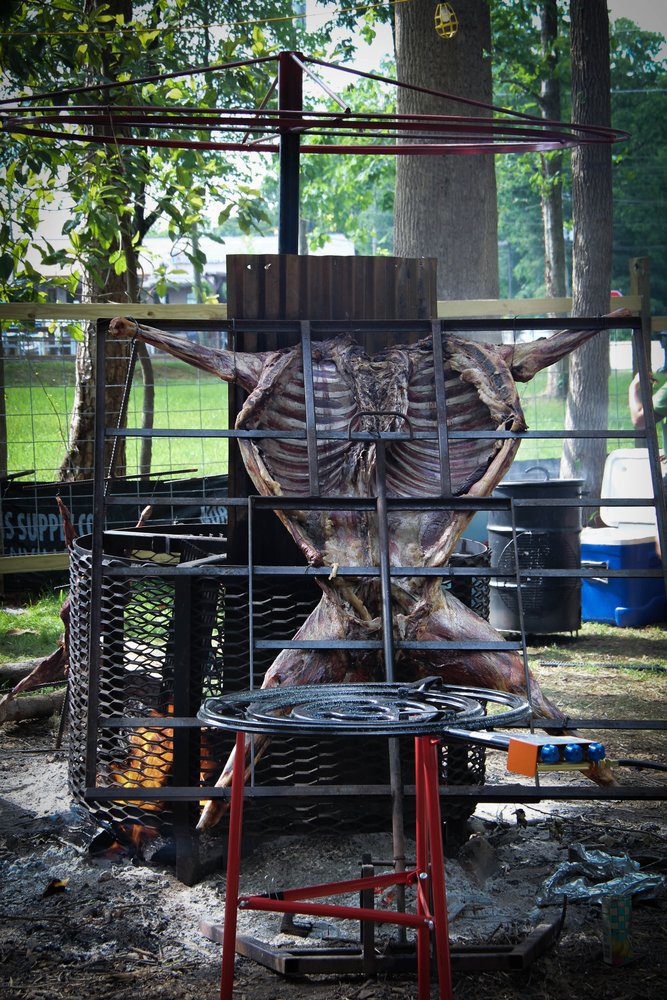 "Bovinoche is unlike other BBQ events because of its international roots, as well as its primal appeal," Stephen Kraus says.
The people prepping and crafting this culinary feast are all a part of the fun and and the collaboration and the celebration as well.  There will be a special appearance by the History Channel's Jason Redick, as well as Chef Steven Goff, Chef Kristian Niemi and Pitmasters Jack Waibor and Jeff Bannister.  Of course Upcountry Provisions' own dynamic duo, husband and wife team Stephen and Cheryl Kraus, will be sharing their impressive skill set as well.
If the food isn't enough to draw you in, and we're pretty sure it is, there will also be bands playing under the canopy of trees and the twinkling lights Saturday night.  TR favorite Tru South will be performing, along with several other bands.  Food, fire and music with your friends – that's about as good as a Saturday night gets.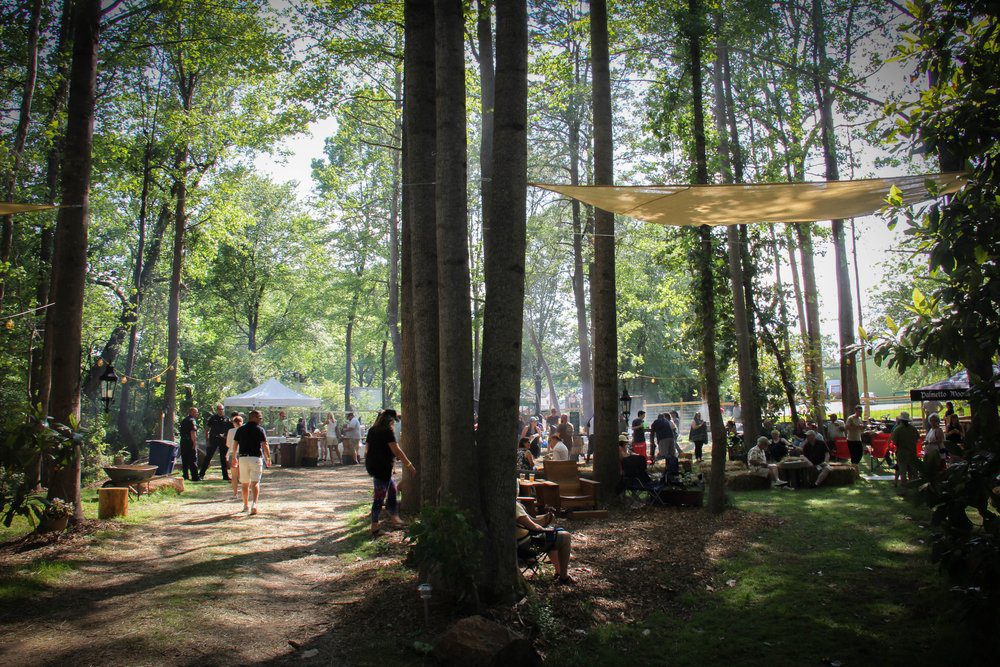 Only 250 tickets will be sold, so you might want to grab up a few tickets for you and your friends while you're thinking about it right now.
"Bovinoche offers our business family a way to step outside the box and enjoy a day spent in the woods with our friends and family," Stephen Kraus shares.
There'll be plenty of other food offered up alongside your beef.  It's a farm to table menu and all the food will be served social-style.  Several other restaurants are collaborating with Upcountry, like Larkins and Roost.  A cash bar will be available, along with cigars for after you eat and are sitting on the hay bales and the logs listening to the bands with your favorite people.  You can even walk away with more than a satisfied stomach and a fond memory.  Purchase one of the Bovinoche t-shirts available that evening before you head home.
"At the core of human beings," Kraus says, "We want to deeply connect with others in our 'tribe'. Nothing connects people better than sharing a meal together, enjoying music together, and having a little bit of fireside conversation. Those are the main pillars of the Bovinoche experience."
Bring your friends, bring your family, bring your blanket, bring your appetite.  We'll see you there!
Tickets for Bovinoche be purchased right here.
______________________
All photos provided by Upcountry Provisions