It's no exaggeration to say that the Travelers Rest Farmers Market is award winning and trend setting.  Each Saturday morning (from 8:30 to noon) at Trailblazer Park you can find a plethora of folks selling and buying local produce, crafts, meats, food, pottery and so much more.  You can listen to bands, do group yoga, sample pralines and coffee, buy a popsicle, let your kids make a craft and meander through the tents and the vendors to fill your grocery bags and your stomachs with all things local and delicious and interesting.
We are thankful to be a market sponsor this year.  At the beginning of each month, tune in here to find out what's in season and who's on stage and what food truck will satisfy your hunger.  Come back often and stay informed.  We're happy to help.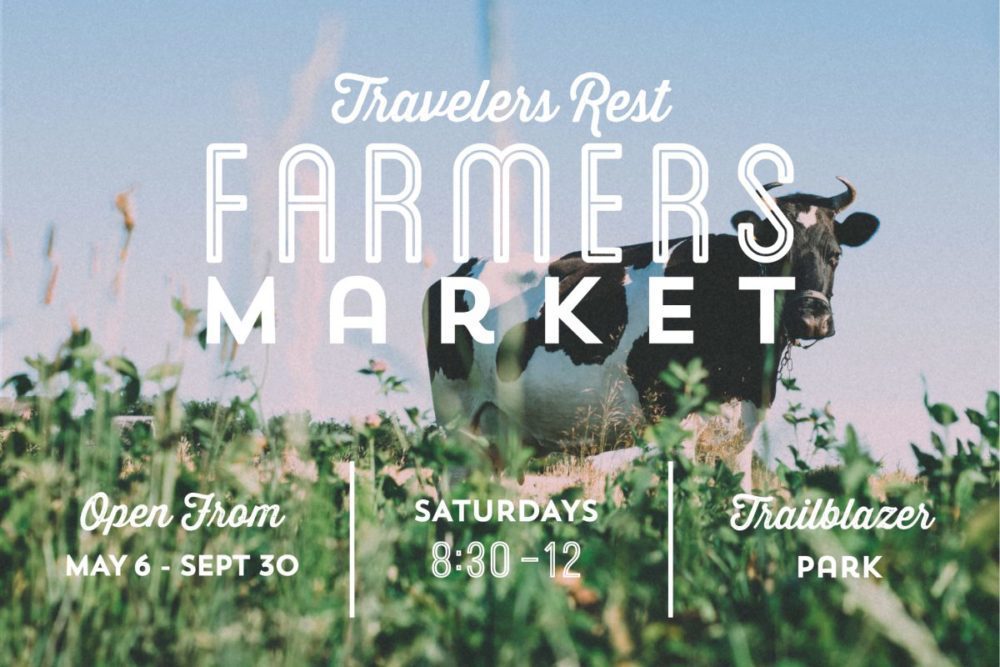 What's in Season This Month
Take advantage of what is growing right now for the freshest options.  And – stock up.  The freezer can be your best friend.  Store the extras in their freshest state.  Trust us, come January when you're feasting on corn on the cob, you'll be thanking us.  Or better yet – invite us over for dinner to share the bounty.  We'll bring the jam.
Blueberries
Cucumbers
Tomatoes
Kale
Lettuce
Onions
Squash
Zucchini
Sweet corn
July's Vendor Spotlight
Some people call her The Salt Lady.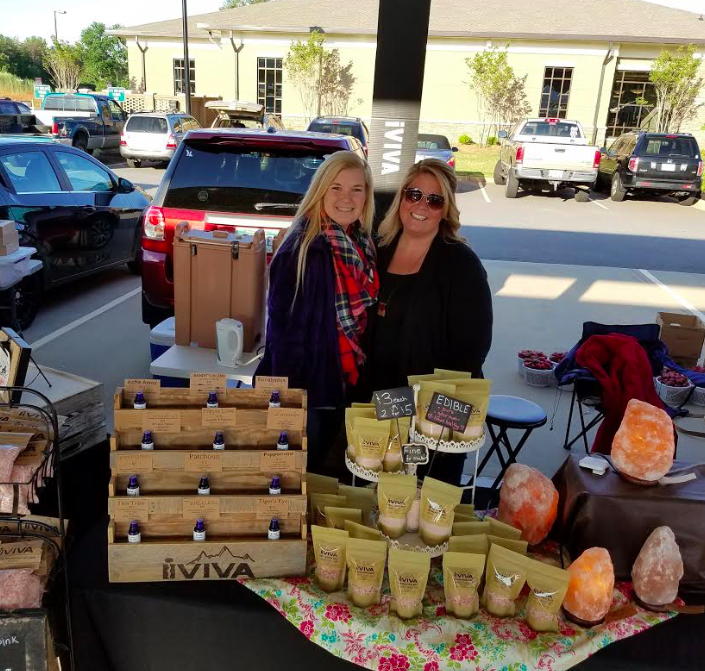 You can find Katie White at the TR Farmers Market each week behind a table filled with, yes, salt, but also with salt lamps and essential oils, salt massage balls (that's for real) and salt shot glasses (also for real).  Katie owns iVIVA and she's well prepared to explain why salt is more than just a seasoning for your french fries.
"As a salt connoisseur and a biased business owner – iVIVA salt is the only salt you need," Katie says.  (Did we mention her salt is also pretty?  It's colorful!)   Katie explains that table salt contains only one mineral – Sodium Chloride.  Sea salt, on the other hand, has ten minerals but is harvested from a polluted ocean source and then processed.   "But iVIVA Himalayan Salt is mined by a compliant mine in Pakistan, purely, unprocessed, and contains 84 minerals and trace elements," Katie tells us.   Those minerals are what gives the salt its unique shades of pink, orange, and coral.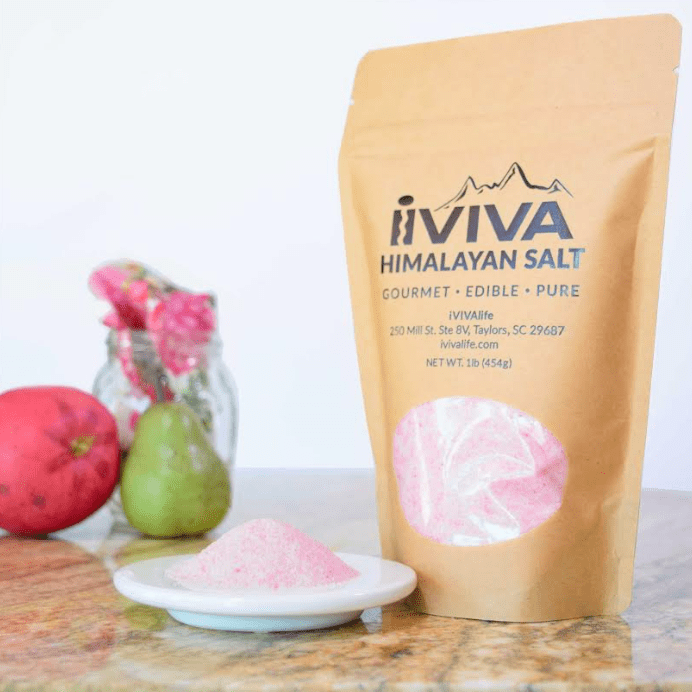 The TR Farmers Market is glad to have Katie and her salt products each week – you can usually find her at the far end, near Leopard Forest and Red Clay Soap.  In her experience selling at various markets, Katie shares that the TR market is full of loyal and friendly shoppers.  "It's wonderful to catch up with my customers and to meet the amazing tourists that come through town too," she says.  Katie has found new customers to be very interested in learning about her salts and she values their kindness as they listen to her explain the benefits of Himalayan salt.
The salt that Katie sells and uses to create her products comes from Pakistan in its raw form.  All of the lamps are handcrafted here from that salt.  "The inspections that are done on my pink salt are intense, through various forms of government, down to my own personal pickiness. Being able to handcraft the lamps is a big deal for me," Katie explains.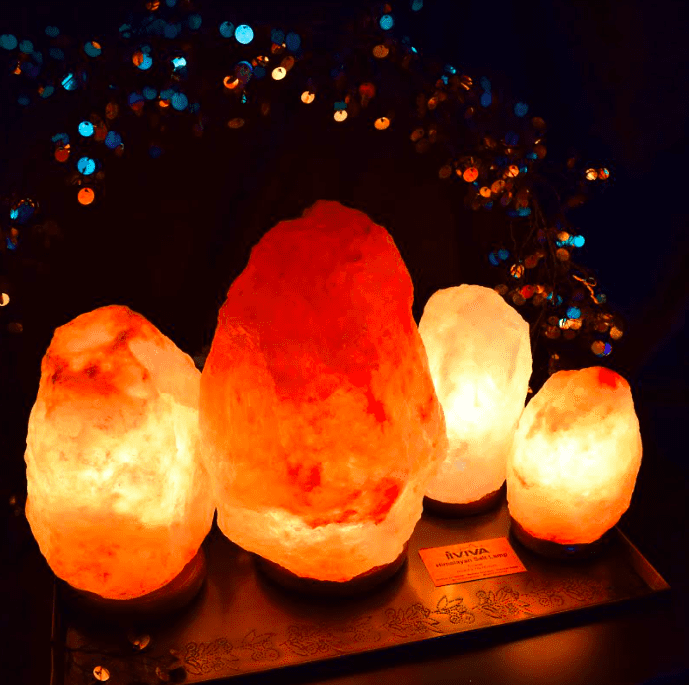 When customers ask what the value of a salt lamp is, Katie explains it this way, "The best analogy I give to people is – think back to the last time you were at the beach and breathing salt air. How were your sinuses? Your allergies? A salt lamp (turned on all the time!) in a confined space is cleaning the air with the negative ions, and it helps with upper respiratory issues like snoring, allergies and sinuses."
You'll often see Katie manning her table with the support of her daughters.  "The Farmers Market is more than just for paying for groceries, gas and necessities. It's being able to use the money I earn to put back into the community. Local means EVERYTHING. Being able to instill buying local to my girls is so important. They see the farmers, the business owners, the makers … they see how much work is put into making products.  It's honestly a lifestyle appreciation. Being at the Farmers Market goes beyond making my business a go, it's infusing life lessons into my girls."
July's Market Schedule
July 1st– Vintage Tractor Show /Kid's Bike Parade
Find out more about the Kid's Bike Parade on their Facebook Page.  There will be prizes for decorated bikes and all of the participating kids will receive free ice cream!  Moms – you can dress like Rosie the Riveter and get into the spirit of the day too.
Market Fitness: Crossfit Trekker
Market Music: Randamonium
Market Kids: Bubble Bonanza with Jeff Cox
Market Fitness: Yoga with Amanda Barbarito
Market Kids: Craft Central
Market Talks: Trees Greenville, Kylie Steckies
Market Cooks: Delicious and Nutritious Food with Ruth Wolfe
Market Fitness: Yoga with Anytime Fitness
Market Music: Brother Oliver
Market Kids: Art with Kristen Coward
Market Talks: Greenville Master Gardeners
Market Fitness: YMCA- Yoga with Abby Garcia
Market Music: Marshal Goers
Market Kids: Fun with Soil & Water Conservation