Spend any time in the coastal South in the colder months of the year, and you will hear it said that months that end in "R" are the time for oyster roasts. If you have ever been to these events, you know they bring good friends together for fresh shellfish, roasted over open heat. This December 1st, Upcountry Provisions' Grove will host its first Holiday Oyster Roast, bringing all the fun of these events to Travelers Rest in a fresh way. We previously highlighted The Grove, Upcountry Provisions' new outdoor event space in the heart of Travelers Rest, that opened this spring.
"The Holiday party is a way to close down the Grove for the year and to celebrate our first year in business," said proprietor Cheryl Kraus. As part of the celebration, award-winning Nashville bluegrass musician Billy Strings will headline the music. "He [Strings] has won the IBMA Bluegrass Instrumentalist of the Year. A lot of people consider him to be a prodigy and that is a big deal and we are excited to have him." There will also be a local bluegrass musician, Matt Fassas, who will open for Strings.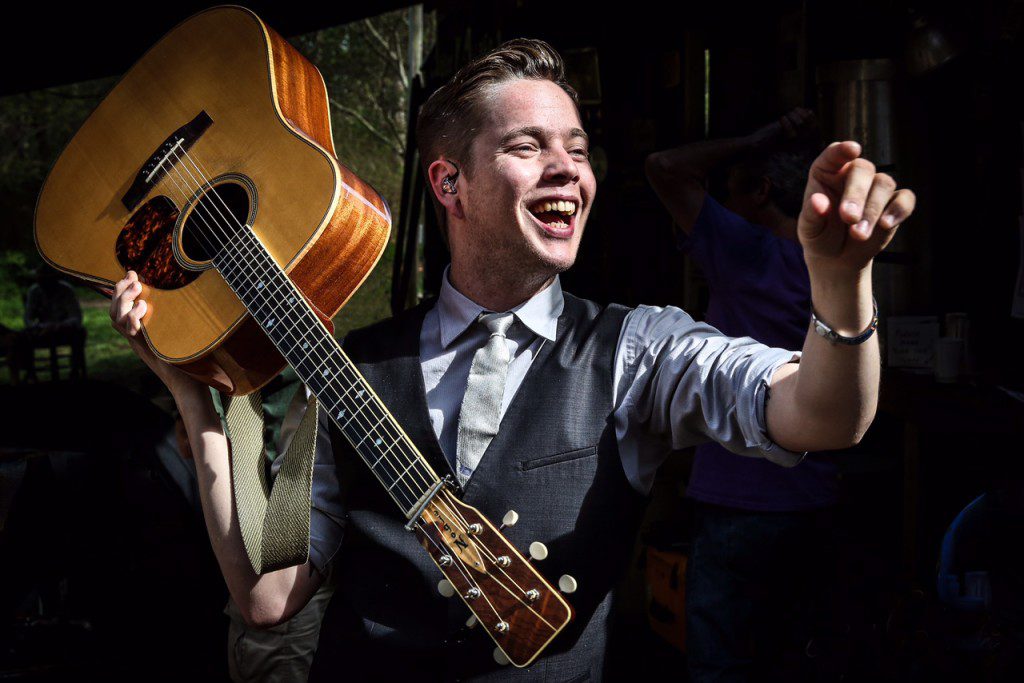 Kraus says, "The menu, in traditional oyster roast style, will have steamed oysters and a sauce bar with some fresh sauces from Chef Greg McPhee from the Anchorage. We will also have a couple of soups to keep people warm and a variety of sliders, and craft beer and a cash bar. And then we are going to have some fun desserts and a s'mores bar. We will have at least four fire pits and blankets."  The oysters will come fresh from the Florida Gulf Coast, while the rest of the food will be crafted and cooked on site for a new way to celebrate in an old fashioned way.
The price for the event is $30 per adult and $15 for children at this family friendly event. Adding to the festive atmosphere, there will be four fire pits, scattered around the Grove.  Feel free to bring your own blankets if the night turns out to be a chilly one.
While the Grove is closing down for the season, it has been a success this year, with events scheduled two or three weekends a month. If, in 2017, you would like to plan an event to be hosted at the Grove, please visit their website. "Our vision for the Grove is to use it in two different ways. We would like to use it as a venue to bring regional acts to town. Also, we want to use it as a wedding and event space," says Kraus.
Also, Upcountry Provisions would like to open this event up to sponsors and volunteers from local civic groups. If interested in promoting your local group, contact Cheryl at info@upcountryprovisions.com.
So if a cozy, campfire early evening with Christmas decorations hung with care and a fresh take on traditional Southern favorites lights your interests, register early for this first of its kind event here: Upcountry Provisions Holiday Oyster Roast, or pay at the door the day of the event. It promises to be one of the highlights of the Christmas season in the heart of Travelers Rest.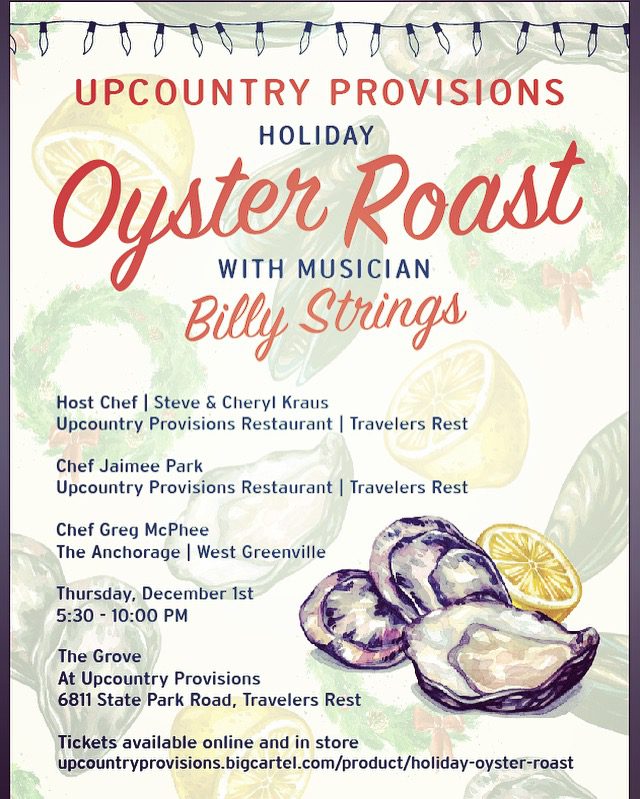 ---
Notes
Writer: Jason Greer
Editor: Lacey Keigley
Disclosure: This is a post sponsored by Upcountry Provisions Bakery and Bistro.
---