Travelers Rest isn't just a peaceful name on the map to us.
It isn't just a spot to get a delicious sandwich or to enjoy a slice of pizza or to order up a half dozen tacos.
It's not just a trail and it's not only a Friday night date option.
It's home.
It's community.
It's people and businesses and friends we love and value and want the best for.
Our goal at Travelers Rest Here has been simple and straightforward from day one.
We share the stories of the people and the places of TR.
We do this with the hope of shining the light on folks that might otherwise go unnoticed.  We do this through uplifting our community with good content and a positive message.
And right now we have an opportunity to do this through art.
Through a mural, in fact.
Through THIS mural.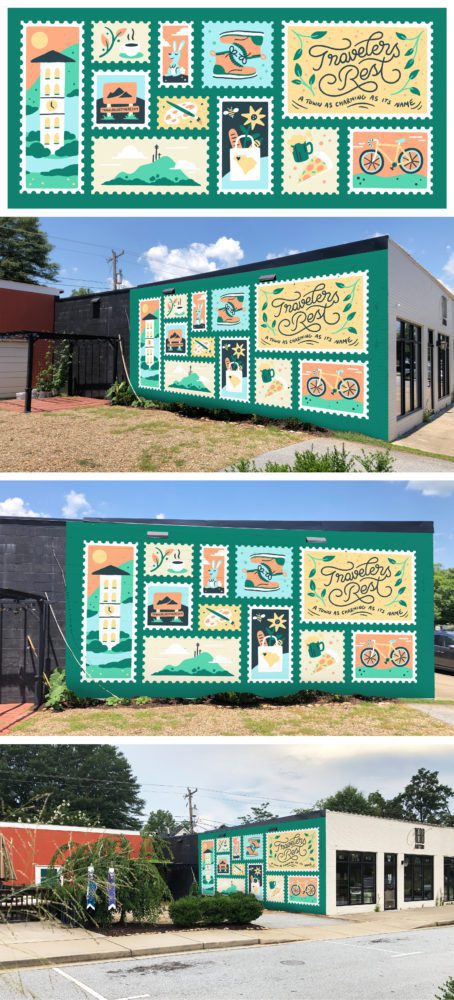 Like all great ideas, there's a birthing process and it doesn't happen alone.
This idea was born a year ago, at least.
What began as a conversation about a map of Travelers Rest with two local artists I met at Tandem turned into one map and a mural.
But that's getting ahead of ourselves.
After meeting husband and wife artists Jesse and Carissa Bowser several years ago and seeing their work online and in person, we fell in love with their style.  (Not to mention just genuinely enjoying them as fellow humans.)  Carissa paints incredible landscape art and freelances. You can see her work at TR Makers Co.  Jesse creates and designs with the team at Brains on Fire and freelances as well.  (You can see some of his design work on diapers at Wal-Mart through Hello Bello – they're adorable.)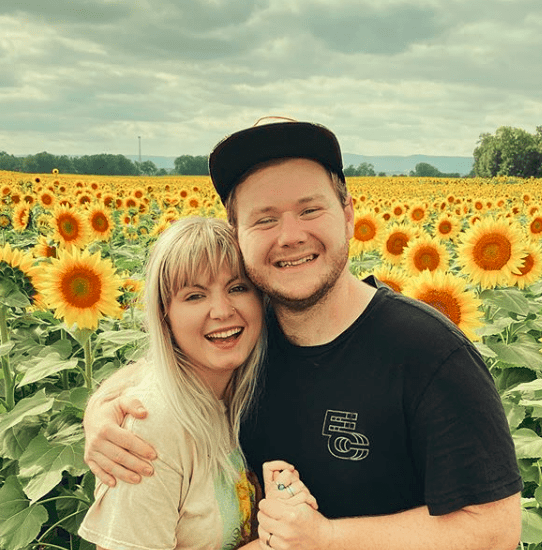 The three of us met together here and there over coffee and tea and talked ideas.
That was the genesis of the Travelers Rest map.  (We adore the way it turned out. And apparently y'all did too because we're in our second printing! THANK YOU.  You can purchase your own map through us for bulk orders or at TR Makers Co.)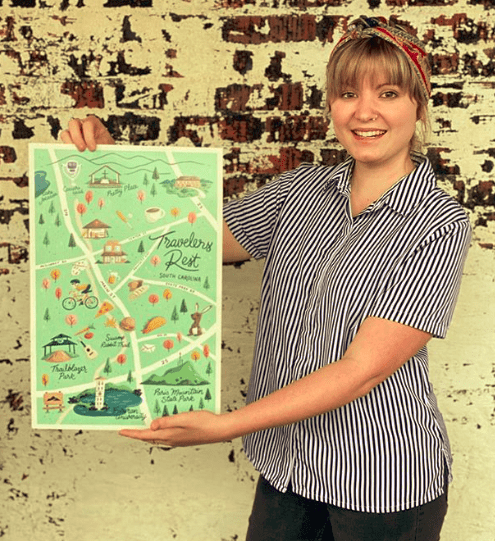 After the map was completed (and the postcards too – find those in bulk orders through us or at Swamp Rabbit Tees) we kept kicking around other ideas for working together.
One of those ideas you can see right here on our website. Those fantastic little icons on the Town Guide page? That's their handiwork.  The cute little TRH logo at the bottom of the page? Yep, them again.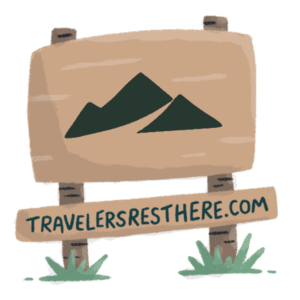 The next step of the journey from idea to mural came a little later.
While having coffee with Clint Keels and discussing life and stories and writing for the website, Clint mentioned how much his wife Koula loved her map print.  He said, "Wouldn't that make a great mural? I'd love to see that."
And the proverbial lightbulb went off.
We'd like to see that too!
Enter another conversation about gigantic art.  Add in a conversation that took place while getting those wispy long eyelash extensions with Ashley over at Verb Beauty Studio.  "We'd love a mural on the wall of our building one day," she says.
Light bulbs flashing left and right!
And of course, another conversation with the building's owner who was gung ho from the get go.
Back to the drawing table with Jesse and Carissa.
Originally we all thought we'd use the original map print as the guide and have that be the mural.  We all loved the idea and the art, but the building's shape just didn't lend itself to that idea.
"Let us have a little time," Jesse said. "We'll come back with an idea."
And they did!
I received it as an email at first.
I probably squealed and showed it right away to my kids – my favorite audience and sounding board.
And THAT's the long winded story of how a chance meeting turned into a map and a mural.
Now here we are, design in hand, wall in place and ready to add a unique and original work of art to the landscape of Travelers Rest.
We've got the wall.
We've got the artists.
We've got the design.
And now we need the funds to help make this project happen.
We love the idea of financially sourcing this mural through the people who love TR most – our readers!
(And, full disclosure, even the idea of crowd funding this project came from a conversation.)
We literally NEED y'all.  We're so thankful for our readers and followers and community.  There'd be no Travelers Rest Here without you!
And, there will be no community art mural without you either!
We'll all get to enjoy the beauty of this mural together for years to come.
We want to be able to offer our artists a living wage to do their work.
Here's what we're asking:
Every tiny bit helps. That's not just words – it's true!  TR has a population of over 5,000 people.  (And a fan base of a whole lot more.)  If every resident of TR donated only $1 – we'd fund this easily.
So don't worry if you've only got a $20 bill for this project.  We'd be honored to partner with you and allow your $20 to bring beauty and art to our Main Street.
Donate $100 – We'll gift you Carissa & Jesse's beautiful 11×17 map of TR print.
Donate $200  – We'll gift you an 11×17 print of the mural to hang in your own home.
Donate $500 – We'll print your name or business at the bottom of the mural!
You can donate right here at Go Fund Me!
Click away and share this post as generously as you share smiles and good vibes to the people you love.
Thank you!
(And you can guarantee we'll share the entire journey of this project with y'all!)