Photos & Story by Dave McAda
Recently, I provided details on our trip to Brasstown Falls in Oconee County.  Since we were in the area, it made sense to pull into Chau Ram County Park located on US 76 and explore it as well.
If you have family members with limited mobility, but still like to show them waterfalls, this one is for you. 
After paying our $3 vehicle entry fee we proceeded into the park, past the park offices and took a sharp right down a short, paved road to a parking lot right next to the waterfall.  It was well marked with signage.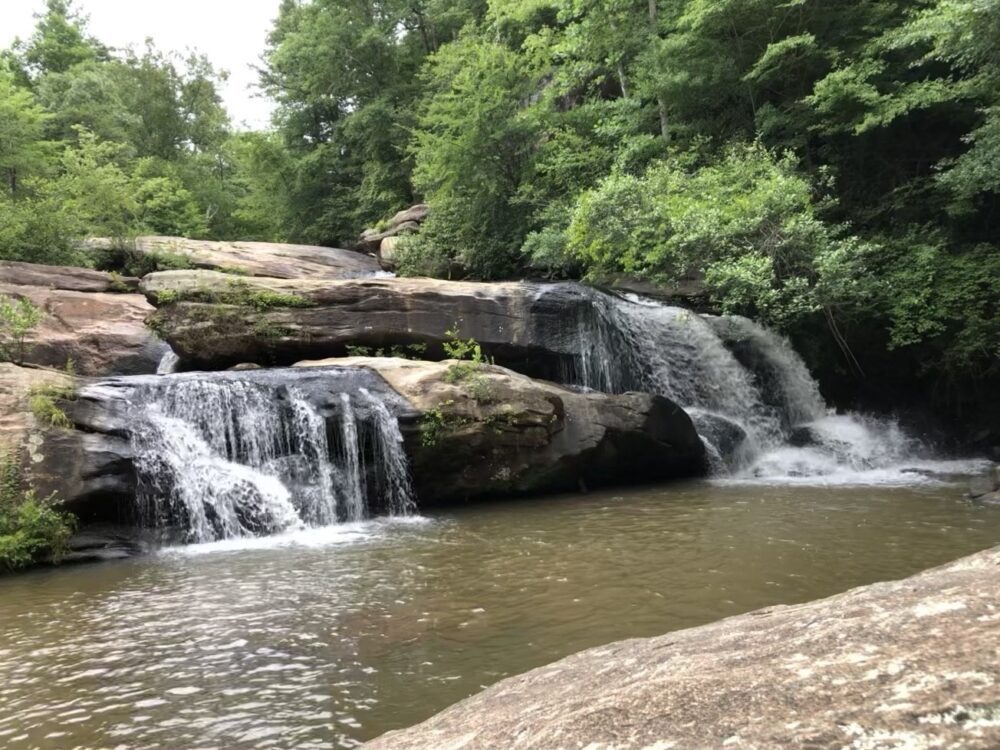 Chau Ram Falls consists of mostly large boulders on the Ramsey Creek with a 40 ft waterfall working its way around the rocks.  The creek makes a sharp turn just after the waterfall which allows you to get extremely close to the water.  It was a great spot to sit, soak up the warmth of the rock, and listen to the roar of the water.  
But there is a lot more to do in this park than just sit at the base of a waterfall.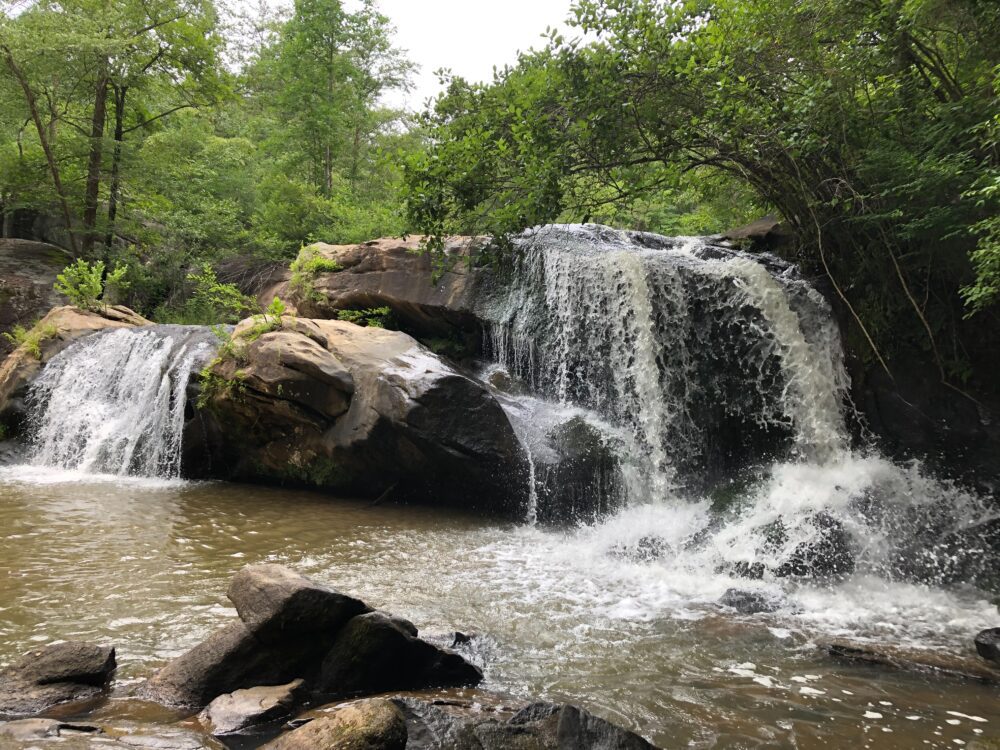 From the lower parking lot you can cross a foot bridge across Ramsey Creek and follow the path to the Chauga River.  (And now you understand why it is named Chau Ram Park.)  A 160 ft. suspension bridge leads pedestrians over the river to at least three color-coded loop trails.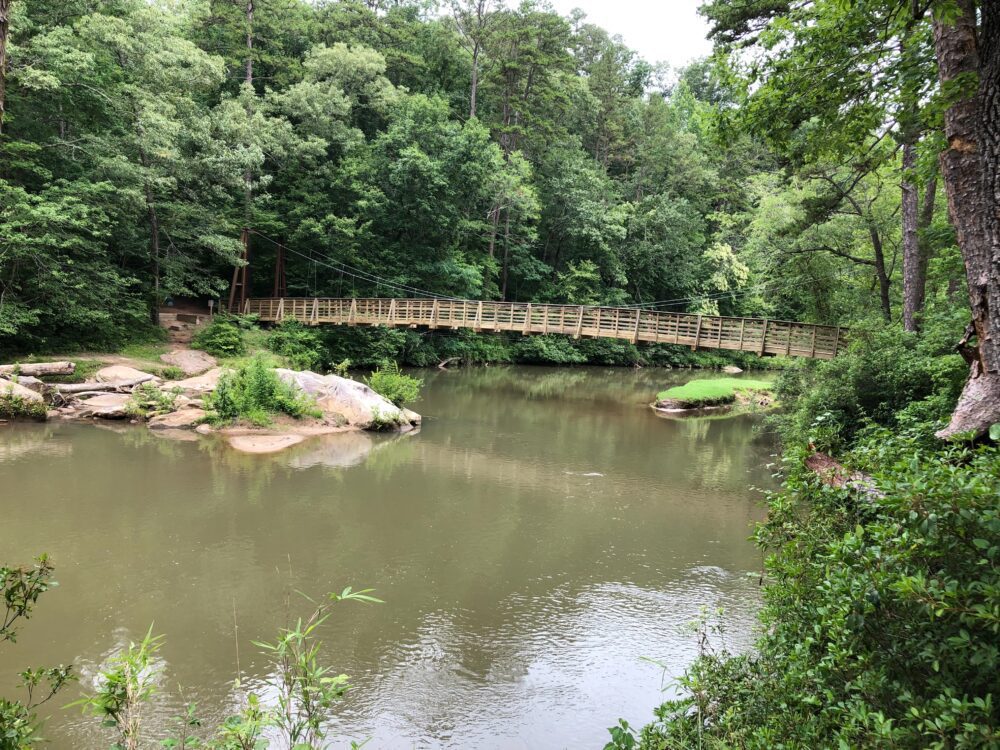 On this particular day we actually took two of the trails part ways so we could get close to some rapids on the Chauga River.  They were both very level trails but with the usual roots and rocks to watch for.  Downstream, on the orange trail, we kept getting tempted by small paths we thought would lead us to the water but they didn't offer great views.  By staying on the real trail we were eventually treated to a great area with large boulders and fast water.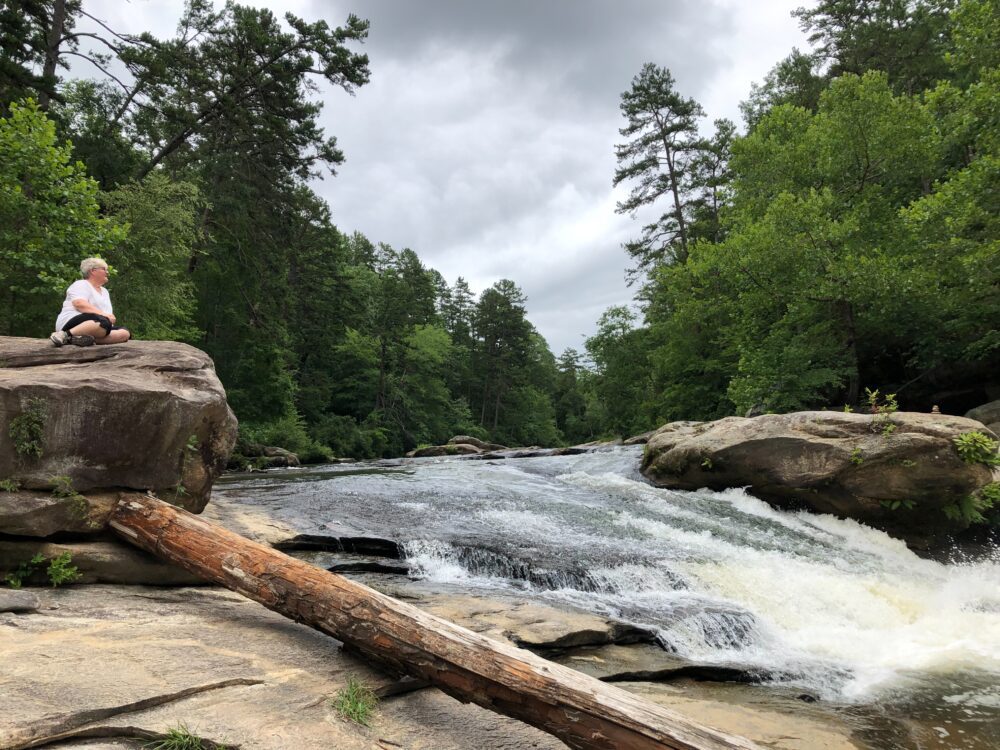 Upstream, on the blue loop, we watched three tubers put in along the bank and they were quickly out of sight with the river's current.
Want to play in the river but forgot your life jacket?  There is a kiosk with complimentary life jackets in various sizes you can borrow to enjoy the cool water. 
Want to play disc golf?  They've got you covered for that.   There is a playground as well.
In fact, with all the amenities you may want to spend the night.  There happen to be 26 campsites with water and electricity.  The park offices, retail store, and main restroom facilities are very modern.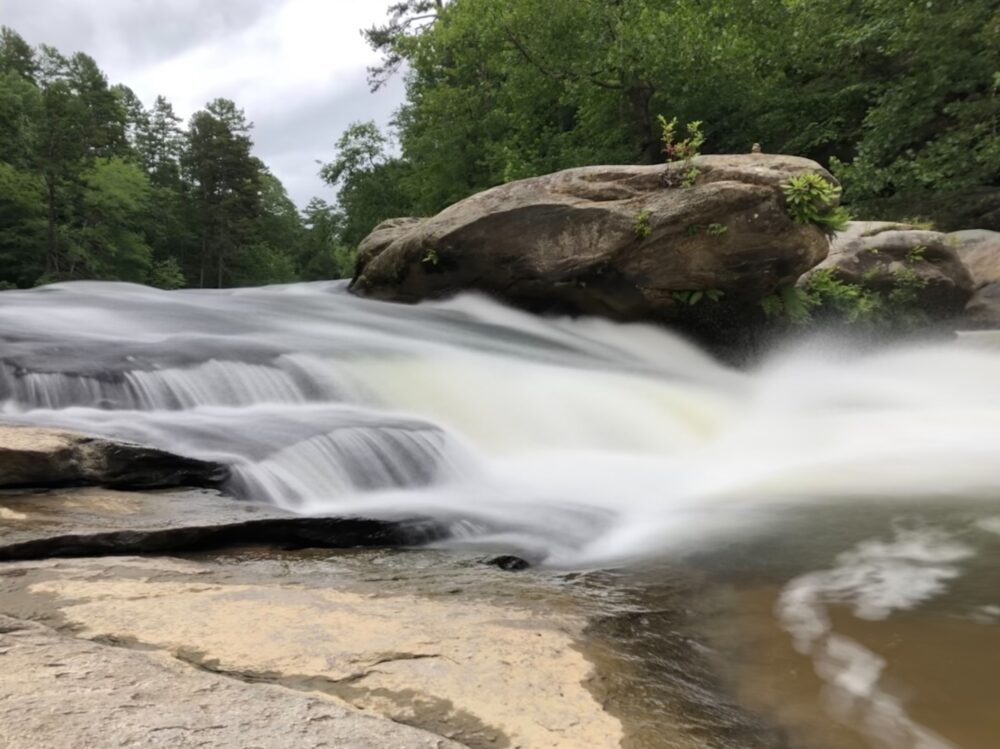 There are numerous other waterfalls in this general area of Oconee County, so feel free to explore outside of the park as well. 
Nearby, Westminster is a cute little town with some beautiful murals in the downtown area along the railroad tracks, or just drive some of the streets to enjoy the huge homes built long ago.  This area, especially near Long Creek, offers some great apple orchards as well when the season is right.
Basically you can make it a day trip or an extended stay depending on what you are needing.