Want to get hold of a collection of recipes that can be passed down through the generations?  Want to contribute to that collection?  Want to help the people that may put food on your table one day? To quote Dr. Suess, "The time has come, the time is now!"  The Travelers Rest High School FFA, Future Farmers of America, is sponsoring a cookbook that promises to be a keeper.
Elizabeth Canupp is the agriculture teacher at TR High.  "In June of this year the new officer team went to state convention on the campus of Clemson University. They were apprehensive about what this would entail and were worried they would be bored and uninspired. They sat through general sessions recognizing outstanding chapters from all over the state for winning competitions and hosting great events and helping their community," Elizabeth says with a great deal of pride. They also attended a workshop with national FFA Officer, DeShawn Blanding, who is from Manning, SC.
"Turns out they were incredibly inspired by the state convention. On the bus back from Clemson they were already creating goals and making plans for the upcoming school year. As a second year teacher, to hear this coming from my students, I was almost in tears driving down the road. Before we got off the bus the officer team informed me that they wanted to go to the National FFA Convention in Indianapolis, Indiana. They wanted to see what students were doing in other parts of the nation; to figure out how to improve our chapter even more. They wanted to really plan for the future and leave a legacy behind. I told them if they could raise the funds to get us there ($4500+ for 5 students and 3 chaperones) I would take them, as long as Mr. Lavely (principal of TR High) approved the trip."
Lou Lavely was extremely supportive and further conversations led to the idea of raising money for the trip with a cookbook. "Everyone has wonderful memories revolving around food and we want to highlight that and the impact that agriculture has in our lives whether we realize it or not," says Canupp.
Farming is not what it used to be. "Most people think of FFA as 'cows, plows and sows' but FFA today is so much more than that. It is not about getting youth to go back to work directly on the farm as it was when FFA was founded with 33 male students in 1928. Today, FFA is about giving every student the opportunities to build premier leadership, personal growth and career success through agricultural education. There are many other opportunities in agriculture today besides just going onto a conventional farm there are opportunities in robotics and engineering, education, environmental and natural resources, research and so much more."  Canupp is clearly thrilled with the future FFA presents her students.
Her students are just as enthusiastic.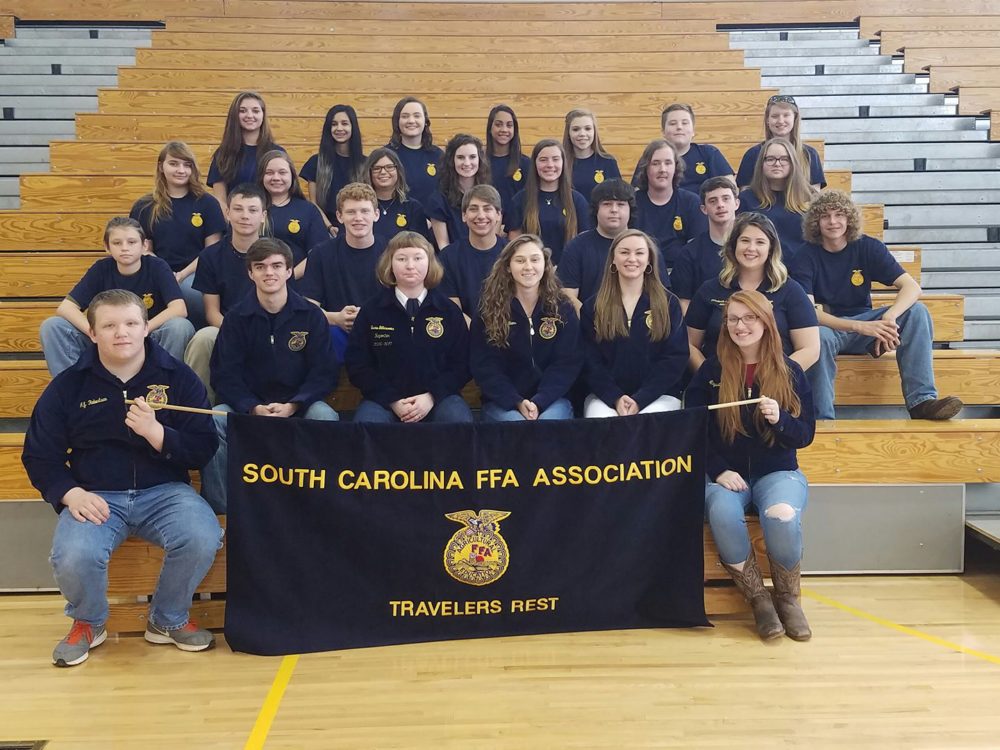 Hunter Capps is the President of FFA.  He's thought about continuing with FFA after high school on a state or national level, or working as a car mechanic, a childhood dream.  "My favorite part about being in FFA," he says, "is the sense of feeling at home. Our chapter is like my second home."  Hunter has brought family recipes to the cookbook. He hopes that the cookbook will raise enough money to send the officers to National Convention.
Richelle Crabbe is the FFA vice president.  She plans to attend college, maybe Clemson, for something agriculturally or environmentally related.  She has been inspired by her older sister who graduates from Clemson in December. "My favorite has to be the community that FFA creates. It creates this huge support system for its members and brings such different people together," she says.  Richelle added a recipe to the cookbook for "Pfeffernüsse/Pfeffernusse, which is a cookie that is popular in Germany and other European countries. They are basically gingerbread cookies if you added more spice, made them into little balls, and covered them with powdered sugar."
Anessa Audette, FFA Reporter, plans to major in nutrition sciences in college with a minor in writing.  She plans to serve as a dietitian for low income families and, as a sideline, write young adult novels.  "I love that FFA is so inclusive and community based," she says. "Students from all backgrounds can find their niche in FFA and connect with others from all over the nation."  Anessa loves the recipe for fish tacos paired with mango salsa.  "I like how the bright, sweet mango interacts with the savory fish, and I recommend using the ripest mangoes as they will be the sweetest and pair the best."
Branon Biggerstaff, the sentinel for FFA, hopes to be an agricultural educator or engineer.  "What I like best about being in FFA," he tells me, "is all the opportunities that are presented and all the friends that we meet along the way."  Brannon's favorite recipe in the cookbook is "squirrel and dumplings."  He plans to help with the cookbook in order to support the FFA.
So, this is where you, our readers, come in.
According to Ms. Canupp, "Travelers Rest is such a unique and amazing community and we have received such great community support we decided we wanted to include not only our students and their families but also the community that loves and supports our chapter. We are hoping to get some great family recipes that can be passed down through the generations with this cookbook. We are also hoping that local businesses will also submit recipes to be included in the book. All recipes will be credited to the person who submitted them and there will be an index in the back where you can look up your name and see what pages your recipes are featured on and also look for your friends' and family's recipes as well.  The cookbook will contain over 200 awesome recipes."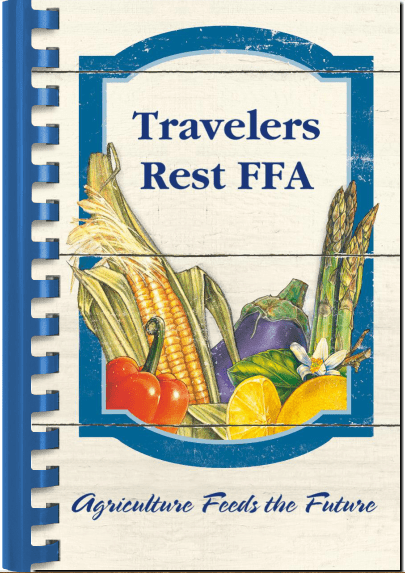 Submissions will be accepted until Sept. 7, 2017.  There will be print and online versions, hopefully available by the first or second week of October to be sold at the TR Fall Farmers Market.
The recipes are already coming in. "We have everything from (Swamp) Rabbit Stew and Fried Frog Legs to canning, cobbler and casseroles," says Canupp.
This is your opportunity to help the kids that may be responsible for not only growing your food source in the future, but engineering it through modern technology.
Send those recipes in. If you'd like to submit a recipe simply visit  typensave.com  (Login: egcanupp Password: cheese309) or contact Elizabeth Canupp at egcanupp@greenville.k12.sc.us.
__________________________________
FFA officers and other members featured in the photograph:
President – Hunter Capps
Vice President – Richelle Crabbe
Secretary – Erica Green,
Reporter – Anessa Audette,
Sentinel -  Branon Biggerstaff
Photos compliments of Elizabeth Canupp