Photos & Story by Dave McAda
My wife and I were enjoying the views from Bald Rock recently when we struck up a conversation with two couples visiting our area from California.  It was our obligation, and privilege, to begin a litany of all the great places to see in the area.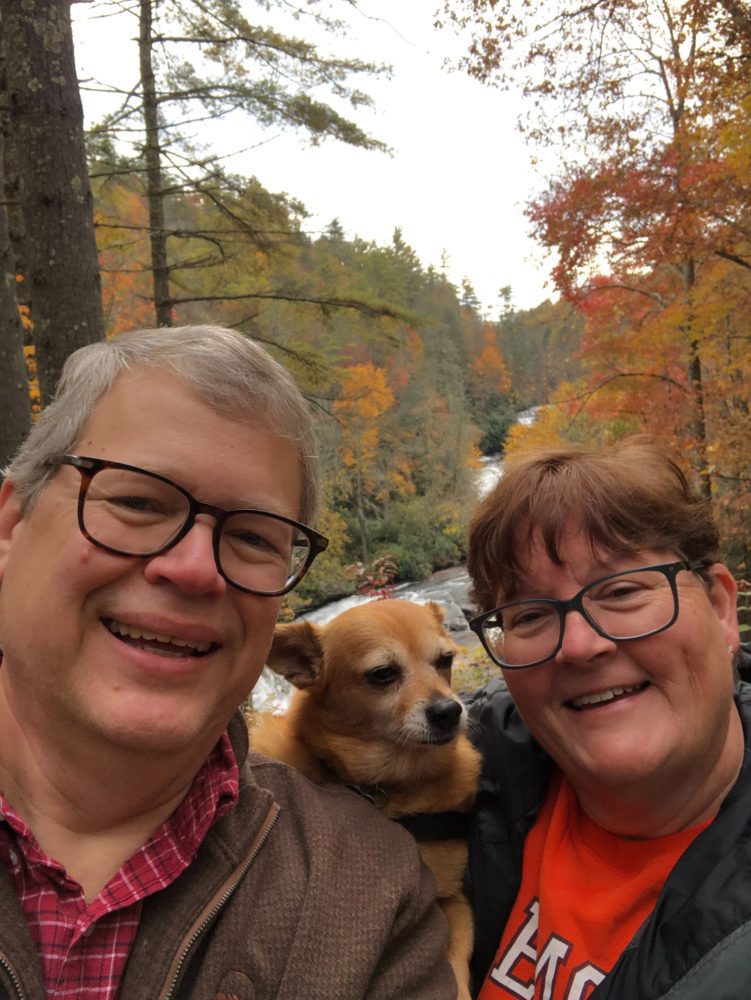 We started with Travelers Rest and, of course, had to recommend the Lumberjack crepe and a latte or fresh orange juice at Tandem Creperie.  Our next "don't miss" was DuPont State Recreational Forest just across the state line.  
DuPont State Recreational Forest is comprised of more than 12,500 acres and has over 86 miles of trails of mixed uses (hiking, horseback, and mountain bikes).  There is no admission fee and leashed pets are welcome on trails.  On our most recent visit, there was an unusually high amount of dog feces on the trails.  We found this to be very disappointing and urge anyone with a pet to not only "scoop the poop" but to make sure that bag finds its way into a trashcan.  #LeaveNoTrace and #LeaveItBetterThanYouFoundIt
Our go-to trail in DuPont Forest is the High Falls Loop and Triple Falls Trail.  Combined, these two trails are about 2.2 miles roundtrip from the High Falls Visitor Center parking lot.  It's best if you get there early, or on a weekday, as the parking lot can fill up quickly.  There are restroom facilities here, so listen to your mom and go before you start hiking!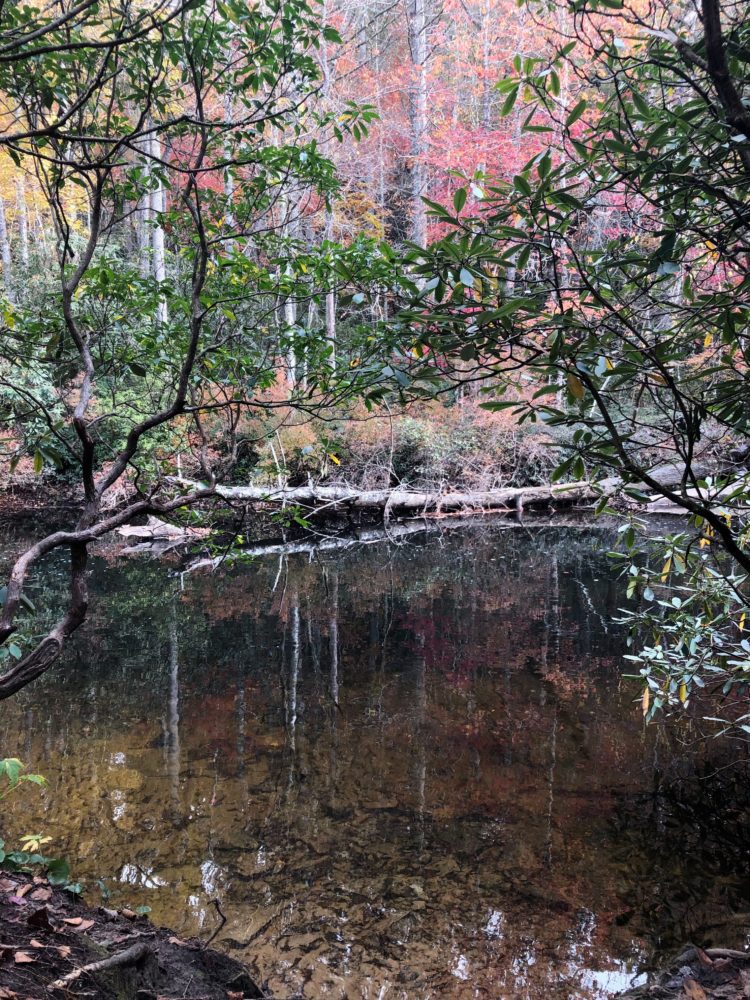 Follow the signs for High Falls or the High Falls Loop starting out from the parking lot.  The trail curves through a lovely canopy of hardwoods.
Once it splits, we typically avoid the trail that goes up to the covered bridge.  It's pretty, and worth seeing once, but it's at the TOP of High Falls and if you are going to see a waterfall you typically do not want to view it from the top. (Full disclosure: there are other waterfalls beyond the covered bridge not covered in this summary.)   Instead, we follow signs for High Falls but we always go to the picnic shelter that overlooks this 125ft waterfall first.  We've rarely had to share this viewpoint with anyone else and it's a great place for a break or even a picnic.  Once done, no back tracking is necessary as a path from the shelter joins the main hiking trail a few feet below and offers another great view of High Falls.  Continue downstream from there.  Soon you will have the option of turning right to go to the base of High Falls.  This is great during the summer as you are likely to feel the cool mist, but be careful of the river's current and slippery rocks.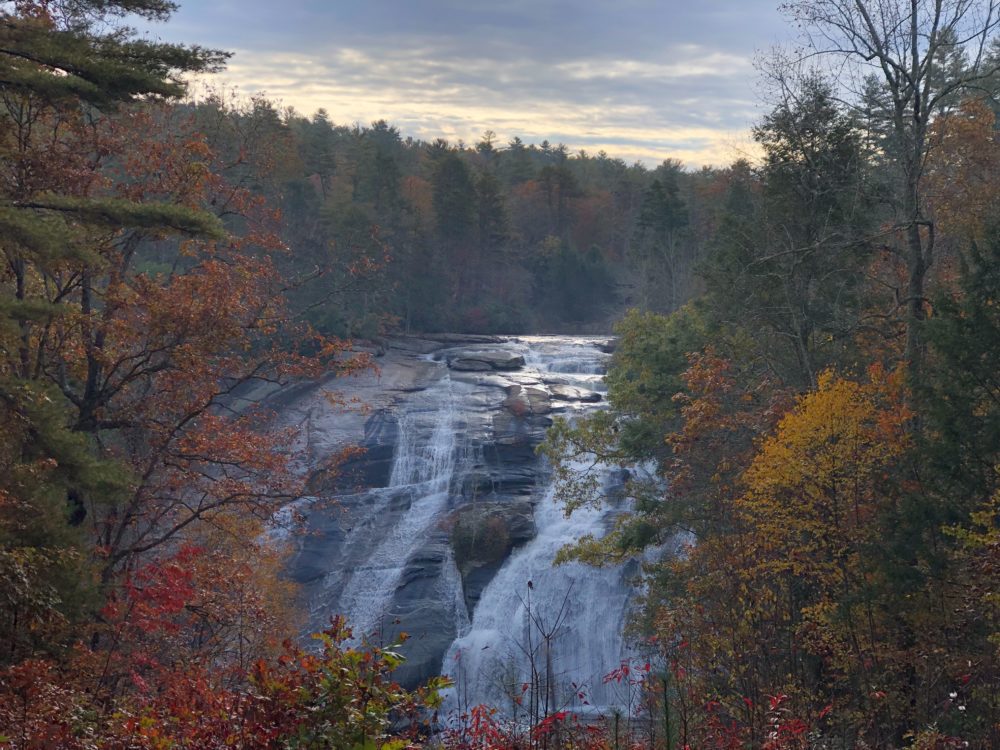 If we are not going to the base, we continue down the trail to Triple Falls.  The trail does some up and down elevation changes and leads you beside the river for a while.  Look for another picnic shelter near the trail by Triple Falls and enjoy a great vantage point showing off the entire 120ft drop of the three falls.  Not far from the shelter is a wooden staircase that leads down to a flat rock base that lets you get up close and personal with the river.  At that spot you are actually above the third waterfall but have a great view of the first two.  There are a lot of steps, so avoid them if it's too much stress. 
A third waterfall that can be incorporated into this hike is Hooker Falls.  It has its own parking lot and restroom facilities.  If we are going to hike all three (Hooker, Triple, and High Falls) we would normally start at the Hooker Falls parking lot.  It's a little over 3 miles round trip to do all three but there's something psychologically rewarding about ending on the DOWNHILL trail!  Hooker Falls is a smaller (12ft) waterfall but there is a popular summer swimming area just below it.
It pays to do a little research before going.  Sometimes trails are closed due to rain or trail maintenance.  Game cameras in the forest have revealed snakes (poisonous) and black bears, among other wildlife, so be alert.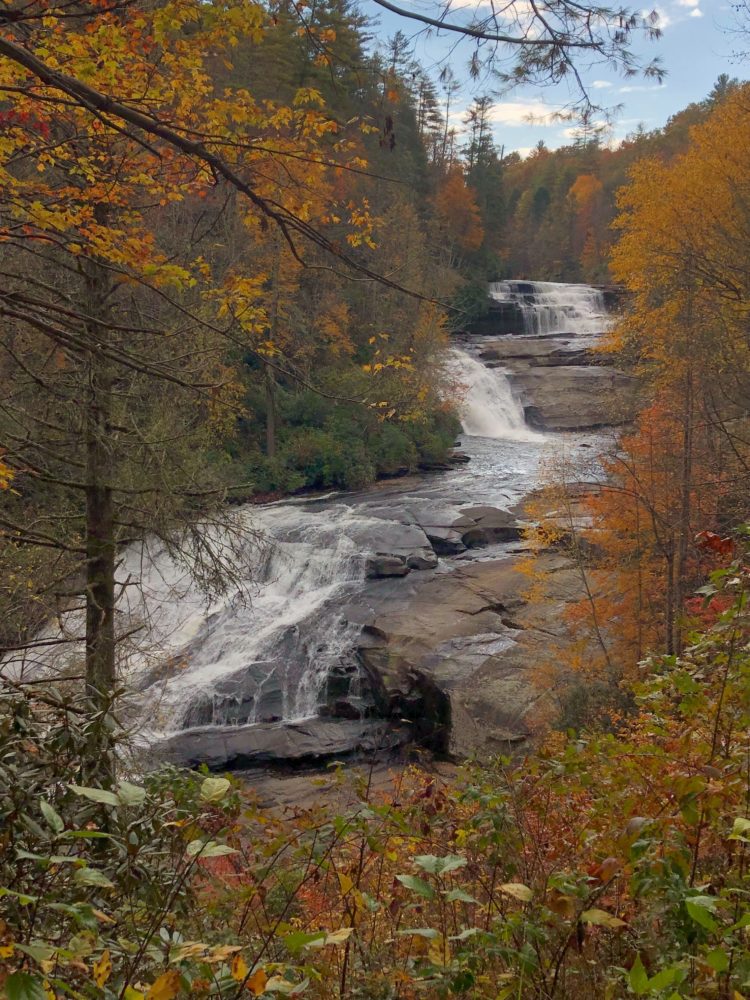 Getting There: 
Starting in Travelers Rest, it's about 28 miles to DuPont State Forest. 
Take Hwy 276 west through Marietta to Caesars Head. 
It is almost obligatory to make a quick stop at Caesars Head to admire the endless views. 
Then head across the state line into North Carolina. If you need a coffee or some incredible mini-donuts [salted-caramel was our favorite flavor] be sure to stop at The Velvet Cup food trailer in Cedar Mountain, then turn right in Cedar Mountain on Cascade Lake Road and then another right on Staton Road, which will lead you to DuPont's High Falls Visitor Center. 
Restrooms are available here as well as the Hooker Falls parking area just down the road.  Depending on the time of day and season, continue down Staton Rd another mile or two for ice cream and lunch at DuPont Kanteen.  
__________________________
You might enjoy following along with Dave and his family as they live the Van Life!