Story and Photos by Andrea Beam
The summer is coming to a close, but the South Carolina heat isn't going anywhere anytime soon. While Greenville has no shortage of fun, fancy waterparks, we're here today to give you the low-down on a natural park called Long Shoals. 
Located just thirty-five minutes from Travelers Rest, Long Shoals Wayside Park is a summer adventure you don't want to miss.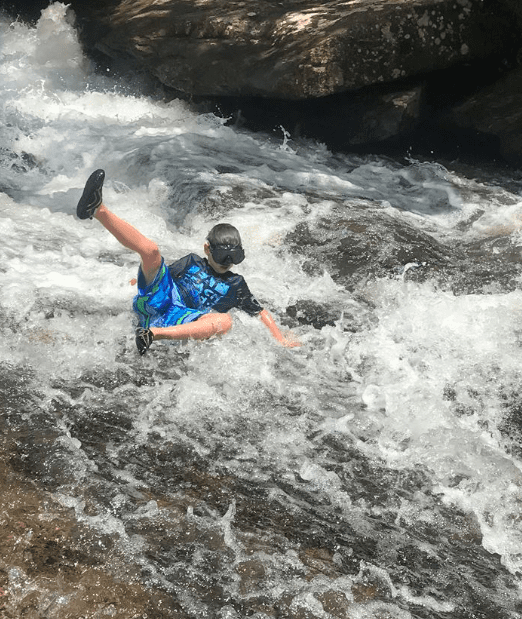 The 10- acre park overlooks Little Edisto Creek and provides hours of entertainment for families. Why struggle to assemble a store-bought slip 'n' slide when Mother Nature has built a natural water slide just up the road?
All it costs is your gas to get there.
The river rocks make sliding fun and fast. Brave souls can "body" slide but many bring floats. Either way, sometimes it can be a rough ride. In the words of my son J.P.  – "You get bruises, but it's worth the fun watching the wipe-outs."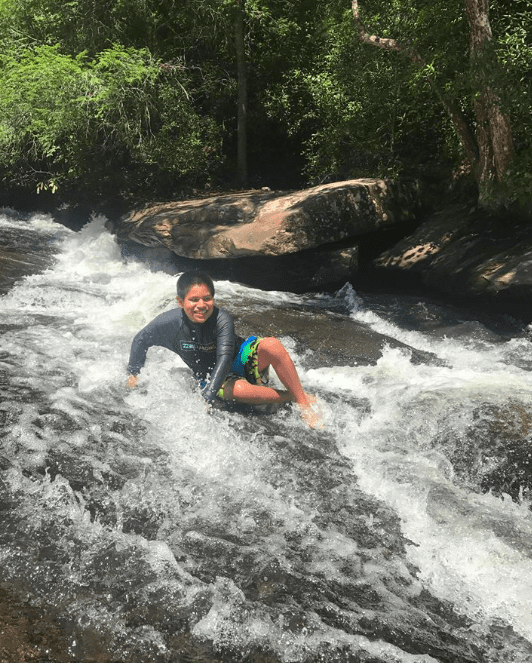 Before you go, there are a few things you should know: 
Sunscreen – This might sound like a no-brainer, but a lot of times when we travel to the mountains, I don't think of sunscreen. There is very little shade so DO NOT leave it behind!
Bug Spray – You are in the middle of a mountain. Bug spray is a must! Preferably one that works for ticks too. We found one or two on our towel when we got home.

 

Bathrooms – There is one portable bathroom (eww, gross) at the top of the steps and that's it. Obviously it's not a problem for little boys in the group, but the girls, well …  Thankfully, Aunt Sue's is close by and the accommodations are super clean. And while you're there, you might as well stop in the ice cream shop!
Shoes – If you're able to wear water shoes, or anything other than flip flops, you'll be better off.  To get to the slide, you walk down a steep hill.  The steps do not carry you all the way down.

 

Water – Remember you're swimming in mountain water – it's FREEZING!  I made sure our kids wore swim shirts, which seemed to help.

 

Floats – A lot of families brought tubes. The boys had fun without them, but JP recommends taking one because, as he says, "You go a lot faster!"

 

Food – Long Shoals is a great spot for a picnic. We carried our small cooler with drinks and snacks. Carry plenty of water – with the water being so cold, it's easy to forget to drink. As you pull into the parking lot, you'll see there's a picnic area to the right. Personally, I'm not a big fan – the area is not very well kept. You're better off eating on your towel or blanket once you get to your spot. Besides, you won't be in any hurry to go back up the hill. Now's a good time to remind you that what you take DOWN the hill must come back up – you'll thank me for that one later.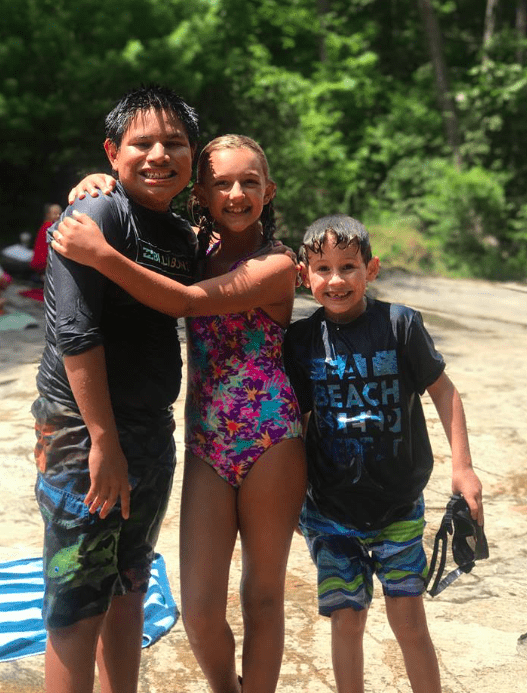 Long Shoals Wayside Park has quickly become one of my favorite spots. I hope you and your family enjoy it just as much as we do!