The right covered dish dinner can change your life.
More than three decades ago Martha Foster was at a church supper with her friends and neighbors.  Roy Farnham, Martha's neighbor and friend, was at the same covered dish dinner too.
Farnham and Hubert Stokes owned a hardware store together on Main Street in TR.  Their retirement was the topic of conversation at dinner and the men both confessed that it was just a matter of time.
"I'll retire as soon as I can find the right person to run this hardware store," Martha says she remembers Roy Farnham telling her.
We'd imagine that a lot of dreaming and thinking was done that very afternoon, amid the green bean casseroles and the yeast rolls and the molded Jello salads.
A week later, in October of 1981, Martha and her husband purchased the iconic downtown hardware store.
First called Stokes Farnham Hardware, the two original owners – Hubert Stokes and Roy Farnham – began the business themselves around 1950.
For years after the purchase, the name of the hardware store remained the same, despite the fact that a woman named Martha was running the show behind the counter.  A woman named Martha who had previously been an elementary school teacher.  A mother of two.  (Now a grandmother of four and a great grandmother of three.)
During those years behind the counter and in the shop, Martha said plenty of men have come in and questioned her ability.
"Some men would come along and they would say to me, 'Now what do you know about hardware?'" Martha smiled.  "I'd always answer – 'Try me.'"
That attitude contributed greatly to her success.
"I learned a lot from reading and from sales people who came to the store and from an employee we kept from the original store owners.  I was blessed with a good eye for color and mixing paints came naturally."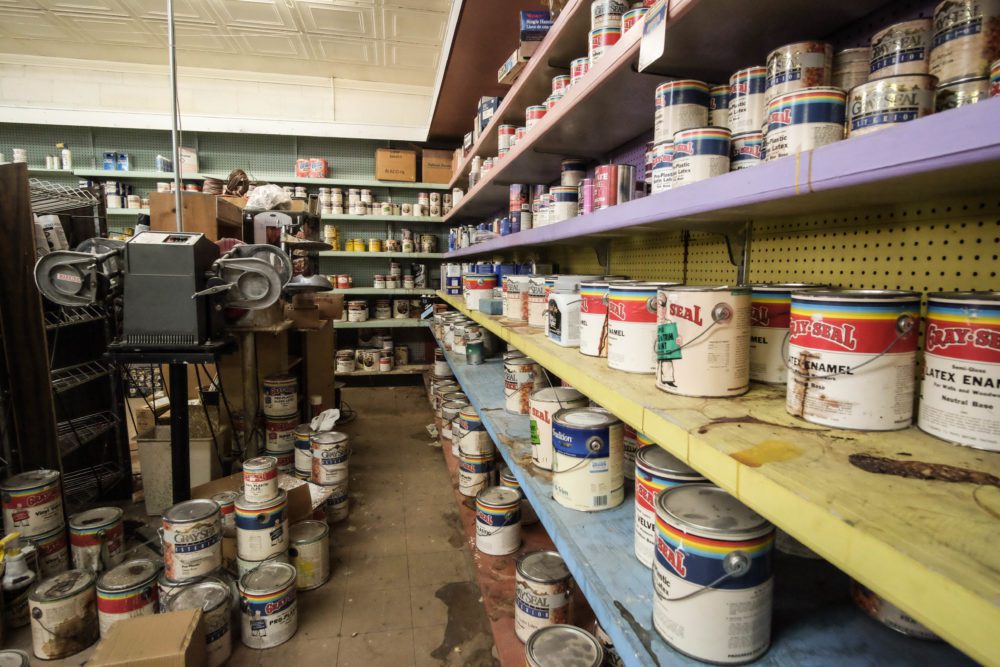 Around 1996, as best as Martha can recall, she began to consider actually changing the name of the hardware store.
"By then, people were always just saying around town – 'Go to Martha's.  She'll have it.'" Martha shared.  "Finally, I just had it officially changed to Martha's Hardware."
One unusual side effect of that name change, Martha laughed, was the increase of women visiting the store once it bore her own name out front.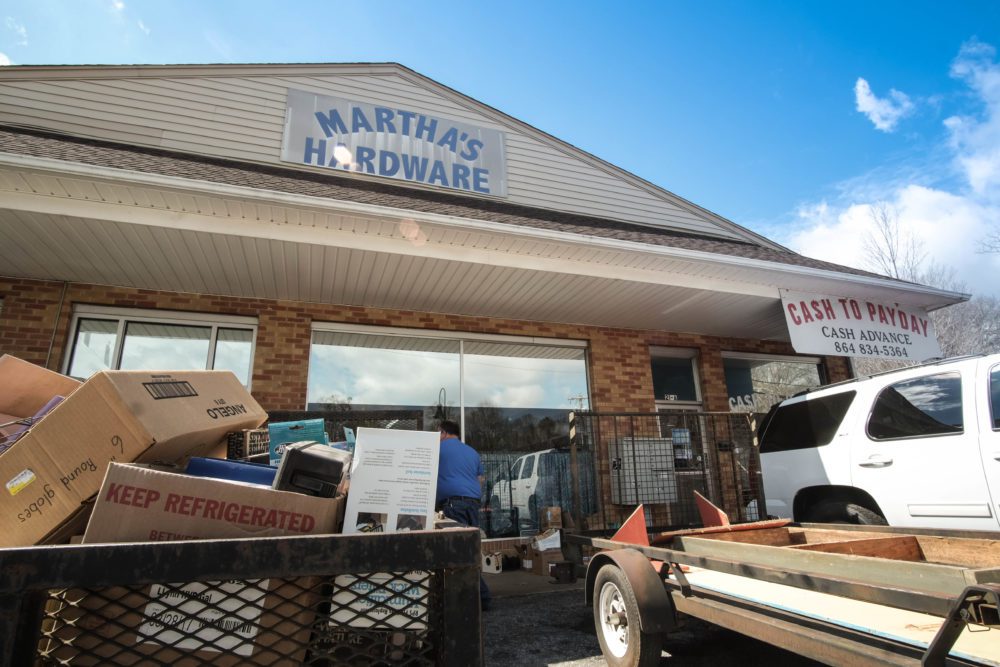 On the day we visited, the morning before the lights were shut forever on an era of Main Street TR, the hardware store was being swept clean and amid the flower arrangements from friends and well wishers were emptying shelves, stacks of boxes of nails, garden tools, paint cans and people boxing and packaging the remains of thirty-five years of doing business.
What comes next, we asked Martha as she leaned against the counter, resuming what was probably the most popular position to find her in during all those years, behind the counter answering questions and sharing her knowledge.
She laughed a little, smiled a slow smile that started in her eyes first.   "Well. I guess I'll go home and clean my house."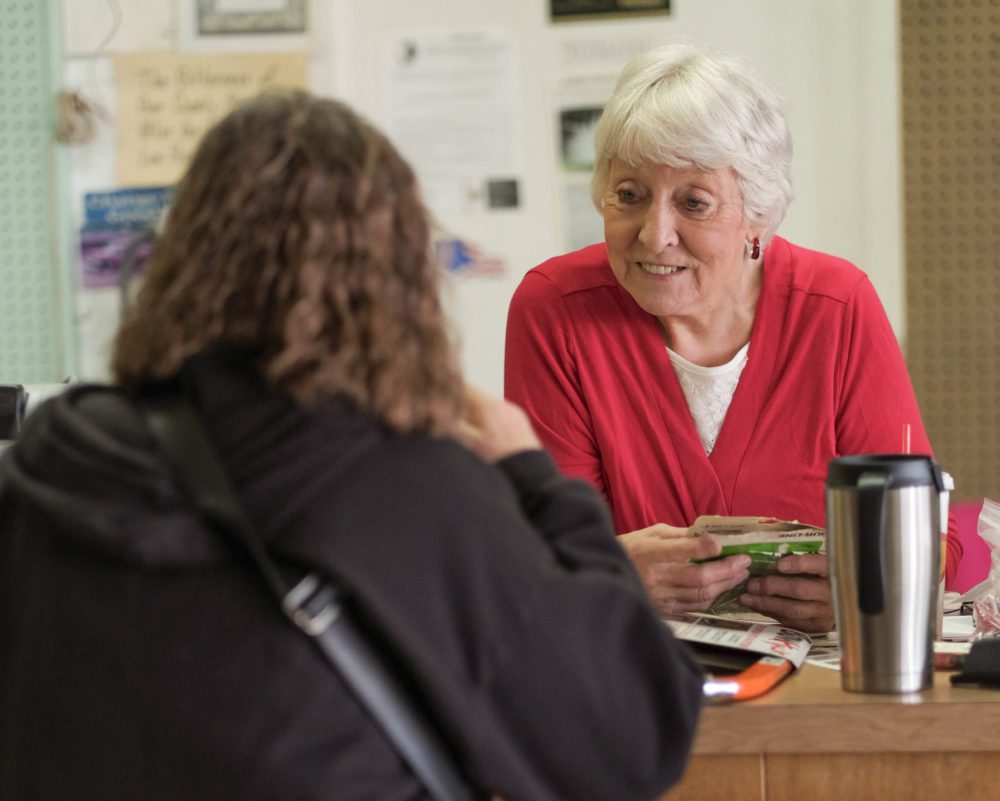 Martha's eyesight is fading and her feet have been adversely affected by neuropathy, a condition causing her feet to lose their feeling, forcing what Martha calls one of the most difficult decisions of her life – having to give up the privilege of driving.
A life full of Main Street and service, Martha says that the most satisfying experiences of her career, in front of or behind the counter, have come from seeing her former students and hearing their stories.
She fondly recalls a young lady entering the hardware store and approaching Martha to share her own story intertwined with Martha's own story.  "She came right up to me and told me that I probably wouldn't remember her, but that she was in my second grade class.  She stood there and told me everything about what I used to wear and how I looked and what I taught and how I sounded.  Today she is a special education teacher.  She said that was because of me.  That was the most satisfying story I've heard."
The shelves at Martha's Hardware were completely cleared out on that weekend.  The merchandise was all sold and what little remained was donated to Habitat for Humanity.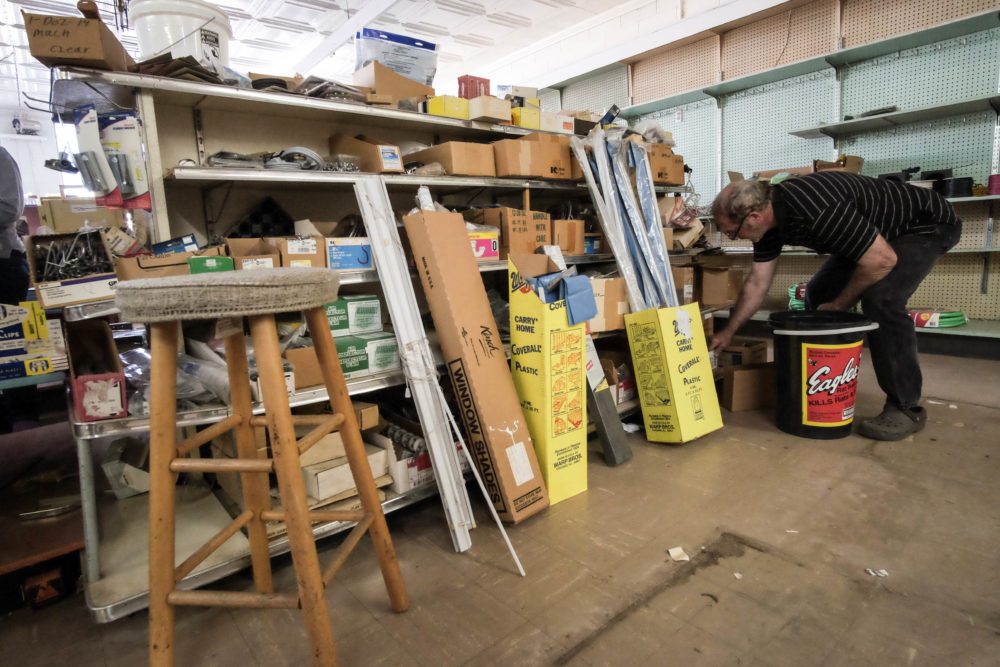 The store front sold quickly, of course, and a restaurant is projected to open, probably before you can finish reading this story.
The lights are out on Martha's Hardware as we have always known it.
___________________
Here at Travelers Rest Here, we feel certain that many of you, our readers, have stepped right into Martha's Hardware many times.  Your air filters and your paint, your hammer and your garage sale signs have probably been purchased right here at one time or another.  You've chatted with Martha and you've leaned across the counter to exchange friendly greetings and sound advice.
We know you have a Martha story to tell.
We want to hear it.  We want to share those stories.  We want Martha to hear those stories.
That's why we are inviting, asking, you – friends of Martha and students of Martha and friends of downtown and friends of history and times that have passed – to tell us your Martha stories.  Your hardware tales.  Do you have photos?  Items in your home shaped and created and treasured over the years with a link and a tie back to Martha's Hardware?
If so, would you share those with us?
Over the next two weeks or so we want to gather all the stories that we can.  We want to hear from as many of you as possible.  Please would you send your photos and stories to lacey@travelersresthere.com?
We'll gather up what you send and publish a post about our community memories of Martha.  And even though she says she hasn't checked her email in months and hardly cares to know much about computers, we'll make certain she sees this outpouring of affection and fondness, both for a familiar landmark downtown and for a beloved community member who has given the bulk of her life to the small town that we all love.
Thank you, Martha.  
___________________
Photos by Corey Pelton of Dark Corner Photography