by Jonathon LaRoy
Do you love seeing kids riding their bikes and smiling? Have you ever noticed a lot more kids have been doing this over at Gateway Park the past few years? There are a few forces at work that make all of this possible but the most recent trail improvements have come from proceeds from mountain bike races that are put on by UpState SORBA.
UpState SORBA has been putting on a short track (https://www.facebook.com/UpstateShortTrack/) series for mountain bikers of all ages for six years. Short track is meant to be a spectator friendly mountain bike race with many laps around a circuit course that is about ¾ – 1.5 miles long. Most folks hang out and support or heckle the riders at the start finish, which is directly behind Sunrift.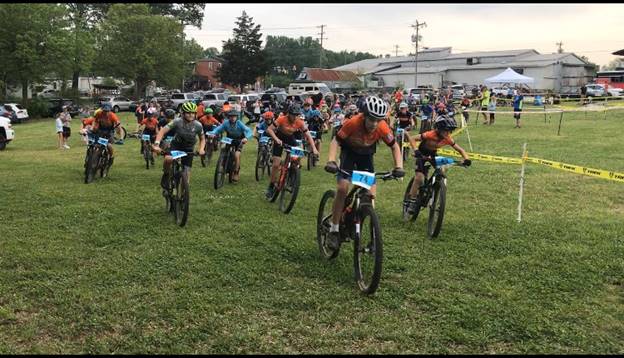 The race is MC'd by the quick quipping Eric Hamann who knows most of the seasoned racers and their names by heart. Eric, along with a team of volunteers, are the main driving force behind the short track series. Eric has been UpState SORBA's president for four years running. I caught up with Eric for a short interview.
How many volunteer hours do you put in each year for the short track events?
Leading up to the series about 40 hours in total. I put in close to fifteen hours the week of each event.
What's the number one soft benefit you enjoy from the Short Track event at Gateway?
Seeing kids come out and have a good time on their bikes is definitely number one. A lot of them have been there for three or four of the five years that the series has been running. They come out and have a blast. I'm looking forward to seeing who comes back for our 6th season.
There is a setback this year though as the tab for insurance exploded from $700 to $3,000 for the series. Options and support are being looked into so that hopefully the race can go on. If you know of a company willing to help with sponsorship, please have them reach out to me at extrmtao@hotmail.com.
The race helps support the mission of advocating for trails and giving back to local parks and trail systems. The event attracts anywhere from 50 – 120 racers per race and is great way to get out and support the community on a Thursday evening. All the details can be found at this link.
Seven years ago, three main forces combined to create the bike park over at Gateway. They were UpState SORBA (Southern Off Road Bike Association), county officials and the build company "Trails Dynamics".
It just so happens that March 2020 was the park's 7th year anniversary for the build.
An interesting fact about the trails at Gateway are that a lot of the concrete from the old high school is in the ground and that helped to make the original build possible by upcycling that material. Here is a shot of Chris "Shrimper" Khare standing by his upcycle'd work.