You can pull out of your Travelers Rest driveway and in almost exactly four hours you can pull onto an oak tree-lined, moss-draped city street in Savannah, Georgia.
That's not a day trip for most of us, but it sure qualifies for a great option for a weekend getaway or a vacation spot.
Recently, my once-upon-a-time college roommate (Go Cumberland!) and I embarked on a girls adventure for a few days in The Hostess City of the South. (No, I had no idea Savannah was called The Hostess City of the South – but after our visit, I can gladly accept this title for this beautiful slice of Georgia.)
This trip was a grown up adventure but Savannah showed itself to be a fabulous option for families too, with something to appeal to every age group and family member.
It's a city worth visiting more than once and this post will only serve as a highlights reel, but it's a great place to start.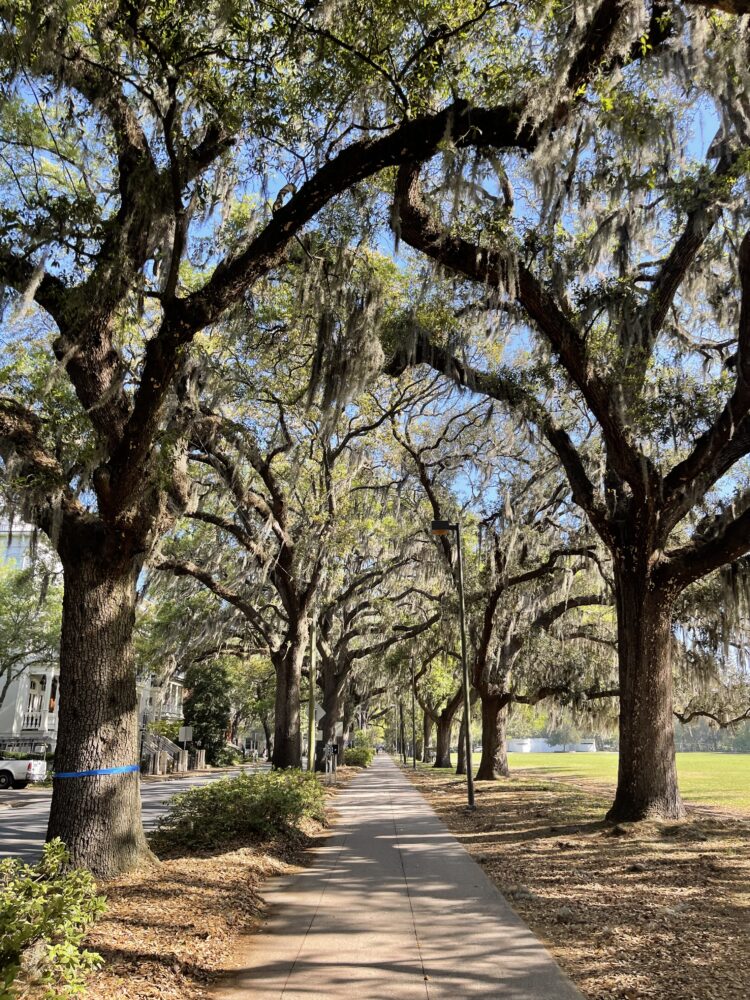 What to See
Savannah is a very walkable city laid out in a grid with gorgeous squares leading to the riverfront. Those squares alone are worth a visit. We walked the interior streets through all of the squares more than once. This makes Savannah easy to navigate, but also delightful to stroll through.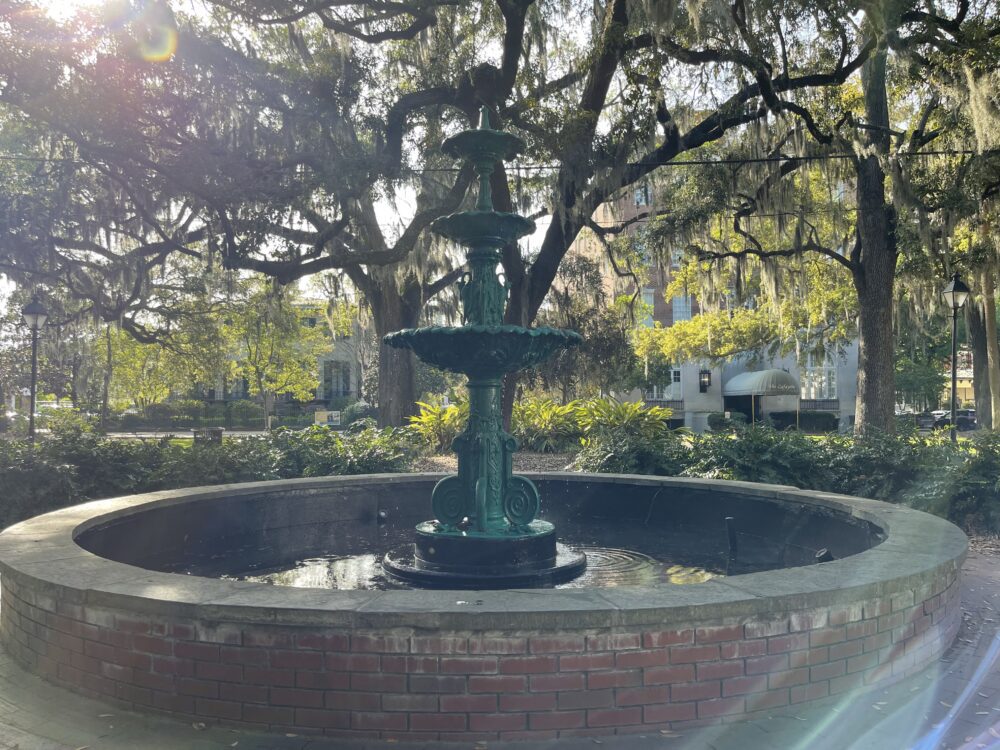 All of the squares carry some weight and charm of their own and I'd encourage you to include walking time in your plans. The fountains and statues in each spot are unique and photo worthy. However, if you can only see one green space, well, it'll have to be Forsyth Park.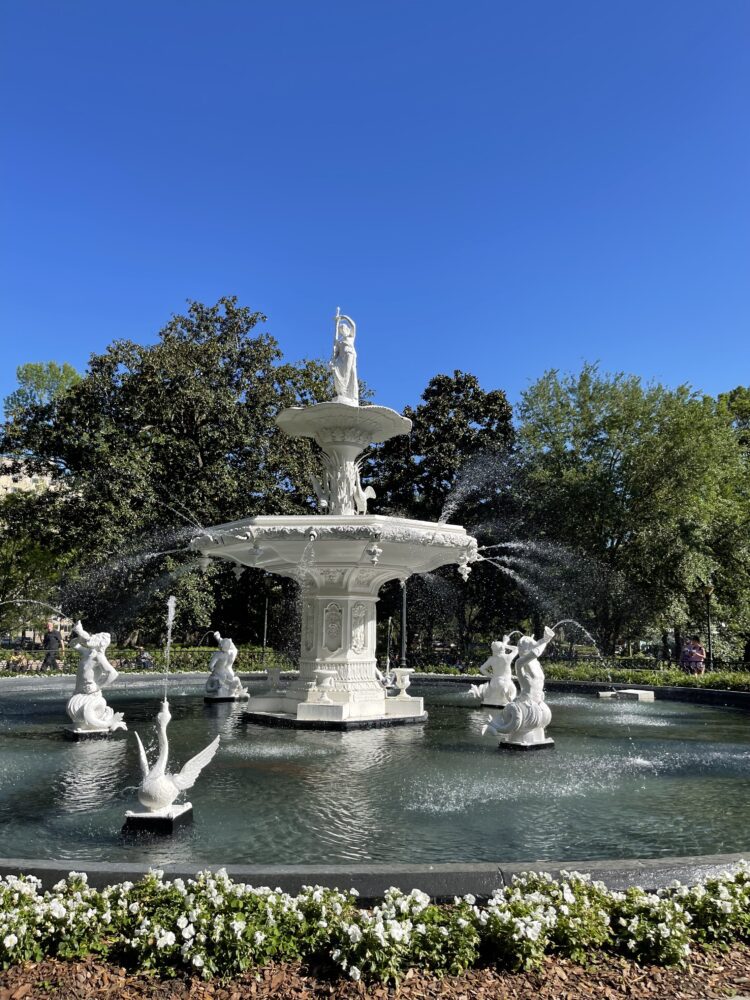 That's the one you've probably seen in photos of Savannah. It's huge – 30 acres – right in the historic heart of Savannah. When we visited the city, the park was busy each day we walked through, but on Sunday it was especially full of activity. Even with all the folks on picnic blankets and playing basketball and throwing frisbees and taking graduation photos and strolling hand in hand, it still didn't feel cramped and the vibe was friendly and welcoming. We stopped for photos at the fountain – like everyone else around us. In fact, on one afternoon we gathered with other onlookers to watch a tender wedding ceremony right at the fountain. When the groom kissed his bride, all of us nearby cheered.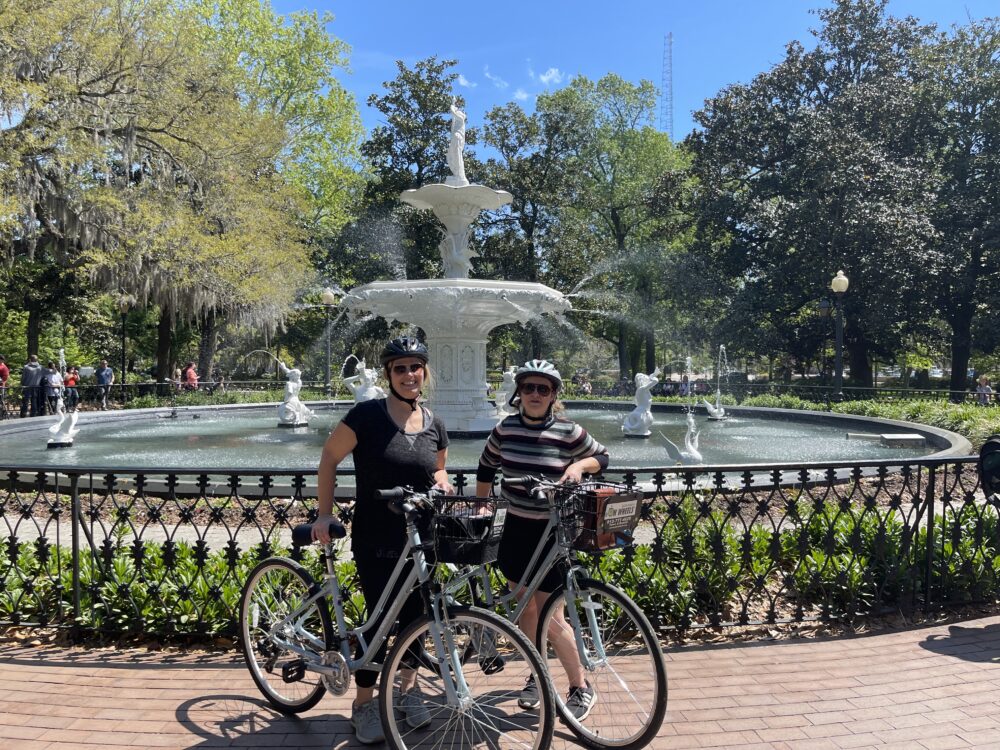 The squares are full of history and legend and sometimes in Savannah it's hard to know which is which. There's the square known as the prettiest – Monterey Square. (This is also the square where the Mercer-Williams house sits. More on that later.) And the square where Forest Gump sat on his bench – Chippewa Square. (By the way, don't get your heart set on sitting on that bench and taking an iconic photo. It's no longer on site. But you can see it in the Savannah History Museum if you really need to!)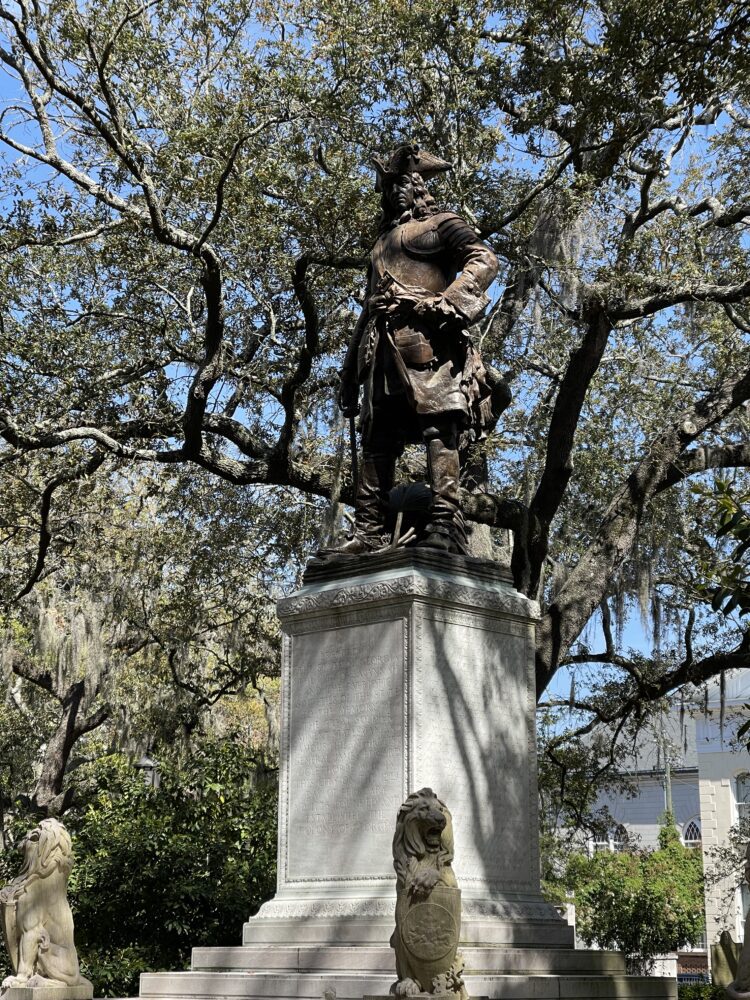 As you stroll the city squares, you will eventually reach the waterfront. River Street is a classic Savannah spot and it's worth a walk through. (It is not, however, in my opinion, worth more than one walk through.) You'll find some fun shops, a few good restaurants, those pralines you need to take home and a good way to spend a morning or an afternoon.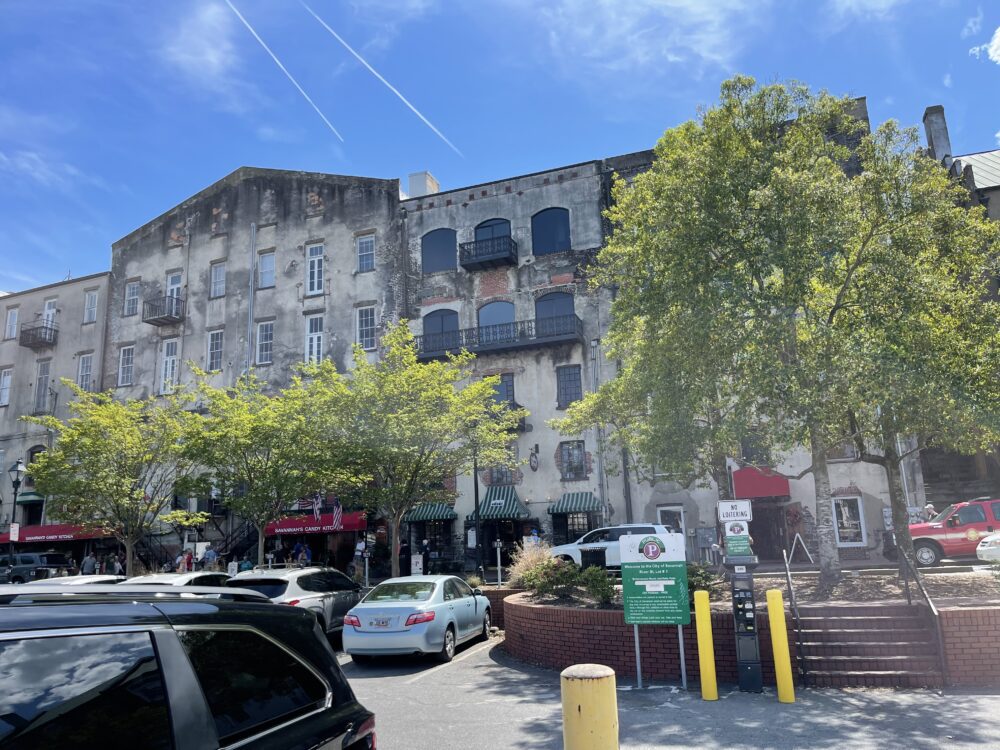 Savannah lies on a river and that river leads to the ocean and you're going to want to make the short drive over to Tybee Island. Tybee is home to a small beach with two distinct personalities. North Beach is quiet. The waves are low. The tide pools are plenty. You'll see families and kids and sand castles and sun bathers. The South Beach is home to Tybee's board walk and their few shops and it's louder with crashing waves and lots more folks. Both have their own merits and the beauty of Tybee is – you can have both!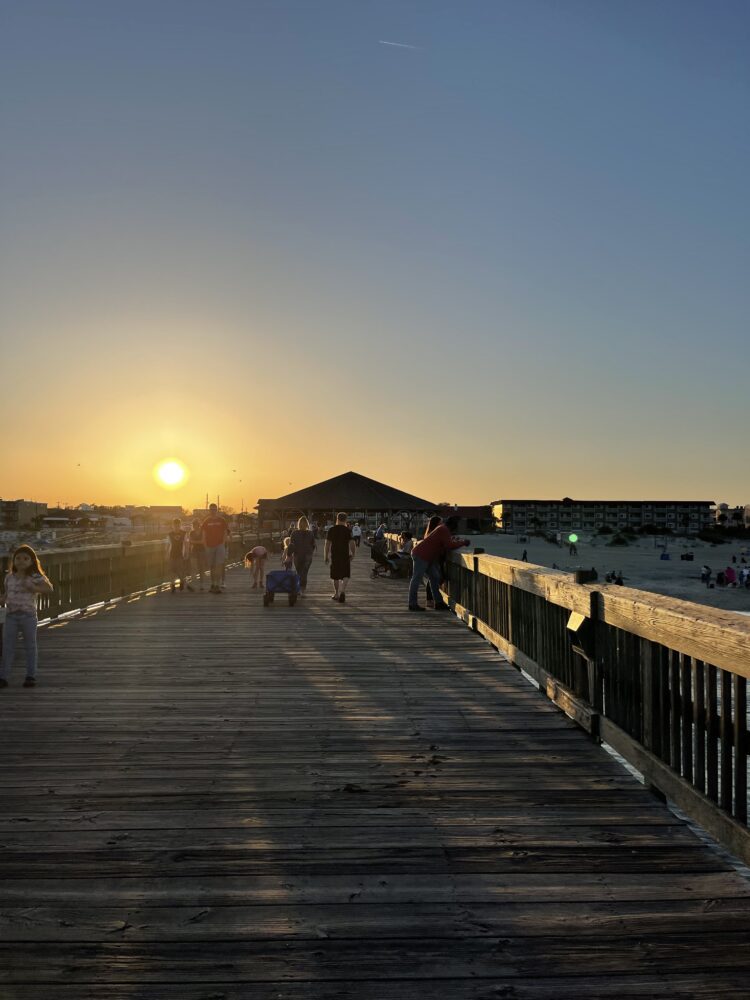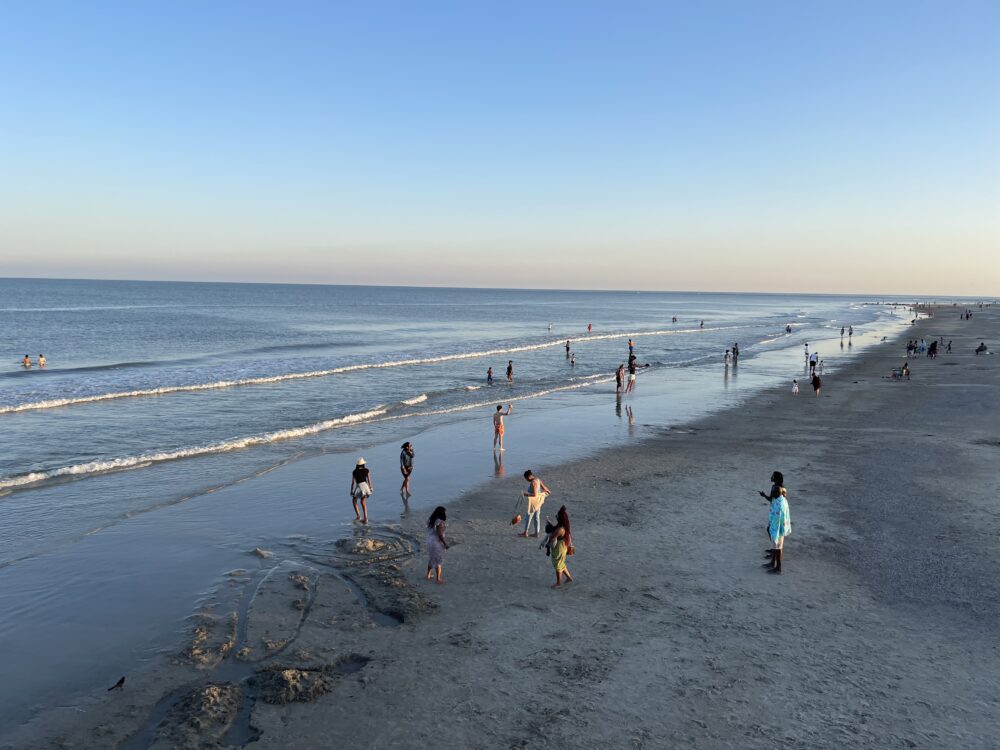 Where to Eat
Oh goodness. Savannah is a delicious city. There's no end to the variety and the choices available. I can't even begin to cover all the savory and sweet options in this town.
Thinking about breakfast?
There's Clary's. It's a local legend. The line can get long. It's right beside the prettiest street in Savannah – Jones Street. (Our tour guide suggested that's where the phrase – Keeping up with Jones – originated. I can see why. I'd move in tomorrow!) Breakfast is hearty and simple and good. The vibe feels very diner-y and friendly. (I had to smile at the eclectic mix of visitors dining when we were too. Men in suits. Families with littles. College aged adults with their pups (at the outdoor seating) and their athletic wear. Everyone is welcome!)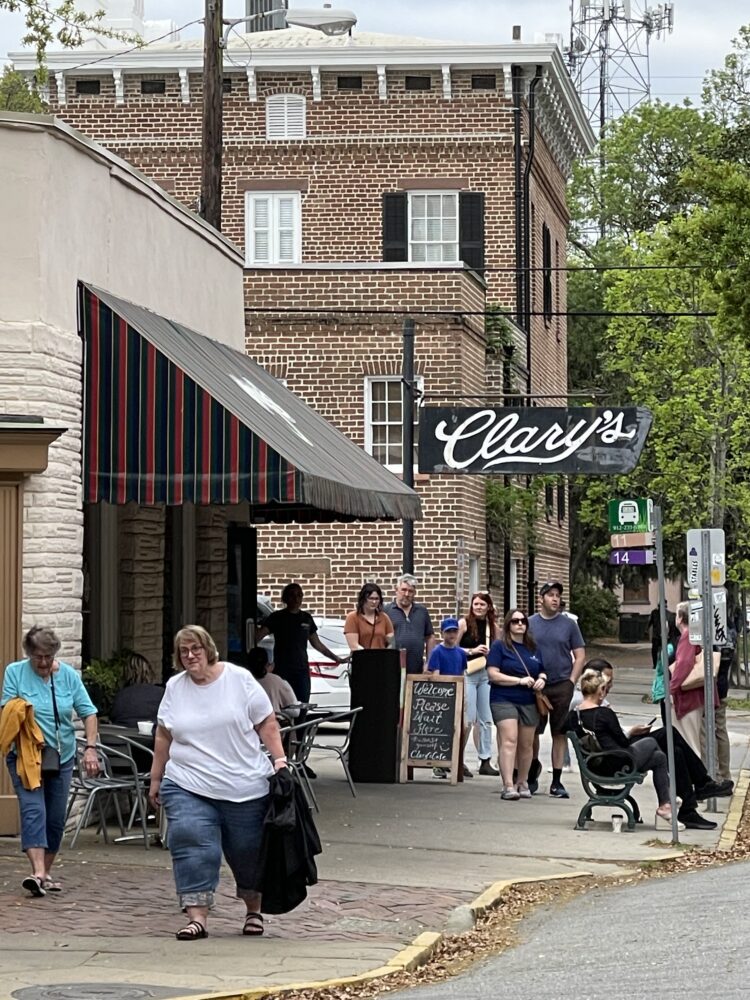 We liked the Sentient Bean so much we went twice! (It was steps away from our AirBnB.) It's a coffee shop but they serve loads of food options too. There's outside seating on the street by Forsyth Park. The tea was tasty. The menu wide. The space open. The vibe quirky – funny signs to welcome you in and an old trophy as your table holder. You could order a Dirty south lemonade with Espresso and although I don't want to try that – I think someone should.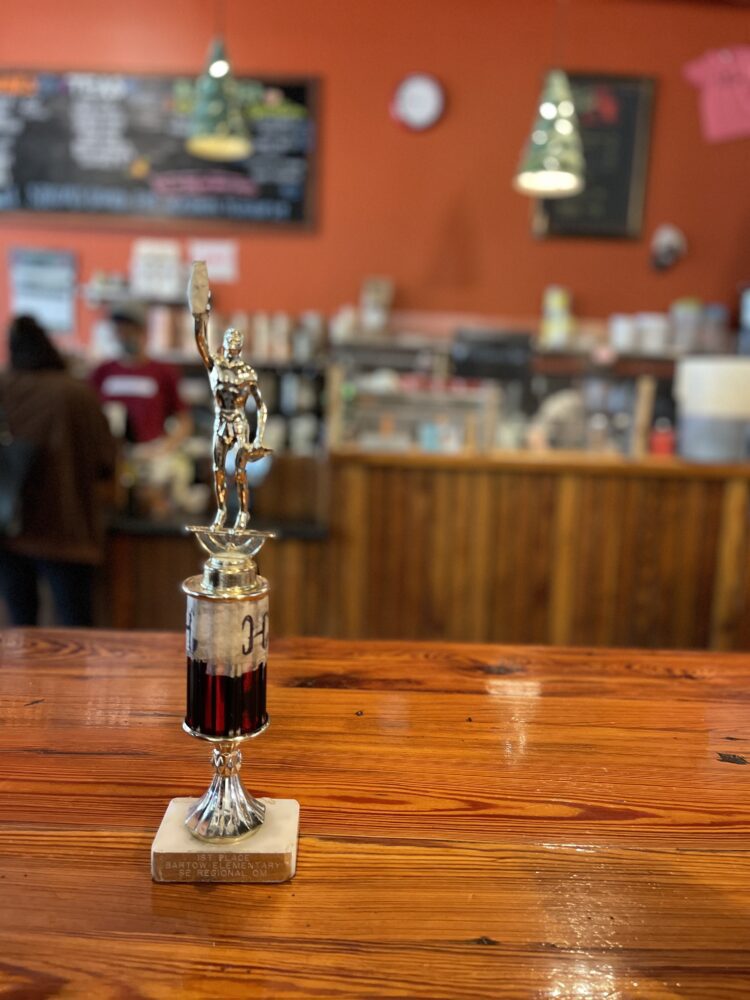 While I was still planning this little jaunt, I asked all of you to recommend your favorites. We definitely tried all that we could. We never made it to Vinny Van Go-Go's – which nearly everyone recommended – because the times we stopped by, they were closed! That's okay, it just means I have to go back!
Megan Lanford enthusiastically encouraged us to try Treylor Park. She was not wrong – this was probably our favorite dinner of the trip. There are three Savannah option – Double Wide, Treylor Park and The Hitch. Not only is the name fun, the food was incredible. It was The Hitch that served up our favorite options. We sat outside and loved the whole experience – friendly wait staff, cute t-shirts, delicious food. Treylor Park is closer to River Street and you'll need to walk up. It was also amazing. It definitely lived up to Megan's hype. (It was also here we watched a man turn in a counterfeit one hundred dollar bill and illegally make off with actual currency as change. Savannah is full of adventure – right?)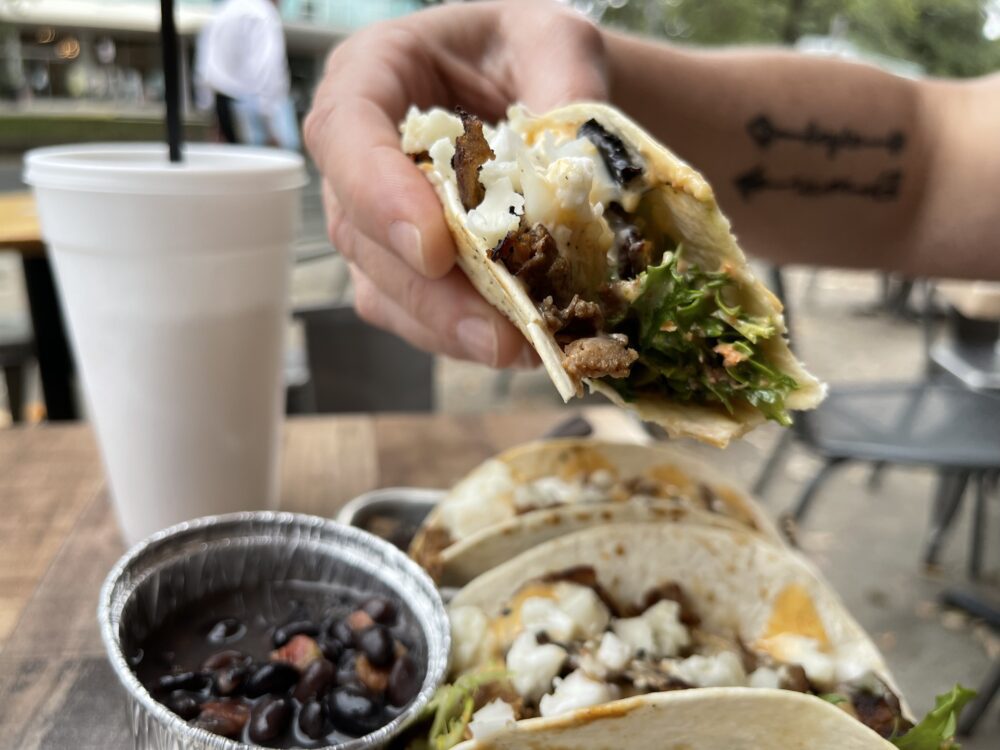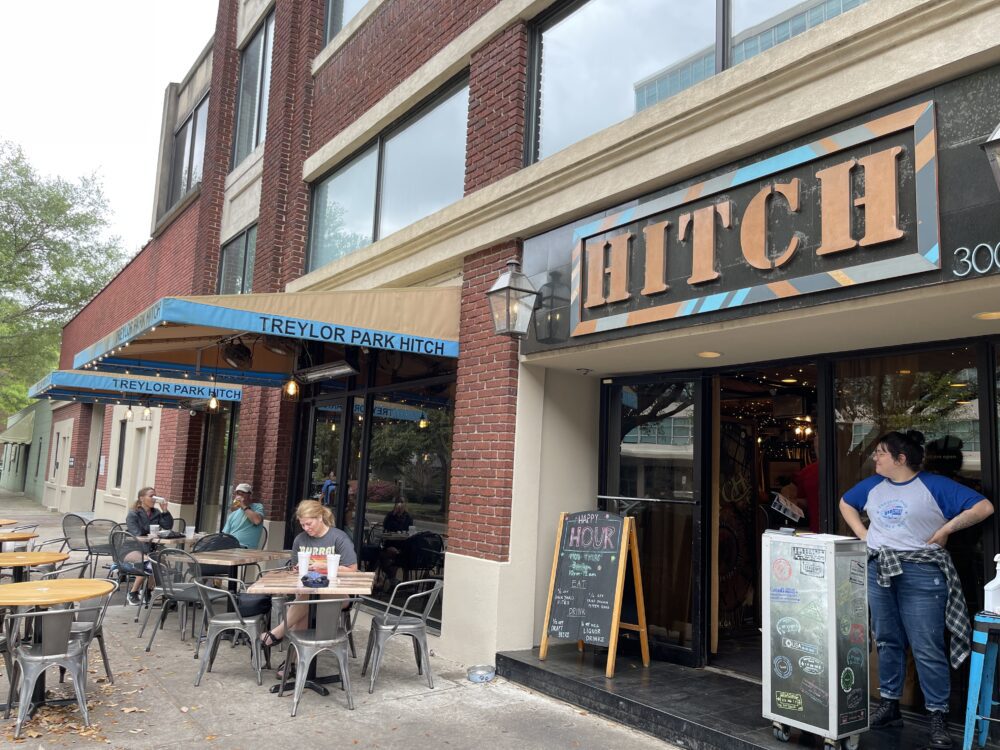 On our bike ride, fellow bikers suggested we try Alley Cat one evening. After shopping and strolling, when the rain hit, we found our way down an actual alley and then farther down some stairs into a dark and cozy bar with the longest list of drinks I've ever seen – all printed in a unique little newspaper. We ordered a charcuteries board and had drinks and loved the experience. Another great reason to take tours – local chatter and recommendations!
One of our strolls lead us to the most darling chocolate shop. It looked just like a bookstore. In fact, I thought it was! But instead of books behind the glass doors of the shelves – there were trays of dainty handmade chocolates. It was called Chocolat by Adam Turoni and you picked up a cute tray and wandered the shop, staring at which chocolates you should put on your tray. I bought one that had the teeniest and cutest golden chocolate bee on it. It was all almost too pretty to eat. Except, of course, we ate it anyway!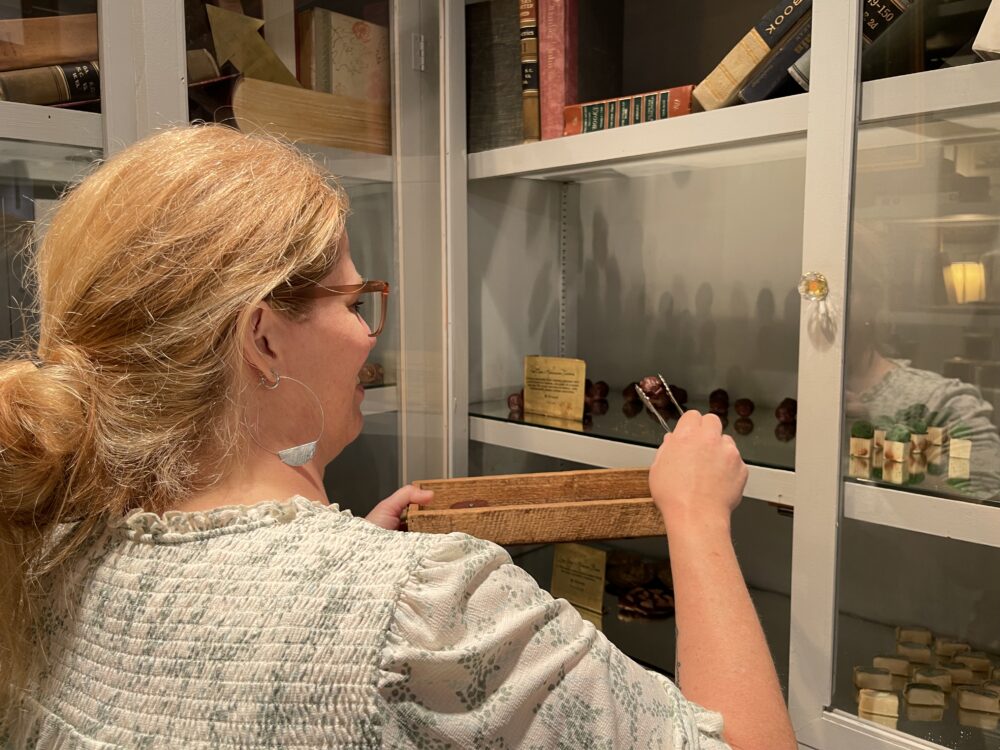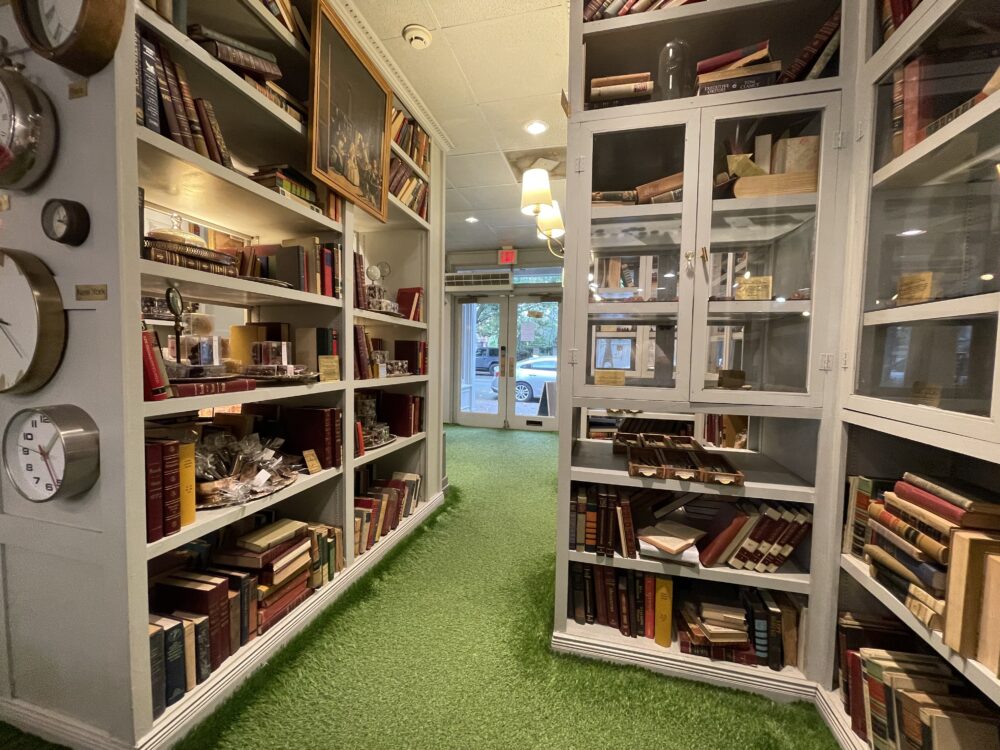 A few of the coffee shops we popped into and loved were Mirabelle (where the coffee cups matched the wallpaper and the wallpaper was just perfect!) and The Coffee Fox. (I bought the sticker for proof!)
What to Do
There's really no end to this category and I'm not even going to attempt to be all inclusive here.
Here are some things we enjoyed and some spots we saw that we want to see again next go-round.
Whenever I explore a new city or give people advice on how to greet a new location, I am quick to say, "Take a tour." If there's a trolley, ride it. If you can have a horse-drawn carriage, even better. It's just a straight forward and fun introduction to a city. You quickly learn to navigate the streets, you see places you want to head back to, you learn from a local and you have a great time doing it. Heading to one of these tours on your first day gives you something to do immediately, gives you a sense of place and allows you to really use your time wisely because you've seen a little bit of everything and you can decide what holds your interest for the next part of your adventure.
We hit the jackpot when we decided our first tour would be one on a bicycle!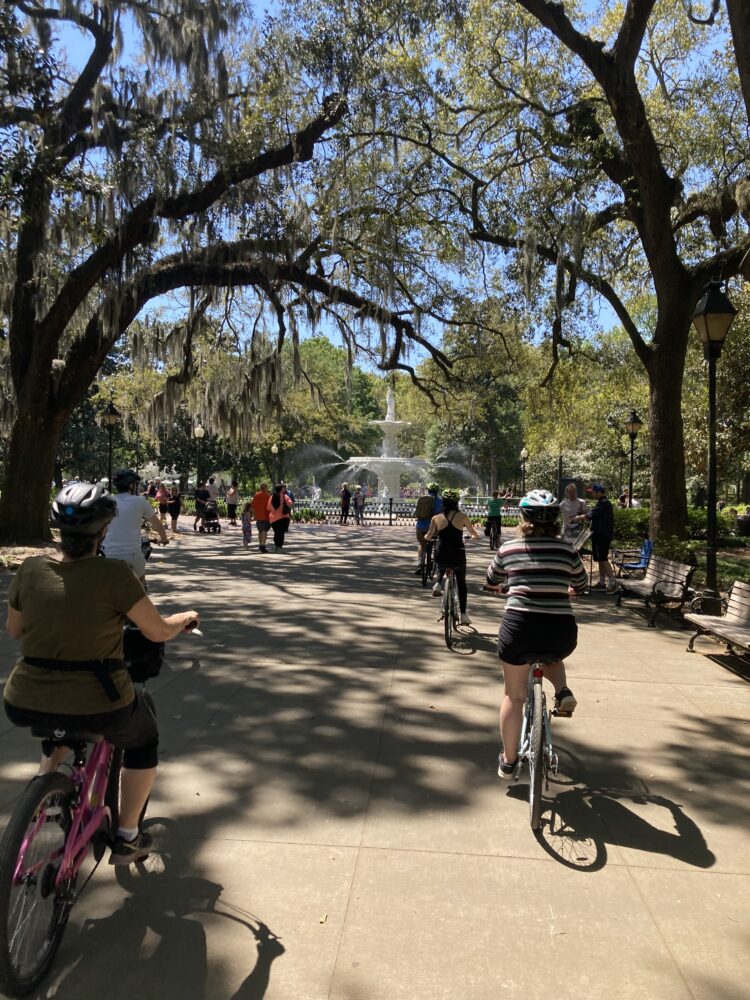 Savannah on Wheels offers guided tours or bike rentals for independent tours. We hopped on a guided tour, which turned out to be perfect for us. Next time, I would definitely add on the option of renting the bikes for the remainder of the day. Biking is the perfect solution in a city like Savannah where parking is hard to find. (And hey, if you can't find the place to pay the parking fee and you tell your friend, "Eh – it'll be fine. It's just a short lunch" you'll be sorry. Don't say I didn't warn you.)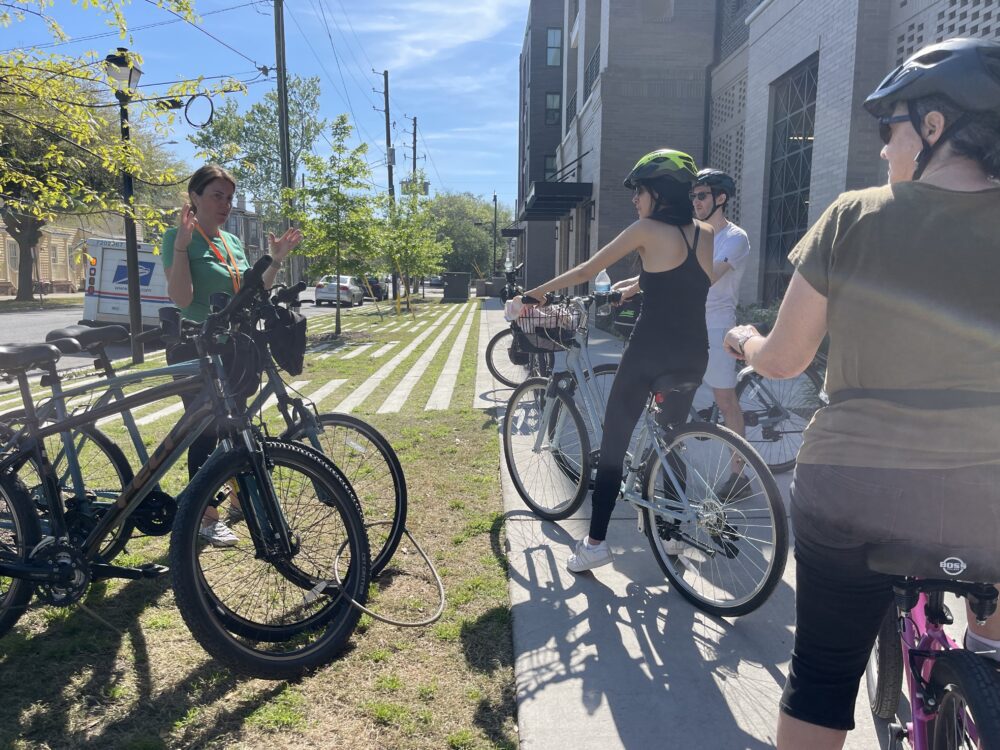 We opted in for the historic tour and our guide was Melissa. She's actually the co-owner with her husband and she was truly top-notch. There were six of us on her tour and it was the highlight of our Savannah time. She was just the right blend of fun and funny and informative. We'd ride a few blocks and then stop for a story. The history in Savannah is oozing from its historic homes and its city streets and it is fascinating. Girl scouts, ghosts, old money, new money, legends, films – you name it. We were sad when the tour ended! (We immediately became the people who suggested to strangers to take the bike tour!)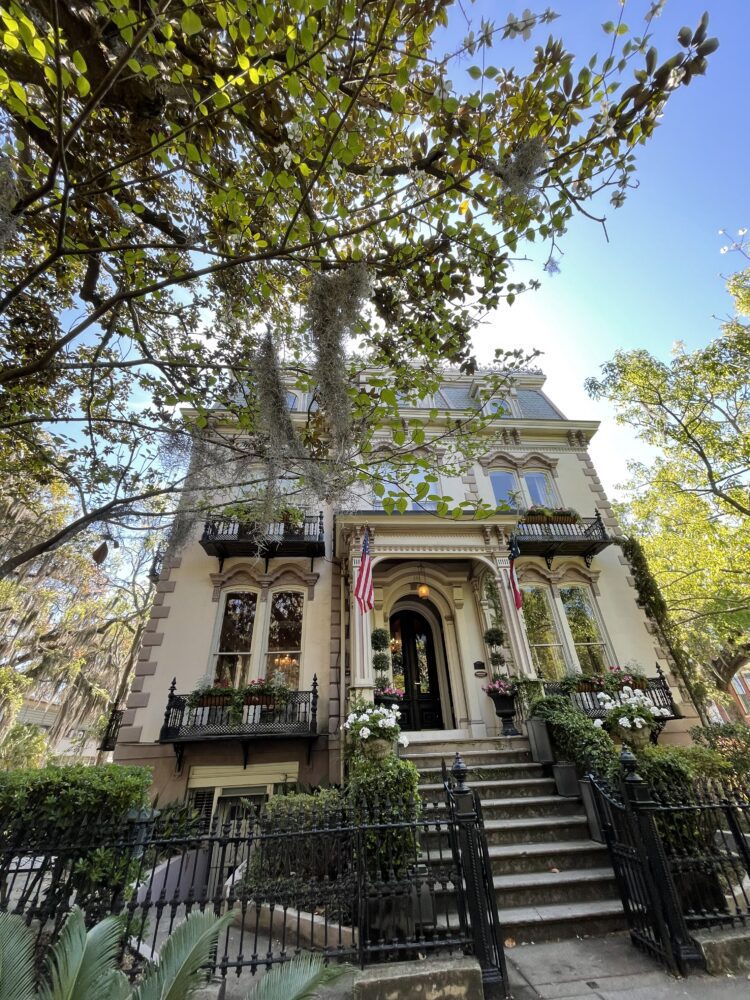 If you're interested in kayaking or paddle boarding, there are a lot of options for water activities without being out on the wide ocean. There's a smaller island – Little Tybee – that is only accessible via boat or kayak. That's a great option for exploration and adventure. You'll also want to stop by the Tybee Lighthouse. It's adorable and you can walk up those more than one hundred steps if you want to. Their hours are rather limited, so be sure to check into that before you go. But even enjoying its beauty from sea level is worth the few minutes it takes.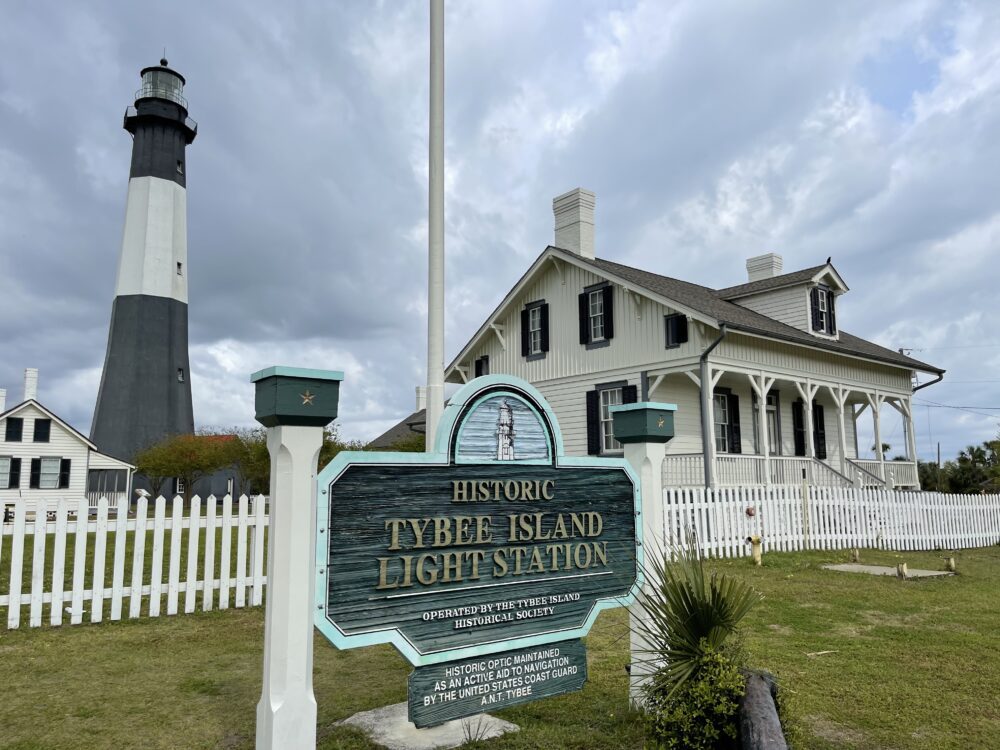 Before we hopped in our car to head back to TR, we took the morning to take a river cruise that departed right from River Street. Outside Savannah offers several options – wildlife tours and port tours. We landed on the port tour and had an eye-opening experience learning all about the commerce on the river and the shipping industry and so much more. Watching the beyond-belief gigantic cargo ships loading and unloading crates was more fascinating than I thought possible. Our guide was a gentleman named Boo who was an expert. (In fact, one of our local TR folks said we were lucky to have him. Apparently he's quite the well-known local historian and instructor.) He was funny and smart and the tour kept all on board engaged – even the teenagers who were boating on our tour too. It was a perfect way to end our adventure and gave us plenty to chat about on the drive back to Travelers Rest.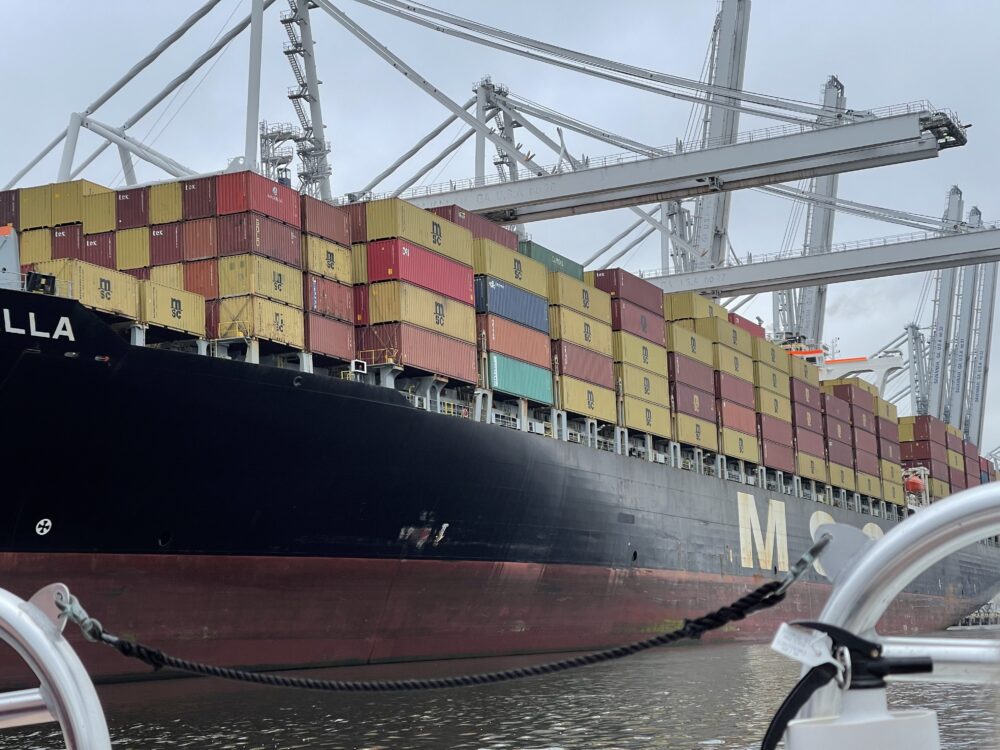 Oh – and another fantastic choice is to tour any of the incredible homes. Our choice was the Mercer-Williams Home. Years ago I read the novel Midnight in the Garden of Good and Evil. Our bike tour guide had discussed the famous home and its incredible collection of original art and antiques – same one from the movie by the same title – and that sealed the deal. The tour was thorough and the home is a masterpiece. I'm actually rereading the novel right now, just to picture it with fresh eyes having just been inside the hall, by the grand staircase, looking up at the dome. And that interior garden – oh my! The house takes up an entire city block. And – it's still owned and lived in by the family. The tickets are low cost and the tour is totally worth your time. (Grab the book from As the Page Turns before you visit!)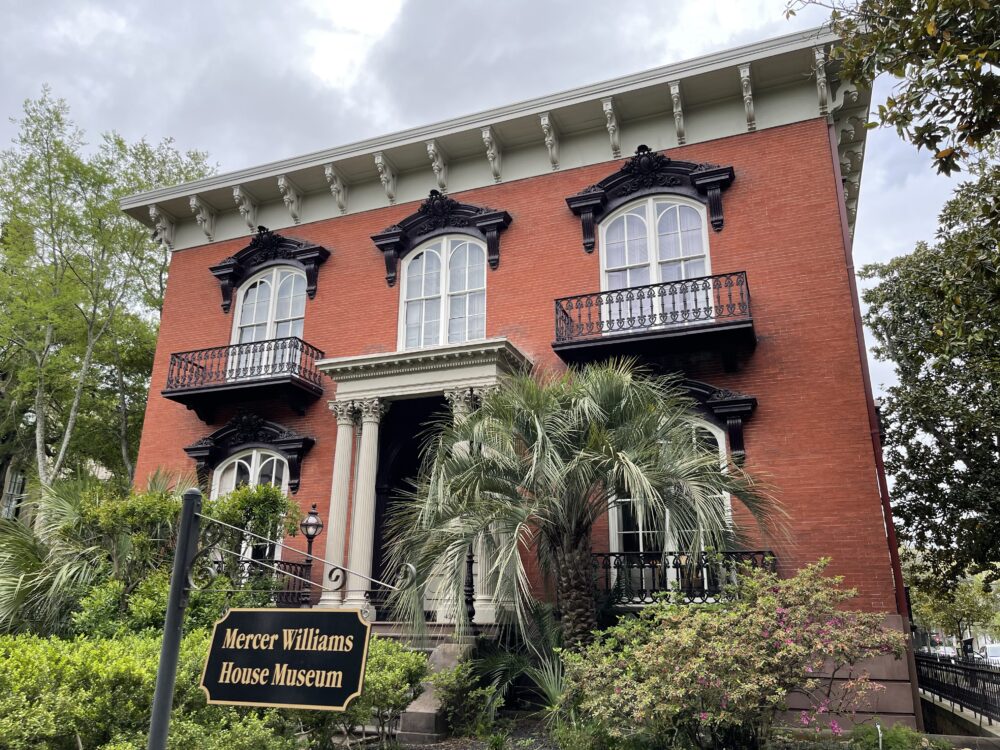 What Maybe Wasn't Worth It
Okay, this category sounds worse than it is. And, of course, these sort of comments are completely subjective. We all have aspects of a trip we prefer. Some of us are morning people. Some are night owls. Some like pralines and some people think they are too sweet. (I'm in the Big Fan membership on that one.)
When I found photos of Savannah online, one popular image that kept repeating itself was of Wormsloe Plantation. The tree-lined drive promised glory and iconic beauty. And, I will say, that driveway delivered. It is incredible. Of course, it's also a very popular location and it was nearly impossible to take a photo of the driveway without a car or a person in the frame. While the historic site was lovely, it was not exactly what we had imagined. The remains of the original house are quite scant and the current house is actually a private residence and unable to be seen from the driveway. There are lot of movies that have been filmed there. In fact, on our first attempt to visit, we were turned away because a movie was filming that day.
My insider tip – head over to the entrance and enjoy the view from the first parking spot instead of going all the way in!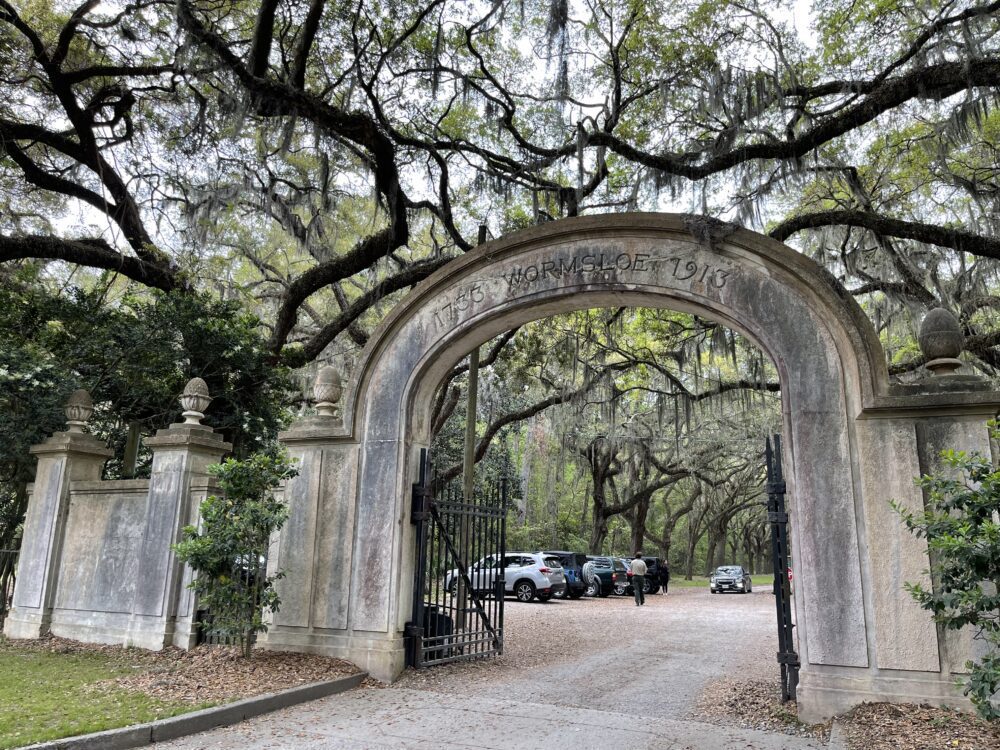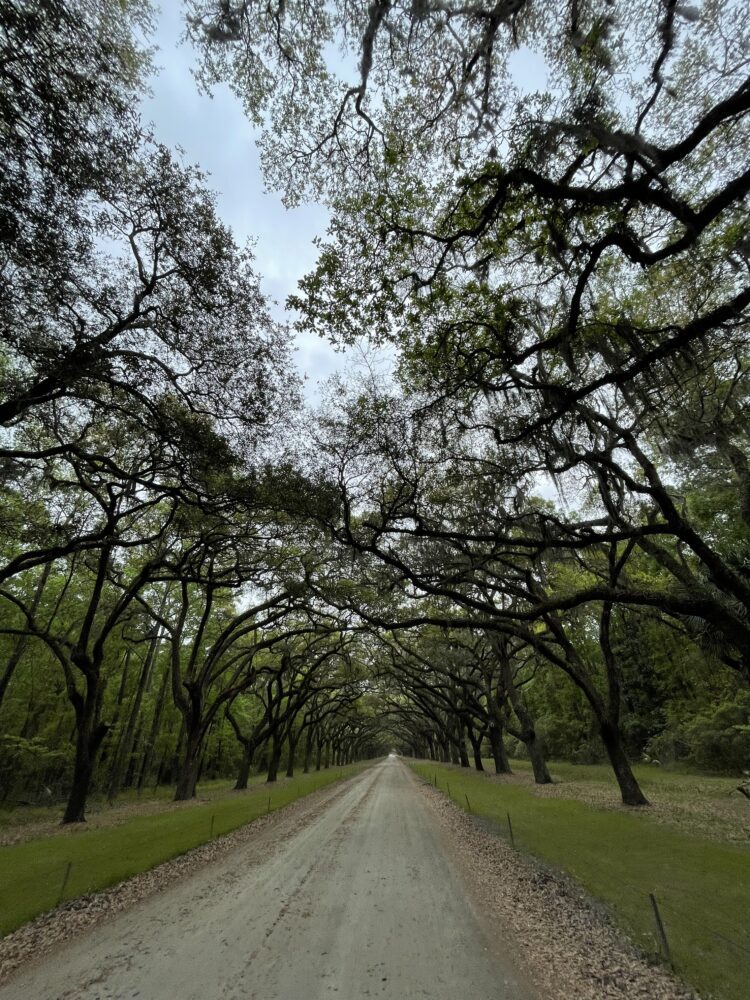 Savannah is truly a perfect vacation destination for our TR lives. It's nearby. There are amazing restaurants and local charm. It's affordable for families and couples. The history is so interesting and there really is something for everyone.
Of course, no matter where we travel, we love coming home just as much!
_______________________________
Looking for other road trip ideas?