Walking across the graduation stage at Travelers Rest High School nearly two decades ago, a younger version of Matthew Caine could not have predicted his future. (I'm guessing the graduating Matthew had a couple less tattoos too, but I wasn't there.)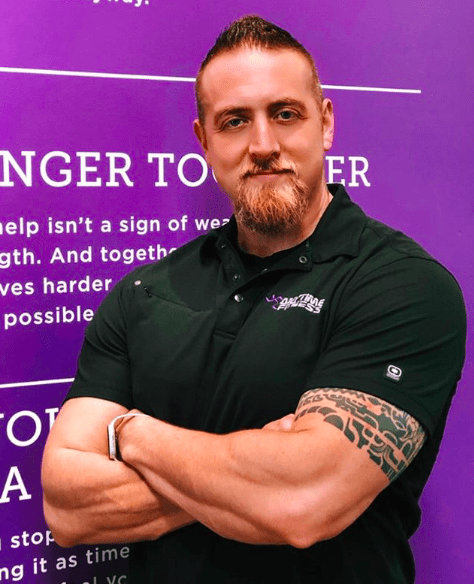 Just like all the other graduates accepting their diplomas, he had big dreams and hopes.
And this year, those big dreams became small town dreams and turns out – that's exactly the right size.
Two years ago he signed on to work with the Travelers Rest independently owned Anytime Fitness gym on Main Street.
In April, instead of just working for the business, he actually purchased the 24 hour gym.
But let's go back to high school first.  Well – just after graduation actually.
I sat down with Matthew at the gym recently and asked him to share his story.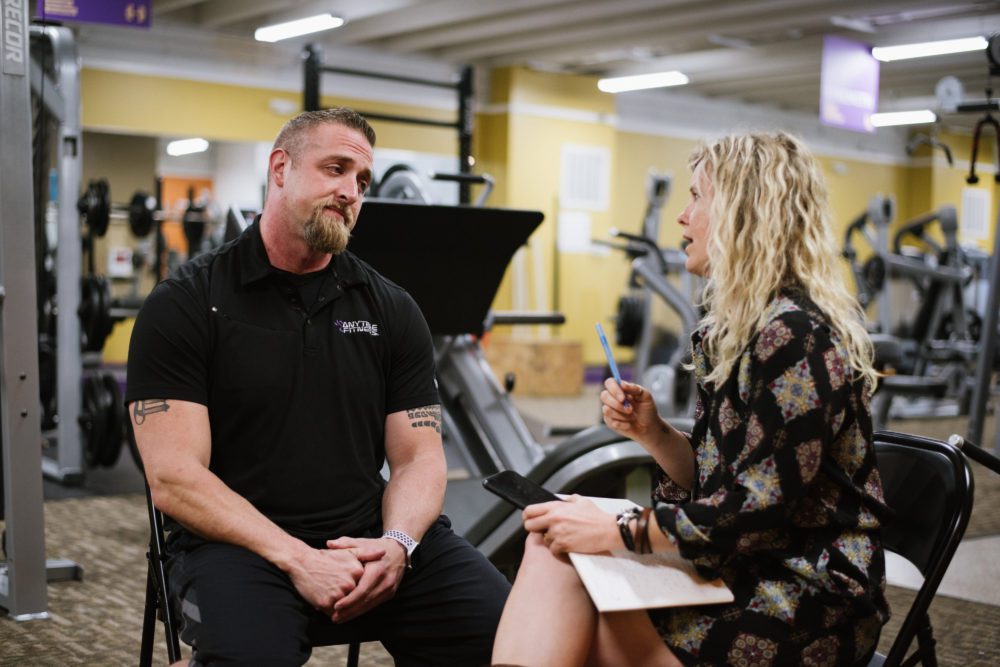 After a year at another college, Matthew learned about a program in massage therapy that suited him better.
He started taking classes at Greenville Tech.
"I loved the program and after a year I saw information about another program to become a personal trainer," Matthew said, as we talked over the music pumping through the speakers at Anytime Fitness.  "I thought that was a perfect combination – both those skills together."
Learning about physical training and physical fitness lead Matthew to develop self confidence and expertise in the field and by 2005 he was working full time with other Anytime Fitness branches.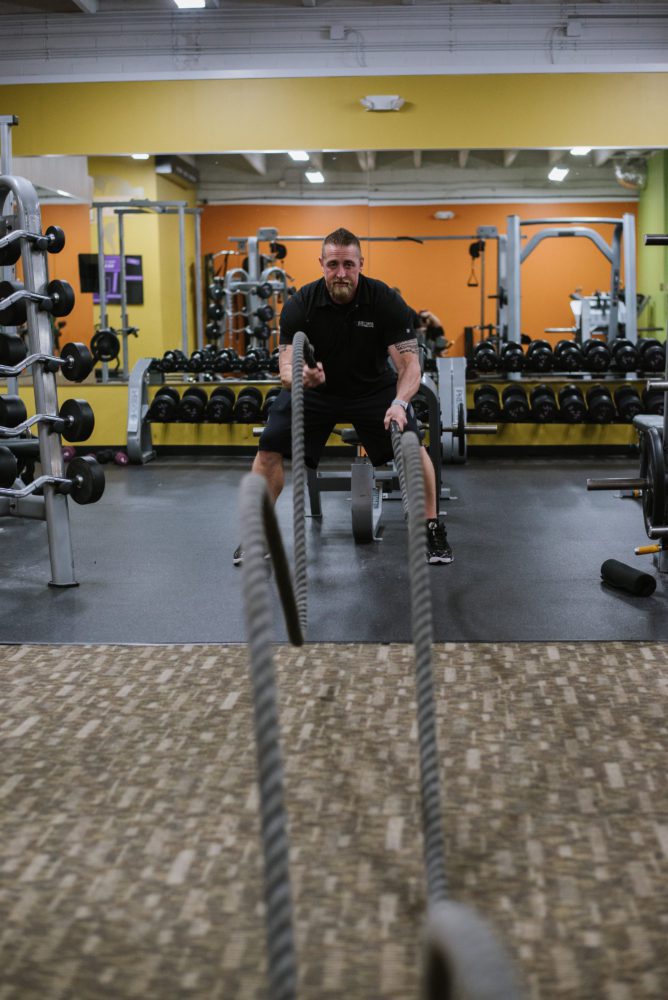 Matthew sits tall and creates a strong presence as he shares his story.  But his kind voice and pleasant eyes let you in on another side of this fitness trainer.  He's a bit of a teddy bear, actually.  His sincerity is evident and although he takes his job and his business seriously, he welcomes you enthusiastically and with genuine care.
"I loved the smaller atmosphere of the gym – actually knowing people and being a part of their story is what I love," he said.
And that smaller atmosphere, that vibe of knowing your clients and knowing the people who work out and train in your gym, is what drew Matthew in to purchasing the TR Anytime Fitness.  Matthew also owns the Pelham Road Anytime Fitness location.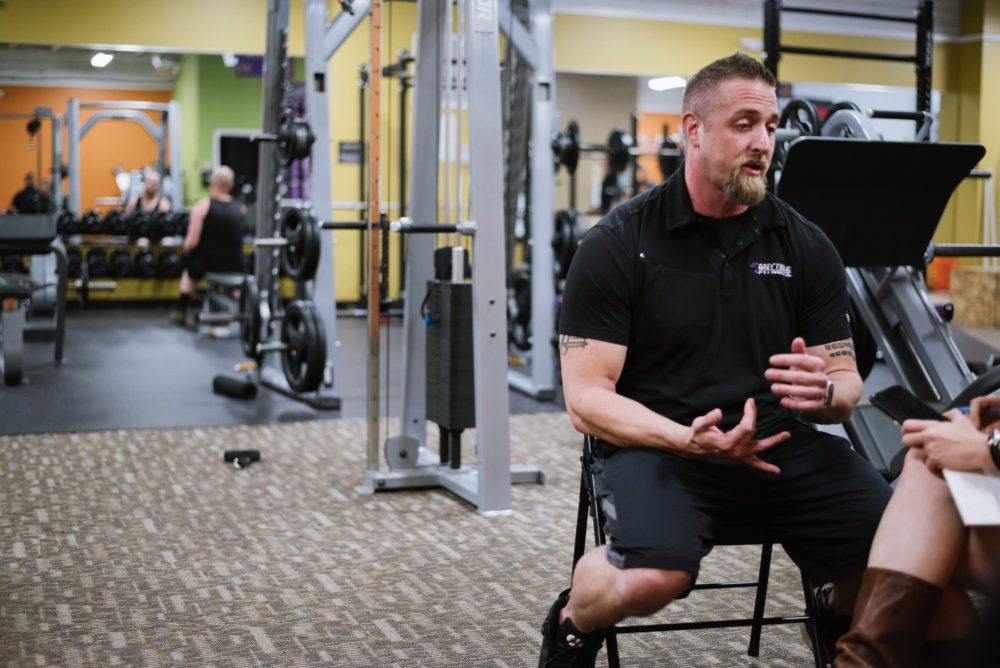 There's a lot to offer for members at Anytime Fitness – and not just the fact that they are open twenty-four hours.  (You get it – any time fitness!)  One of the reasons the 24 hours open gym policy is so beneficial, Matthew shares, is that people who work various shifts can still come in before or after work at their own hours and get a great work out in.  Plus, although each branch is individually owned, just like the TR location, the name brand recognition is beneficial if you are traveling.  Once you are an Anytime Fitness gym member, you can access every Anytime Fitness gym in the United States – and there's about 4,000 of them. This is especially helpful to people who travel frequently for work.
"The name recognition with Anytime Fitness has been huge," Matthew said, when we started discussing the alternatives of opening a gym that was simply called Caine Fitness – a name Matthew uses for his own personal training sessions and social media feeds.  And also, of course, Matthew says it's an important benefit to members who use the multiple other franchises on the road.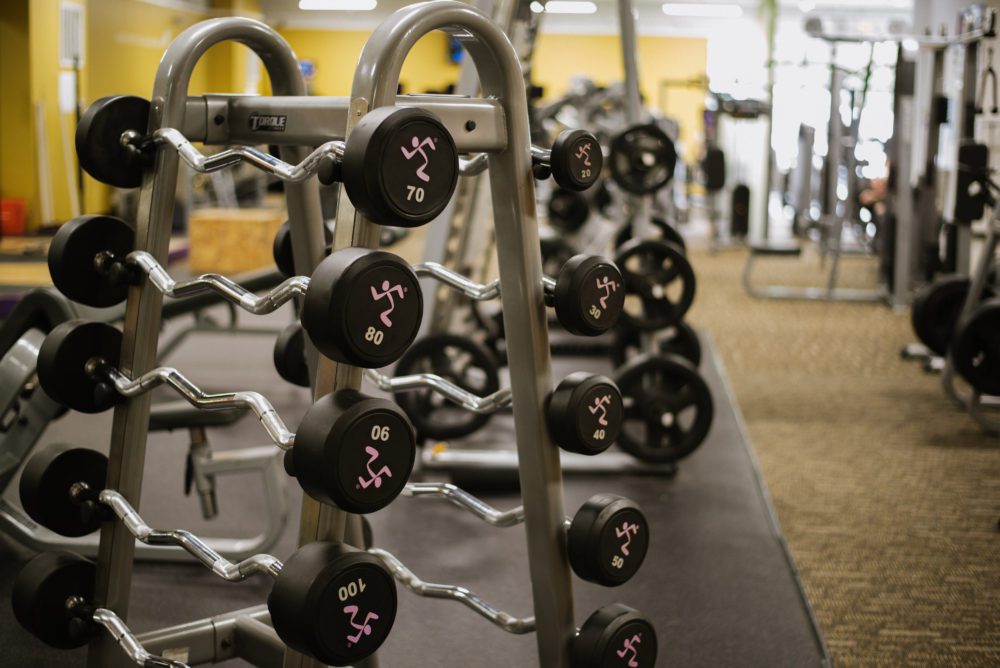 A myriad of various classes are offered at Anytime Fitness – and the instructors are local residents.  You can take a yoga class or a boot camp class, as well as many other options.  Classes are offered at various times to meet different scheduling needs. For members, classes are all free and included in your membership.  If you are not a member, the classes have a very low cost of $5 so you can experience a class and see what you think.
And, of course, you can always make plans with a personal trainer.  Not to mention, your gym membership includes use of the Anytime Fitness tanning bed and a pretty sweet high end massage therapy chair.  (I should have ended my interview by requesting a sample experience there – ah, hindsight!)
Fitness is a lifestyle to Matthew – and you can tell he's passionate about it.  He's educated and excited to educate others in his path.  "Fitness enhances every part of your life, whether it's your relationships, your confidence, your job, the way you make money – it helps all that," Matthew says, leaning in, speaking with casual confidence.  "Your health is so valuable – without it, not much else really matters."
We talked about stories of various gym members whose lives have been changed through learning about physical health and well being, getting fit and finding good ways and motivations to stay in shape.
He even convinced me to try my hand (well, both of my hands, actually) at a gym challenge.
"I've seen so many people gain confidence and take care of their health issues like diabetes through fitness and nutrition," Matthew says, a dedication evident in his tone and inflection.  "I'm so passionate about that part," he smiles – an expression that changes his demeanor and draws you in.
"Hand in hand, fitness and nutrition go together," Matthew says.  He spends time with his clients talking about their physical well being and their food choices and options.  "You can't eat at McDonald's every day and then come in here and try to fix that – it all goes together."
And what Matthew does in the gym, his beliefs and his educating clients, he brings home to his two daughters as well.
"I preach to my kids a lot about having a vision." Matthew grins when he talks about his girls. "I tell them your vision might change, but it's better to have a game plan than to say – 'I'll just see what happens.' " He talks about some of his daughter's dreams and how she is focused on a certain path.  He's proud of her – and far less concerned about whether she makes that exact path or not but more concerned about her working hard and working toward a goal.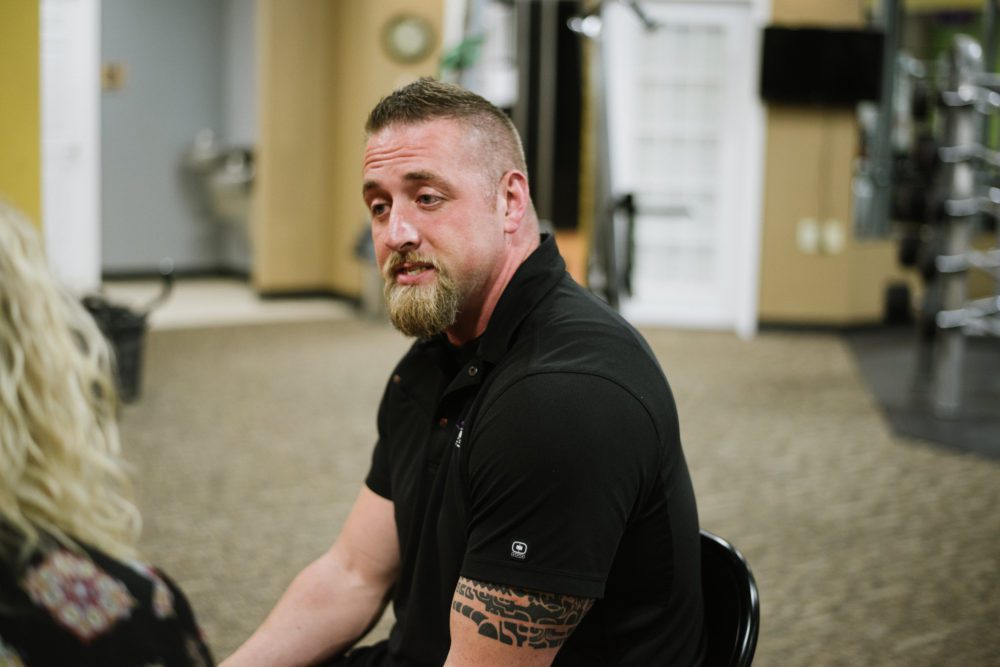 He might look tough – what with the tattoos and the biceps bulging, but it's pretty easy to tap into a softer side the minute his kids come into the discussion.  "It's fun – they're at fun ages," he laughs.  "I'm a sweetheart," he confesses, almost sheepishly. "The look of who I am is pretty different than who I actually am. I care deeply about people and I want them to do well, so yeah," he pauses, "the perception of who I am is not always the reality of who I am."  
Not everyone who walks through the doors at Anytime Fitness should come out looking like a personal trainer themselves.  "I want people to do whatever is going to give them the confidence they need to be themselves," Matthew states.
Some of the transformations are incredible – and not just the fitness levels that get shaped and shifted – but the attitudes and the thought processes that get changed too.  "We had one man come in – lost a hundred pounds, but his confidence level was fantastic. His kids came in – they were so proud of the work he had done," Matthew says. "I love seeing that. I was so thrilled for him."
As for personal motivation, Matthew says it's simple for him.  He's spent fifteen years dreaming of owning his own gym – and this year he got to make that dream come true.  But the reason he works so hard? That answer comes straight forward and without hesitation. "It's my kids, honestly.  I want them to see that you can make your dreams happen – day in and day out, I want to practice what I preach to my girls."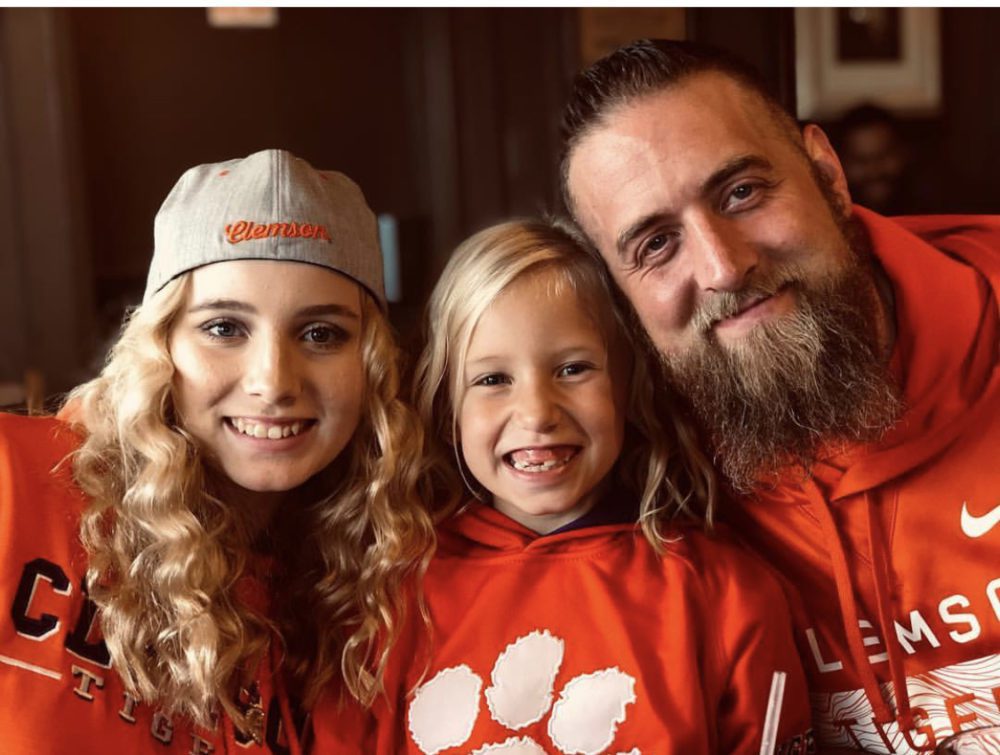 Photos by Jane Howard