Ho! Ho! Ho! and a Merry Christmas.
Deck the halls and shoot down the mistletoe.
The holiday season is upon us and the town of Travelers Rest will be kicking off the Christmas season on the first day of December (Friday, December 1) with the last TR Town & Art Crawl of the year.
Will it be jolly?
You betcha'.
There might not be sleigh bells (although there might be – you never know), but there will be rickshaws and decorations and a contest for the Best Dressed Christmas Tree in town.  There will be hot cocoa and sparkling Christmas lights and all of your favorite downtown stores will be open late for extra shopping time.  The winner of the $100 gift card from the Crawl Cards will be chosen too and that's worth cheering for.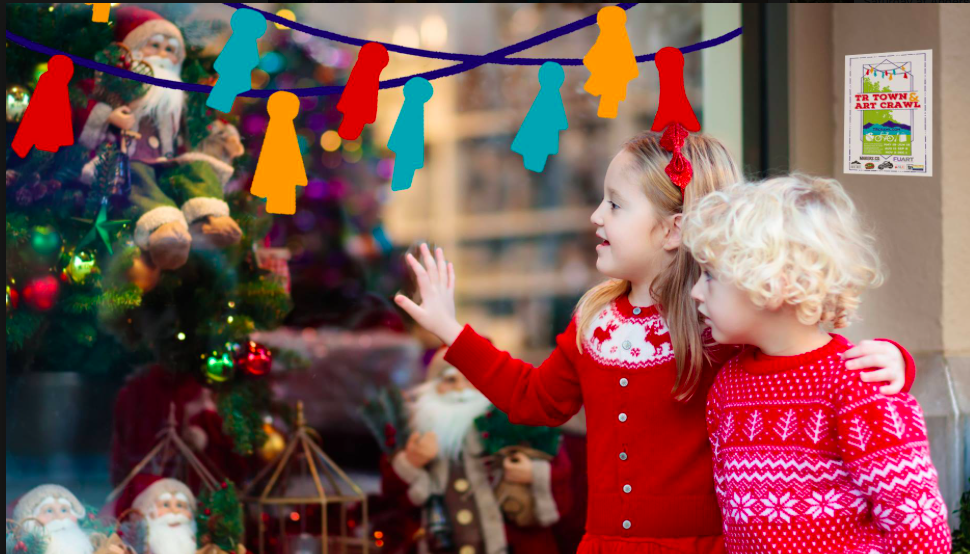 To vote on the Best Dressed Tree, pick up your voting ballot at the gazebo.  Visit the businesses participating and admire the beauty of their decorated tree.  You'll provide a rating on your ballot.  Likely, each business will have a small token of thanks for your visit.  Finish your tour of the trees at TR Makers Co where you turn in your ballot.  The trees will be up throughout December and we'll let you know the winning tree on Saturday.  Some participating businesses are TR Makers Co, Whistle Stop, FH Cigar, RetroMarketplace, Shortfield's and the White Rabbit Gallery.
Main Street will be decked out for Christmas and the sounds of the seasons will be playing and it's sure to be a wonderful way to get in the holiday spirit, if you aren't already in it now.  On the streets you'll hear and walk by carolers serenading you with Christmas classics as you shop and dine.  Local artists will have their art out in front of My Sister's Store and TR Makers and the White Rabbit Fine Art Gallery.
This year's Town & Art Crawl has grown and morphed and been such a unique and fun way to visit the shops and restaurants of downtown TR.  "It's like a whole town block party," Terry Rainey says.  He and his wife own Gray Mare Antiques and Terry says having the opportunity to be open in the evenings on Crawl nights has brought in the "after dinner" crowd to check out their store.
Often, a customer might check out a shop for the first time on a Friday night Crawl and then visit again the following week, Goose Feathers owner Keri Chavis says.  That's good for business, of course, but it's also just a lot of fun.  "Goose Feathers seems to be a place for people to congregate and talk to their friends over a cup of coffee or a glass of wine," Keri continues.  (Both of which are served up complimentary in the store on Crawl evenings.)  The vibe in the store – and on the street – during the Crawl evenings is friendly, fun, laid back and inviting, Keri adds.  "It's great on these nights to have a place to shop before dinner or after you've finished dinner."
Another fun aspect of the Crawl is that often entire families are shopping together – and usually shopping  more slowly – as opposed to the way they might shop during the week.  "We enjoy seeing families come through the door on Crawl night," Edith Garret says.  She and her sister own RetroMarketplace.  "I still can't get over all the kids who love vintage items as much as their parents.  They especially love the old cameras, cool maps, classic books and vintage tools," Edith adds.  Shopping and browsing through the treasures is a great bonding moment for kids and their parents as well, as inevitably stories pop up of "remember when" and "I used to own one of these".  Edith encourages families with a sentiment we want to echo in stereo sound, "Leave the TV for an evening and come explore TR together."
The TR Town & Art Crawl takes place on Main Street on December 1 from 5 to 9 pm.  
Your family and friends can make the entire evening TR special by visiting the Town & Art Crawl on Main Street and strolling down to Trailblazer Park for the annual festivities there as well.  (The events there are from 5 to 7 so you really have time to do both for sure.  They'll host a tree lighting ceremony and a visit from Santa as well.)
And it's not just a night to shop, it's also a night to provide and engage in the spirit of giving and sharing locally with those in need.  In partnership with our local food bank, North Greenville Crisis Ministry, you can donate canned goods while you're out Friday night.  Take your canned goods – as many as you want to donate – over to the gazebo where a drop off area will be located.
Reflecting on the entire year of Friday night events, organizer Kristin LaRoy highlights the fact that during this year's crawls, over $400 for our community has been raised.  "We've also helped residents see the lighter side of our city council and mayoral candidates in addition to seeing our businesses open late and sidewalks filled with folks on crawl night," Kristin comments.  She says she has been blown away by the support from the businesses – and even the TR Police Department – as they have handled traffic issues on Crawl nights.  "It all comes back to the people that live, work and love this small town.  I help organize this event because I love bringing family, friends and neighbors together to enjoy the place we call home," Kristin says.
It's one festive night in TR and the most fun way to start the holidays off right.
Happy Crawl Y'all.