A light in the darkness for those battling domestic violence, Compass of Carolina is hosting Chords of Compassion: Concert for a Cause presented by Wells Fargo, a free, private virtual fundraising event featuring The Jamie Wright Band at 7 p.m. Monday, Oct. 26 via Facebook Live. Those who would like to support Compass may purchase a dinner package provided by Table 301 to enjoy during the virtual concert as well as luminaries to display outside their homes or places of business during Domestic Violence Awareness Month. 
During the pandemic, domestic violence has risen dramatically," stated Kimberly Ward, who serves as the Executive Director of Compass of Carolina. "Victims and their families do not need to suffer in silence. That's why we are here – to help break the cycle of unhealthy behaviors to lead to healing and hope for a brighter future. Our Chords of Compassion event is one of the most significant ways that people can get involved and show their support."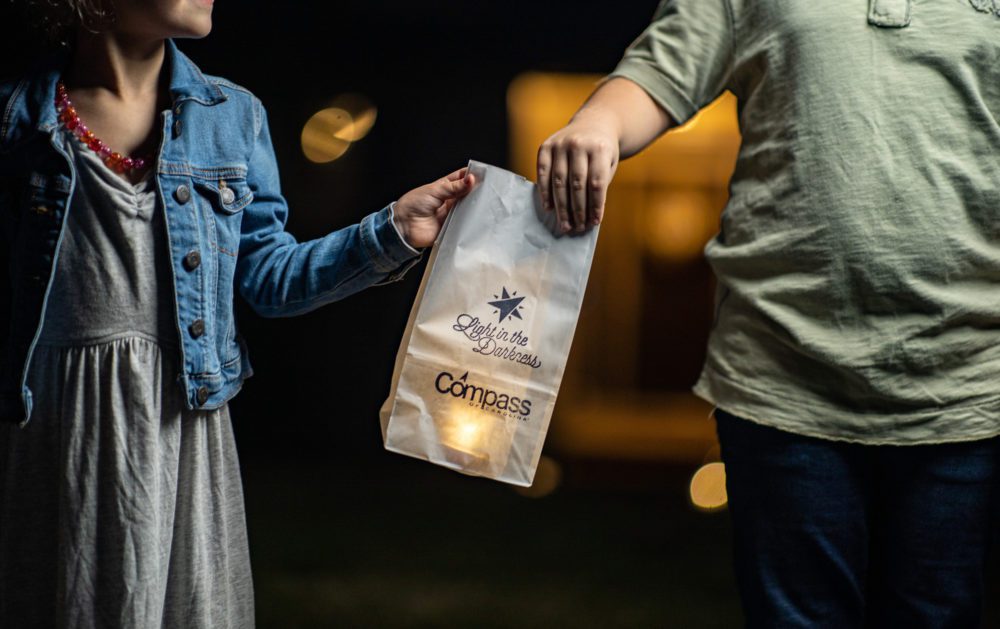 Tickets for the "Chords of Compassion: Concert for a Cause" can be purchased via Eventbrite.
The "Light in the Darkness" Luminary Fundraising Campaign supporting Compass of Carolina began Oct. 1 and will continue through Oct. 26. Compass of Carolina serves families who have experienced domestic violence every month of the year, but in recognition of Domestic Violence Awareness Month, the organization is seeking to illuminate Upstate communities with a visual reminder that their work is light in the darkness for both victims of domestic violence and batterers.
Luminaries are available for purchase at Mast General Store, and on Oct. 26, they will also be available at The Shops at Greenridge. The luminaries are sold in bundles of 10 for $25, and all proceeds will go directory toward funding Child Therapy Kits used in post-traumatic counseling services. When displaying the luminaries, Compass of Carolina encourages sharing a picture on social media using the hashtag #LightInTheDarknessSC to continue raising awareness. 
# # #
About Compass of Carolina 
Compass of Carolina serves in the areas of adult, child and family counseling; domestic violence intervention; and fiduciary management through a representative payee program. They focus on helping restore families after trauma in the home. After existing and serving in Upstate South Carolina for more than a century, this year's funding has been impacted by the pandemic. Compass of Carolina needs the support of the community to be able to continue providing valuable resources to families who need them now more than ever.