Winter at Trailblazer Park just got a whole lot cooler.
This Saturday marks the first of a new series of Winter Pop Up Markets with the Travelers Rest Farmers Market.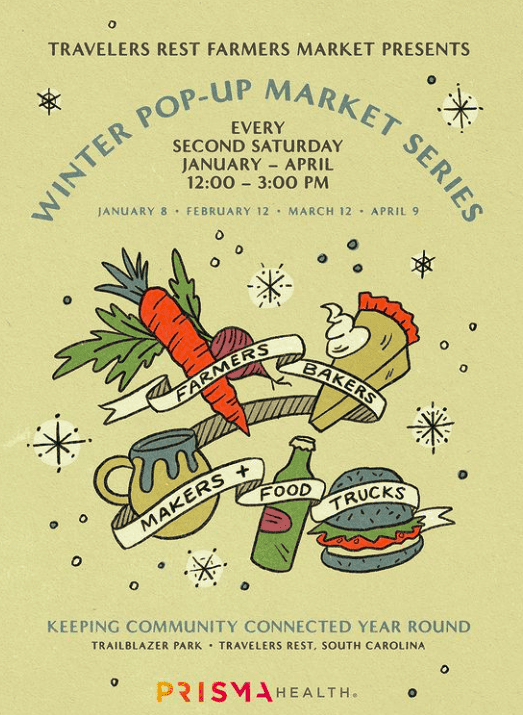 It's a Winter Market Pop Up and it's the second Saturday of each month from January to April.
You can visit the market from 12 to 3, January 8, February 12, March 12 and April 9.
The change is brought about by a desire to keep the community connected all year long and to expand the reach of the market.  Many thanks for the new market dates also goes out to the additional funding resources provided through the market's primary sponsor, PRISMA Health.
"The need for community, connection, commerce and local food doesn't change, despite the season," Market Executive Director Maranda Williams shares.  "We are excited to have the opportunity for continuity in fulfilling our mission and serving the community."
And we're excited to see our favorite vendors throughout the winter.
Guidelines for the winter pop up markets are the same as the guidelines throughout the summer season. TR Farmers Market is a producer only market and the goods for sale must always come directly from the source within a 50 mile radius. The winter pop up markets will feature more artisans than the summer series.
Of course there will be food trucks – it's right at lunch time and we love enjoying our collective lunches together at the base of Paris Mountain. Some of your regulars will be there – Mac Attack and Salome's Cuisine for example. A new food truck will be featured too – SOL GVL! (Think modern Mexican-American!)
It wouldn't be a market without a little music to shop and to dine to. (Or to dance – get those bodies moving to stay warm!) The line up is a great one – and as names are added you can find out by following the TR Farmers Market IG feed!  You can hear Doug McDonald, Karl Lauber, The Foreignlanders and RedFoxWood.
Another exciting bit of market news is the shifting to a new position for Jessica Mullen to the role of Director of Marketing and Development. She's been doing a fantastic job and we're glad she's in this new capacity.
We are looking forward to having the opportunity to buy goat's milk soap from Red Clay Soap and to stock up on our laundry detergent from Nood Clean, our salt and oils from iViva and stew meat from Satterfield for cozy winter dinners, just to name a few vendors!
Jim Pfeiffer, a vendor and a member of the Farmers Market Board, is looking forward to what adding a winter pop up market does for the makers and farmers. "Many makers and farmers kind of struggle through the winter," Jim shares, noting that places to sell local wares in the winter are harder to come by. Although there are events vendors can attend, Jim explains that often those booth fees are quite high, especially compared to the low cost our TR Market works to maintain.
"Many markets, even locally, do not stay open for the whole year," Jim shares. "This allows TR people, and for that matter all the community's around TR, to find all natural and hormone free and fresh produce and meats right here, as well as all natural hand made products. In my case, that's a laundry soap that is hypoallergenic and biodegradable, which is good for people and the planet."
During the summer, vendors create relationships with their customers and customers come to rely on those products and they really want to continue purchasing them year round, making this Winter Pop Up idea a perfect solution for both parties! Jim loves that this market offers an opportunity to connect with customers on a personal level and to stay connected. "Our customers stay friends and neighbors, not just a number in our account books. This way I get to see their faces, their children and their grandchildren all year long."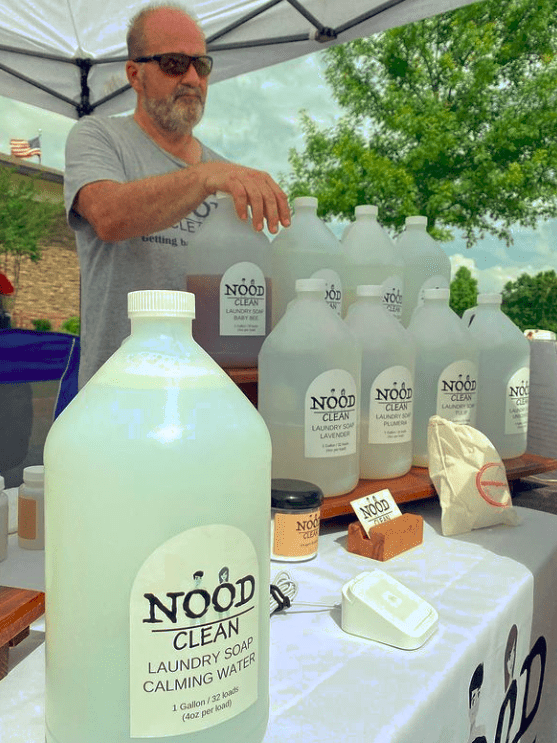 Chuck and Monica Chadwick, of Golden Forest Farm, will be at the winter pop ups with lettuce, carrots, kohlrabi, broccoli, radishes, turnips, arugula, asian greens, collards and kale.
Monica feels like a portion of the benefit of a winter market is education. "Winter veggies are far better for you than summer ones," Monica shares.  "You have all your highly nutritious leafy greens, broccoli, and your root crops like carrots, radishes, beets and  turnips. Everything is much sweet with the cold air!" And she says she's not complaining about the fact that winter gardening means almost no weeds!
"This pop up also gives an opportunity for farmers whose farm is their source of income to be more year round vs only during the summer months," Monica explains. "We prefer to grow during the winter. It's much cooler (normally), the variety is so much better and sweeter, and you should be eating fresh all year  – but especially during the winter when our immune systems need it the most!"
Monica appreciates the way that the market here loves and understands local food – as well as food that is clean and beyond organic."We grow as sustainable as possible by using what the earth gives us to enrich the soil. Leaves are the perfect example. All the nutrients the trees give to the leaves all summer we put back into the soil. We don't use any synthetic fertilizers or pesticides. All natural is the way to go! We use compost from Atlas Organics, which is in Greenville," Monica shares.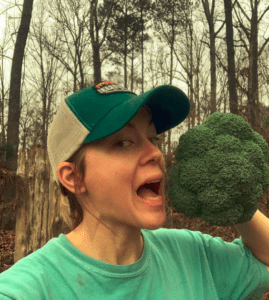 While you're at the market this winter, be sure to stop by and see us too!
Yep, that's right.
We'll be set up with all your TRH gear – our new beanies, our hand stamped baseball caps (created by TR Makers Co.), stickers (those cute designs by Charlotte Evan Designs), map and mural prints and even a couple of logo sweatshirts in some fun new colors!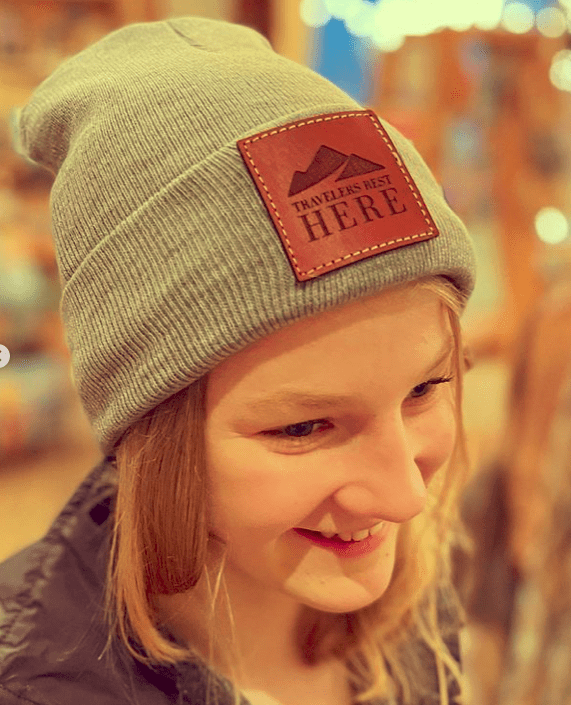 "A winter market provides a practical avenue to advocate for food system education, year round healthy living, and the success of our small businesses," Maranda shares.  
Naturally, we all benefit from the market – it's a fabulous spot to gather, to meet friends, to enjoy live music, to have a great lunch – but we know that the market also provides an important service to our local farmers and vendors who depend on their sales year round.
"We look forward to expanding the community's understanding of the local food-system as we showcase the bounty upstate farms have to offer in the winter months. Local veggies are by no means limited to summer and spring," Maranda explains. "Having a consistent, year round place of commerce is essential to the success of our small business owners.  We also believe community connection is a key component to health, and we think that should always be in season!"
Rachel Harding, co owner of Wet Knot Farms, says that often folks don't realize that farmers have year round growing seasons. She and husband Ian will be bringing mostly vegetables – collards, kale, winter radishes, scallions, salad, spinach ad more. Some flowers are possible too, depending on what's available for January, but more will certainly be in bloom for the later winter markets.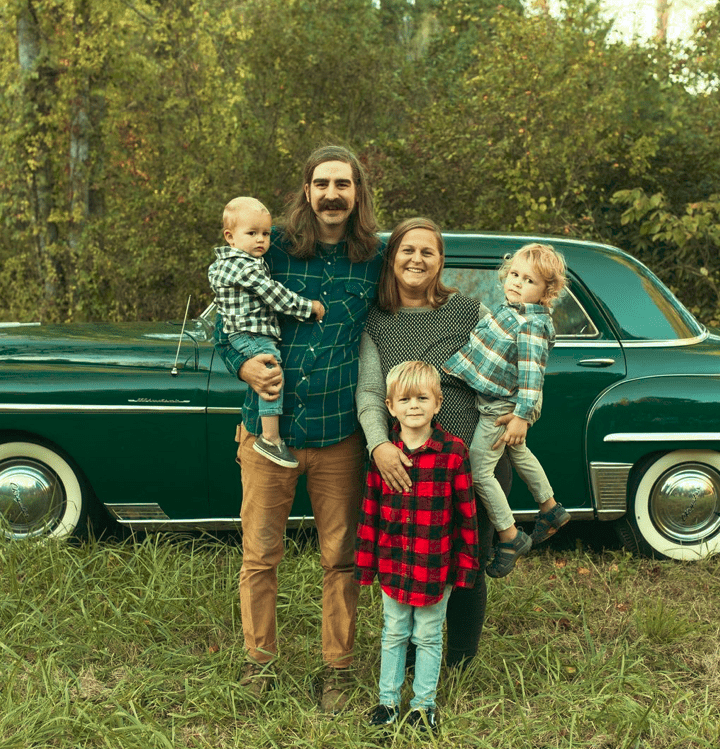 An advocate for local agriculture and small businesses, Rachel sees this market's biggest benefit being the support of the community, "People aren't farming to make a million bucks," she says. "They do it because they are passionate about the footprint of our ecosystem, about creating a product they want to feed their own family, and contributing positively to the community around them.  But we also hope this is also an educational experience. People need to know what is in season and how to cook it; in addition to all the other political, social, and ecological issues around food."
Every farmer, vendor and guest we speak to echoes the same sentiment – the TR Farmers Market is unique in its strong sense of community and the loyalty of the customers. "The vendors are a super caring bunch as well," Rachels shares. "I remember our first market, Jim from Nood helped us figure out our tent and let us borrow a few things. He showed us his 'market box' and sure enough, we had one the next time around. One of my closest friends is a vendor at the market, and I would have never met her if we didn't vend together."
Rachel sings the praises of Director Maranda Williams and her hard working crew to create an event that cultivates community. "I think this is the best market for a family to come to. There's plenty of space for the kids to run around, with crafts and things to do; but superb vendors as well. The TR Market really has the best of everything!" Rachel says.  (And we couldn't agree more!)
See you there – this Saturday kicks it off!