If you're new to Travelers Rest, it won't take long before you see our small town neighborliness in action. Our deep roots of family and friendship are complemented by a drive not only to succeed, but also to see others succeed. That's been the experience of author, blogger, and local Melinda Long.
"This is a well-loved area. Travelers Rest was always that picturesque, tiny town when I was a teenager," recollects Melinda. "Most of us had a strong church family, as well as a whole lot of mamas and daddies. If you got into trouble at school, your parents knew about it before you got home!"
Melinda came to the Travelers Rest area as a girl, and she's a graduate of local schools Travelers Rest High School and Furman University, where she acquired the skills to develop a career as a middle school educator.
And today, in addition to contributing as a writer to TravelersRestHere.com, she is a children's book author. Two of her books have even been listed as New York Times bestsellers, most notably How I Became a Pirate.
It was the care of local educators that encouraged Melinda to get into education and to develop a love for telling stories.
"Everybody that went to TR High in the '70s knew Delia Mosely. As a teacher, she was a legend," Melinda remembers.
Melinda took Mosely for two different classes during her time in high school.
"One day, she asked me what I planned to do about college. I told her that I didn't think my parents could afford it. 'Well, Burr,' she told me. 'We'll see about that.' The next thing I knew, she was setting me up to meet with the financial aid person at Furman," says Melinda.
She went on to graduate with her bachelor's degree in education in 1982.
"Travelers Rest is like that," Melinda says fondly. "People care about each other."
The people of these foothills at the base of the Blue Ridge Mountains have provided so much inspiration for Melinda and her career, she attests.
"Travelers Rest has given me a lot to write about, as well," she says. "Growing up here exposed me to wonderful, interesting people. Their colorful characteristics, as well as their lifestyles, always make their way into my writing."
Melinda has come to know the interesting people of Travelers Rest on a deeper level during her time contributing to TravelersRestHere.com over the past several months. Some of her most popular posts have highlighted firefly keeper Don Lewis, foodie Nichole Livengood, historic home owner John Walker, and graveyard wanderer Penny Forrester.
"Since I began doing this blog for TravelersRestHere.com, I've discovered all kinds of excitement here. It's a fun place to be," Melinda says.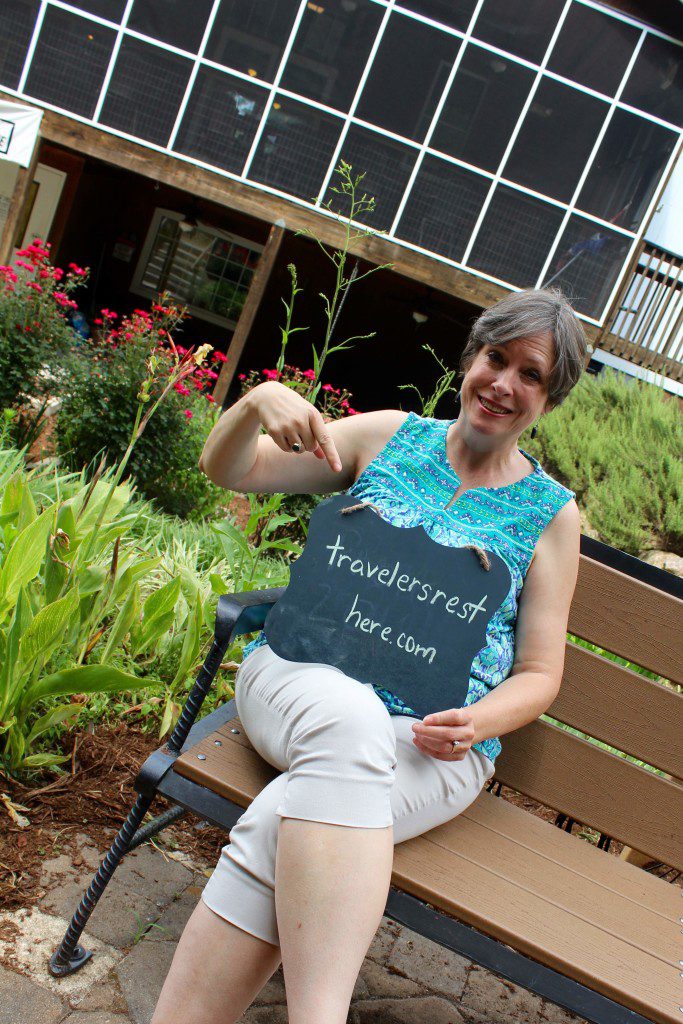 While inspired by the past, Melinda looks ahead hopefully toward what lies ahead for this community, too.
"It's incredible to see what's going on. I recently attended a meeting of the Travelers Rest Artists Alliance. There's Open Mic Night, Art on the Trail, live music in several venues, and even a newly organized theatre group. That's just the beginning," says Melinda, noting her fellow local artists. "I think that TR is going to be that place where people visit just for the food and entertainment, but stay because of the people. As a matter of fact, we're already on the way."
The DNA of this community is something that can be built on, even as it is growing and changing, she believes.
"I hope Travelers Rest continues to grow but keeps up that wonderful, small town feeling," says Melinda, putting into words what so many of TR's residents feel.