As a parent or a caregiver, ever wonder where the best restaurants are that lets kids eat free?  Or how to entertain your gang on a "snow" day?  Which preschools have openings or which parks are handicap accessible?
These are the sort of questions that the website Kidding Around Greenville was born to answer.
They're a fabulous source for information and knowledge, plus they're the place to go for lists and ideas and articles about parenting and raising kids in the Upstate.
Recently one of their writers spent the afternoon in our favorite small town (hint – starts with a T and ends with an R) at the TReehouse Cafe & Art Studio.  She brought along the most honest critics that exist – children – and she shared her review on the Kidding Around Greenville website recently.
Kristina graciously allowed us to reprint it here.  Can't wait for her to visit some other Travelers Rest sites soon.
___________________________
by Kristina Hernandez
I love coffee, I love art and I love it when my kids aren't fighting with each other. So it was definitely love after two full hours of coloring, painting, playing in a cardboard house, hula hooping and eating grilled cheese sandwiches at the new TRee House Café & Art Studio in beautiful Travelers Rest.
The new café and art studio is located where Leopard Forest Coffee used to be (they moved down the street), two doors down from Sidewall Pizza and right off the Swamp Rabbit Trail. The location is ideal but the true gem is once you walk through the doors.
I've been in lots of cafes but none as interesting as this one. There is an entire art bar down the center of the café, strewn with crayons, paint brushes, coloring books, paper and brightly colored ornaments and painted rocks. There are checkers and a few Mr. Potato Heads. My kids made a beeline for the art bar as soon as we walked in and started coloring and drawing.
That made me happy.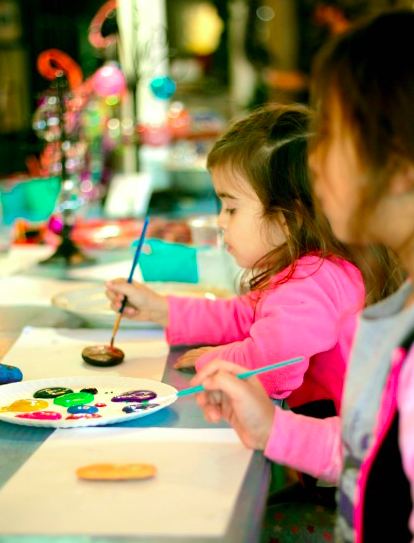 On the far wall, there are shelves full of blank canvases ready for your inspired paintings, plus tons of paint and brushes. The table next to the shelves has been decorated to look like a painter's palette, which I had to admit I was a bit jealous of because it was so cool. The owner, Kristen, told me she had it made years ago to remind her of her dream to open a café and art studio.
Opposite the shelves is a cozy nook with a fireplace, more buckets of crayons and comfy chairs. It's quite inviting.
There is also a cardboard kids-size house that children can draw on and hide in. There is a wall from old palette wood where guests can sign their names. And of course, there is the food and drink part of the café.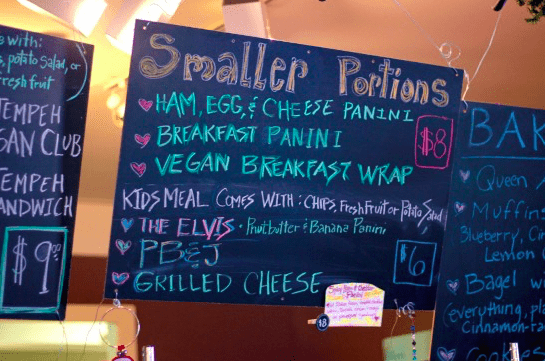 I ordered a grilled cheese with chips for my two kids ($6) and I had the Chicken Pesto panini with chips ($9) and chamomile tea ($2.50). The grilled cheese was enormous and plenty for my kids. Nine dollars is a little pricey for me for a sandwich, but I have to say, it was a good size and very tasty, way better than I expected. They also sell bagels, pastries and muffins.
So what in the world did we do for two hours? Not even everything the café had to offer (which means we are going back, yay!). We painted rocks – the ones that people hide at random places around town, we drew and colored, my kids colored parts of the cardboard house and played inside, they tried hula hooping, played with the Mr. Potato Heads, and I blissfully colored by number Van Gogh's famous painting "The Starry Night", which was beyond therapeutic.
When we go back, I want to paint on canvas, which my kids would love. The café sells canvases in three sizes for $5-$8 each that you can paint.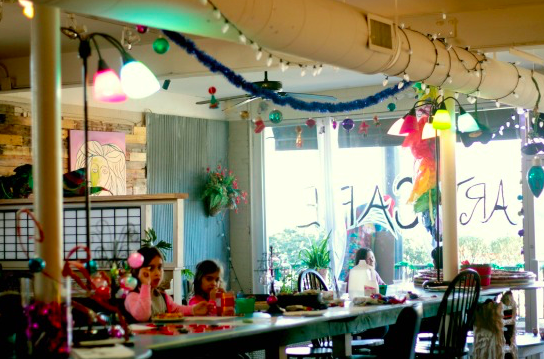 They also will be doing themed crafts in the coming months and classes. Kristen is an art teacher by trade and she was so engaged with not only my kids but the other kids who were there enjoying the café. She has a seemingly endless amount of patience and encouraged us to try anything we wanted to do.
The café also has wifi available, which I saw many patrons using as they tapped away on their laptops. I was almost unhappy I didn't bring my laptop to do the same since my kids were so occupied but then I would not have been able to enjoy my own coloring adventure!
___________________________
Kristina Hernandez is a mom of two girls, freelance writer and photographer, and New Jersey native who is thrilled to call the Upstate her new home. She loves cooking, trying new foods and checking out all that Greenville has to offer.