Directly beside Trailblazer Park and the community garden, with a view of our favorite Paris Mountain, sits the newest Travelers Rest playground.
Families already love the free form structures and the creative play spaces and the proximity to all of the Trailblazer Park events. In its opening weekend it was full of life and fun, with families visiting and playing together.
This playground – called The Adventure Park at Trailblazer – is the perfect spot to let the kids play on a Saturday morning when mom and dad have already purchased their fresh baguette and cups of coffee. On a summer Saturday night you can still hear the bands play on the Trailblazer stage while your daughter practices her rope climbing skills and your son takes another turn at the zip line.
Yes – a zip line!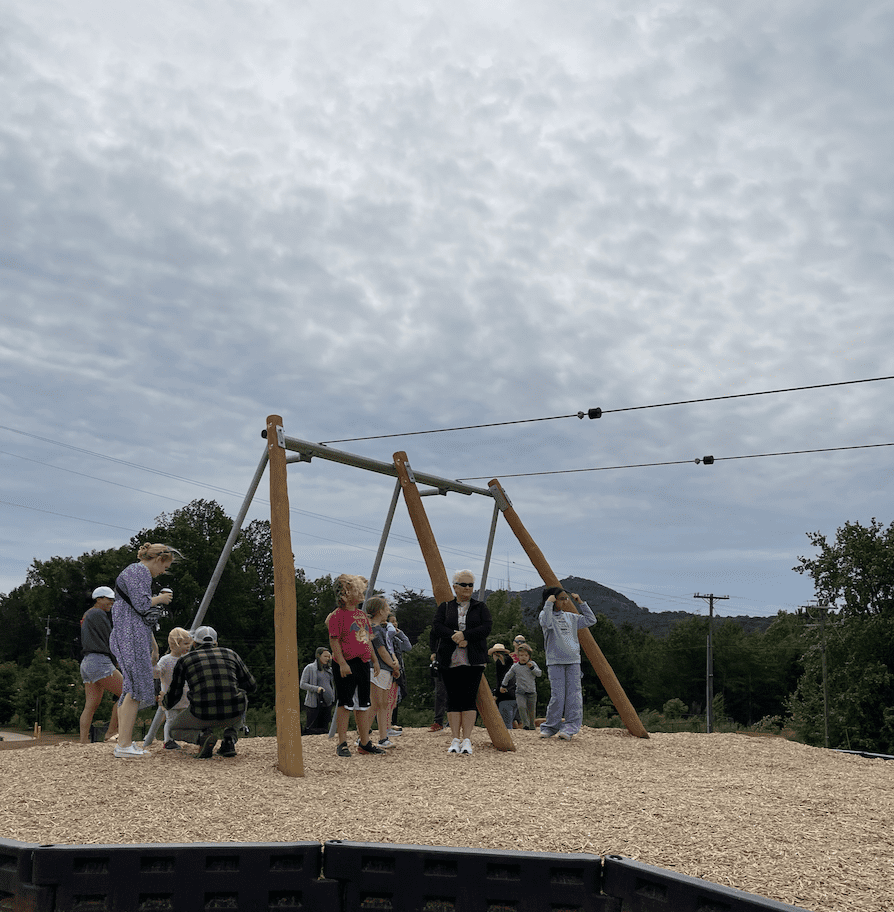 The Adventure Park at Trailblazer is not your ordinary playground. (Which is perfect, since TR is not your ordinary town.)
Although the park is technically owned by Greenville County, this creative new activity space is really a labor of love and community partnership. With donations and support from the city of TR, the county of Greenville and four local businesses, this destination playground was born from a desire to give the community and its children a better place to play and engage. Many thanks to the four local businesses for their role in this endeavor – Saint-Gobain Glass, T&S Brass, George Coleman Ford and Duke Energy.
Not only does the park boast a zip line – the only one of its kind on a playground in Greenville County – it also features a jungle gym, swings, a rope courses and inclusive and accessible play options such as a merry go round that allows wheelchair access.
Currently you'll see a picnic table area with some shade across the top for parents and kids to enjoy lunch and snacks and a break from the sun. In the near future, additional shade will be added as well as trees planted and more benches joining the park's line up.
We're really excited for Travelers Rest to have this new play option and love the continued improvements at Trailblazer Park that make it a real shining star for TR.
It's a great spot for a mid-morning meet up with fellow parents and families. It'll be a fun place to take a picnic blanket and a to go box from a local restaurant for a little after work family bonding time too. Your teens can play ball in the field at Trailblazer and your littles can climb the ropes and the jungle gym at the Adventure Park. It's a win for TR families!