Springtime has arrived on the East Coast!
Folks are looking for adventurous ways to get out of the house. There's been massive growth in travelers opting for camping-focused vacation plans instead of traveling to the beach or the big city.
According to Kampgrounds of America, 25 percent of all Americans took their first camping trip during the pandemic last year. Experts forecast that this spring and summer should continue to be a large camping boom across the country. 
If you're looking for a safe, responsible, fun, and adventurous camping idea for family or friends, below are some compiled camping ideas that we think you'll love, including the best practices to hammock camp safely and some of the best spots around Travelers Rest!
How to Hammock Camp Safely
When people think of camping, usually the first couple of thoughts lean to either a tent on the ground or an expensive RV. But more and more outdoors enthusiasts are opting for a cheaper alternative: hammock camping. Hikers and backpackers are leaning towards hammock camping for three reasons: lightweight to carry, takes up less space in your pack, and the lifted bed means there is significantly less worry that you'll be visited by local critters in your sleep.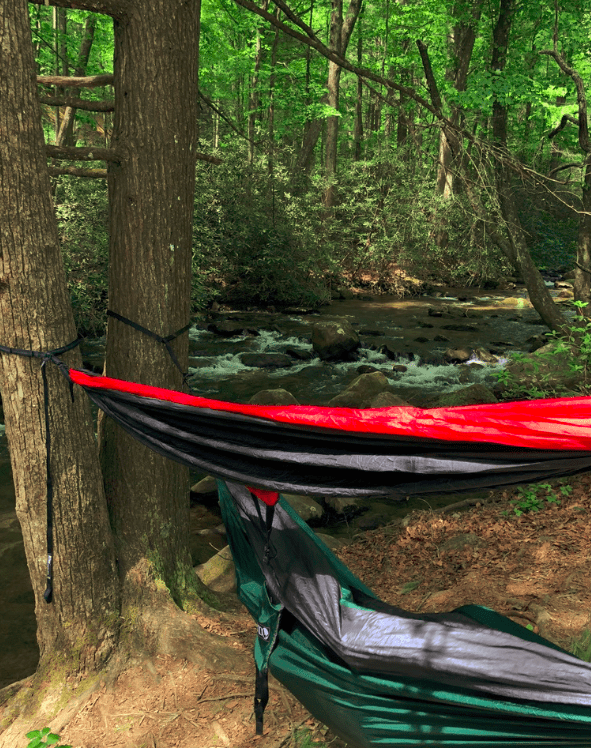 Now some will point out the obvious, a hammock does not the have roof coverage that a tent or RV does.
What if it rains?
Luckily, as long as you've got sturdy trees to anchor to, you can incorporate a tarp and a bug net for the same level of protection from the elements that a traditional tent provides.
We've included a checklist of everything you'll need to set up your hammock campsite:
Hammock (you should consider the weight and comfort when making your choice of what kind)
Suspension anchors (avoid rope because it's harsh on trees, but wide straps should suffice)
Sleeping bag (make sure it fits in your hammock comfortably)
Rain tarp and Bug net
And that's all you need for your nightly set up!
When picking the right spot to set up camp for the night, pick large trees that are roughly 10-12 feet apart, and set your straps up so that you are at least 18 inches off the ground. But if you've got persisting questions, consult local experts right in TR at Sunrift for best practices and creative tips.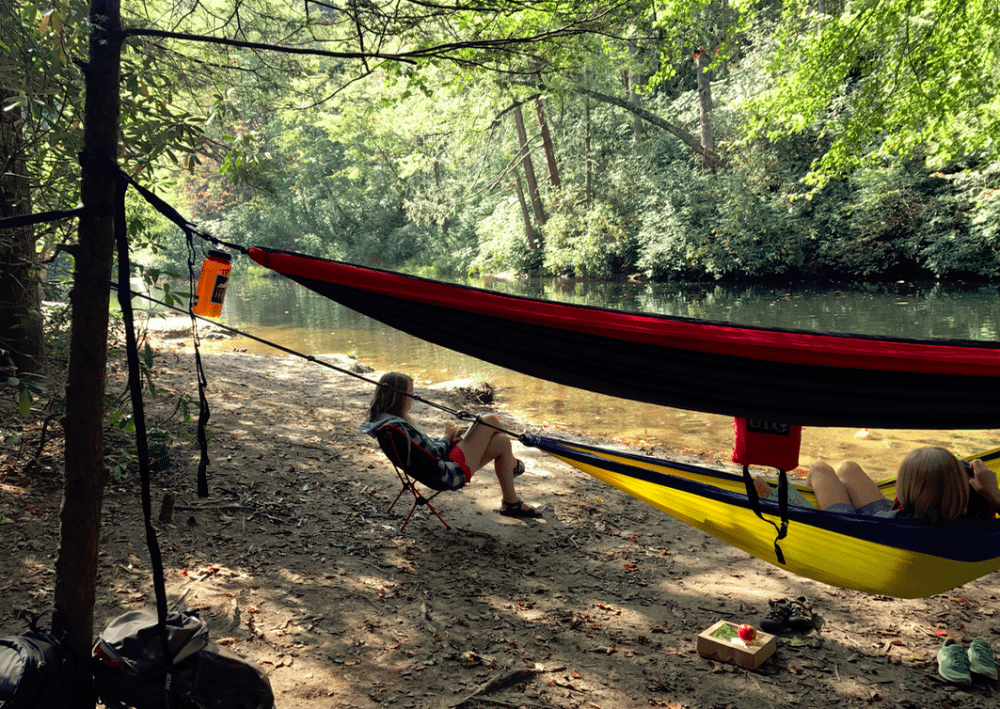 Hammock Camping Spots in TR
No camping trip is successful without a quality location. Travelers are looking for a combination of good weather, good views, and fun activities. Luckily, Travelers Rest has all three.
But what camping spots around town are the best?  Nearby you can find these great spots:
● Black Forest Family Campground
Every one of these locations is within a few hours drive of Travelers Rest, and each spot has something unique to offer.
Maybe you are looking for more intense hiking, if so then I recommend Pisgah National Forest. But maybe you are a little more inexperienced and are just looking to get away for the weekend on a short drive, then right down he road at the Travelers Rest KOA might be your best bet.
Every camping group is looking for something a little different, so do your diligence before you pick a spot. Consult with your party about what the goals are for the weekend and make your decision from there.
After you've picked a spot, you can make a reservation in a couple of different ways. Some sites like KOAs have an app that you can sign up in. Others require a phone call and a deposit before your spot is reserved.
However, because everything has moved to digital, making a reservation or cancelling it in the event of an emergency has never been easier.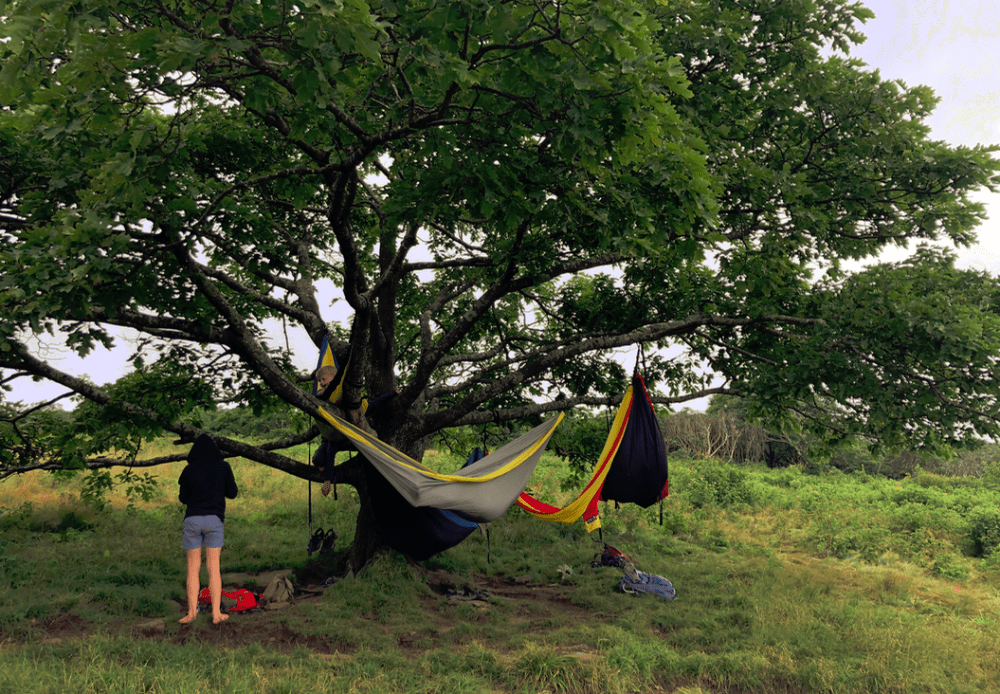 The most important thing for your camping weekend getaway is to have fun!
The point of vacation is to get away from the daily stresses in life and unplug from all the madness in society.
With the abundance of camping options near Travelers Rest, and the warm weather making regular appearances, this has never been easier.
So what are you waiting for?!
Call your friends and get some ideas in the pipeline and some dates picked out for your next hammock camping adventure.
__________________________
Story by Derek Edwards
Photos by Lacey Keigely