by Jonathon LaRoy
I recently caught up with Beau Bethel the owner and operator of  Blue Wall Adventures.
He's a mountain bike guru and turned that passion into a business plan two years ago.  Blue Wall Adventures is an incredible source for outdoor adventures in Western North Carolina and Upstate South Carolina. They offer guided mountain biking tours and hikes in Dupont State Forest, Pisgah National Forest and Chimney Rock State Park. They also offer professional mountain bike instruction, summer camps, skills clinics and private instruction for families, groups, or individuals.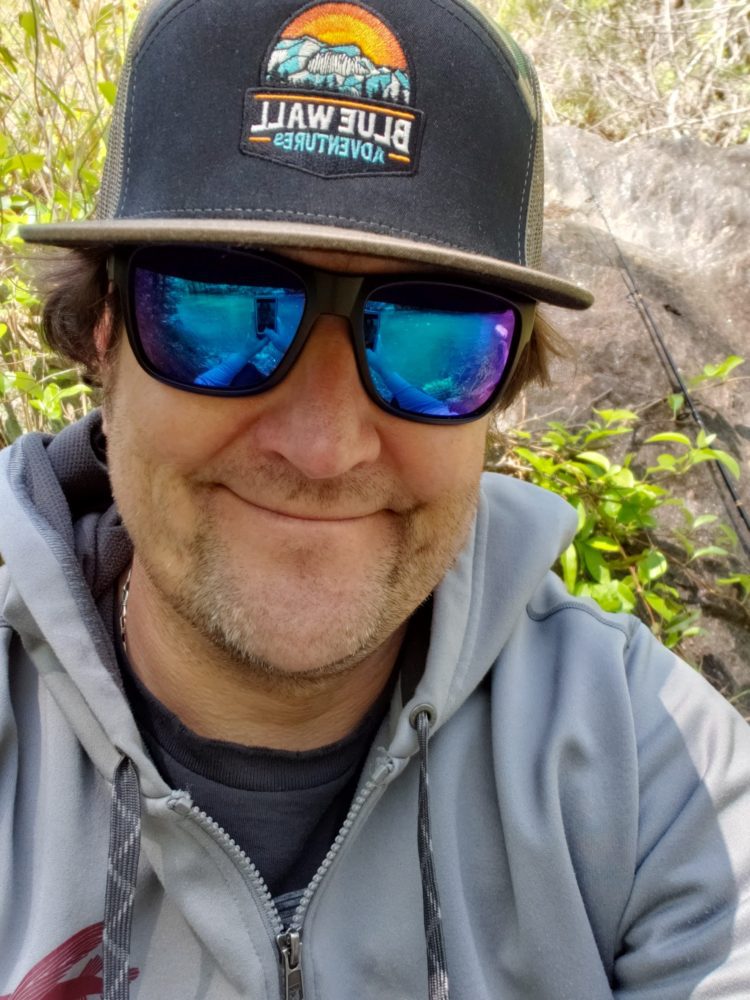 Beau has been instrumental in helping lead a lot of the work days at Gateway Park in downtown TR over the past year to facilitate park improvements to the trails.
During the recent time at home, we thought it was great opportunity to ask Beau some questions.
Please explain the mission of Blue Wall Adventures, how long you've been in business and introduce us to any partners.
We are professional mountain bike instructors and guides certified by the Professional Mountain Bike Association.  We offer guided rides, hikes, clinics and private instruction.  We are permitted to ride and hike in Pisgah National Forest and Dupont State Recreational Forest.  Additionally,  we run children's summer adventure day camps. We partner with Sunrift Adventures for rental bikes and gear. We celebrated our 2nd anniversary April 1st.
That's really awesome Beau. Tell us a little about you. What's your favorite trail food?
Favorite trail food is a Braken Bakery Olive Loaf.
I think you need a James Bond theme to go with that Olive Loaf.  Tell us why you choose Travelers Rest as the home base for your business.
It is the gateway to the mountains.  I always wanted to live in a mountain resort town close to or in the mountains.  Travelers Rest is a mountain resort town on the move!
TR is certainly on the move and we all love our little mountain town. Where do you have licenses to operate? What's the most popular place for your clients to go?
Pisgah National Forest, Dupont State Forest and Chimney Rock State Park for Weedpatch mountain shuttles and guided rides.  Dupont is by far the most popular spot to ride!
Tell us about your summer camps, what are the options?
We offer two different ability level mountain bike camps.  We work on skills every day and take it to the trail.  We offer adventure camps for children that combine hiking, paddleboarding or rafting, and a mountain bike day.  This is when our permits to travel to Dupont and Pisgah are so valuable.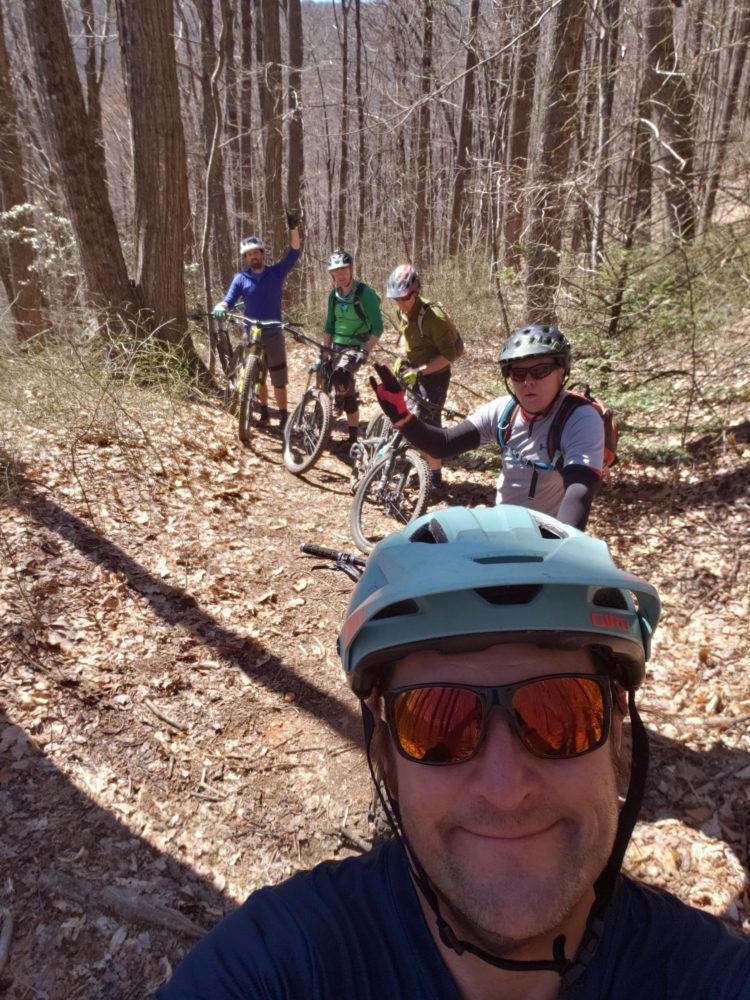 You've given a lot back to Gateway in a short period of time, our town appreciates that. What's your favorite part of having this facility in our town?
The ability to ride out my back door.  It is amazing the value the community places on these trails and features.  It is consistently used, at times packed.  It is a real joy to see families and kids out riding.  I wish we could find a way to provide helmets to those that don't have them.
Who was your hero growing up?
My mother's parents.  Both grandparents were working class, hardworking, loving people.  They didn't have much, but were always smiling and happy.  I think of them often.
How did you come up with Blue Wall Adventures?
When I moved to the area, Tommy Wyche had just published the picture book The Blue Wall.  I was mesmerized by the photos of our rugged, unique area.  We need more places to recreate in the Blue Wall and trail advocacy is a big part of what we do at Blue Wall Adventures.
What's a must have while mountain biking?
Good tires, which are often overlooked by newer riders and can make a big difference.
You got that one right, Beau! Seasoned riders love the feeling of new tread on the trail. What's been the most rewarding aspect of your business?
My love of being outdoors and being able to teach and share my passion of exploring nature and the responsible way to do it! It has been really fun making friends with Land Managers we work with on trail maintenance or use of their facilities. Shred on!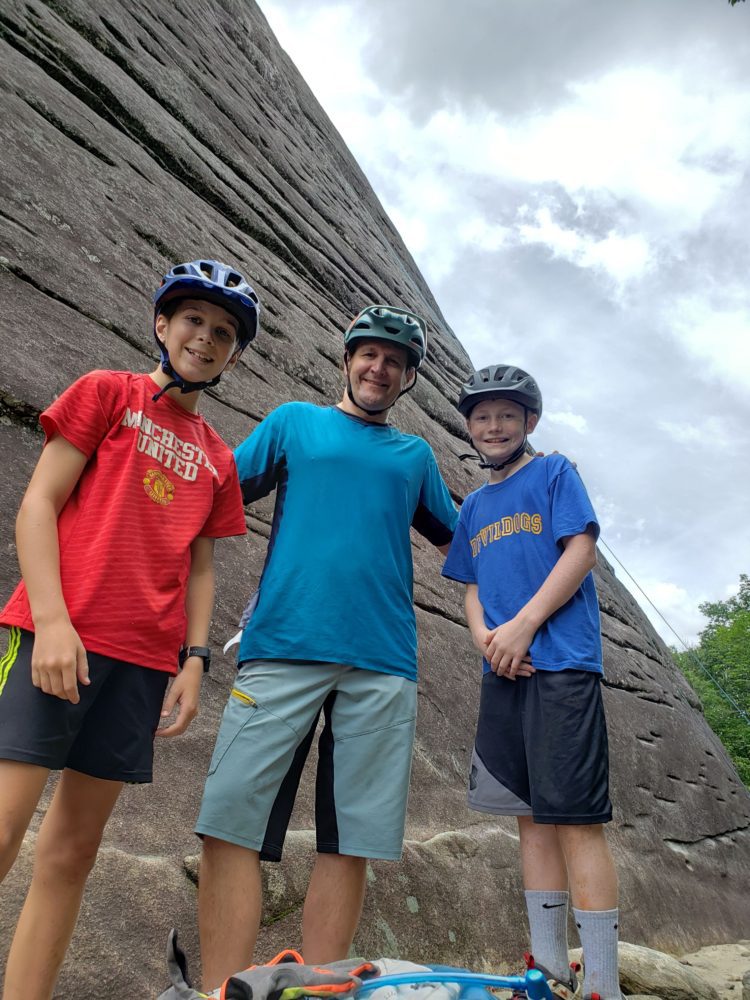 Shred on we will, Beau and staff!
Thanks so much for sharing your passion for the outdoors along with your love of mountain biking here in our great home. If you don't know, Travelers Rest is truly a gateway to many mountain bike meccas. We have access to over 500+ miles of trail within an hour's drive of our little town. Everything from fun flow trails, scenic waterfall loops to hardcore rugged forest trails. Blue Wall Adventures can help you get out there at an ability level that is great for you and your family.
Thank you BWA for taking the time to give us an interview.