Driving through Travelers Rest, it's impossible to miss the brick wall near Farmhouse Tacos that is being transformed into a colorful piece of art, one that reflects so many of the joys of living in T.R.  Furman students sit in front of the wall as cars and people pass by.  Painting a mural means becoming part of a community.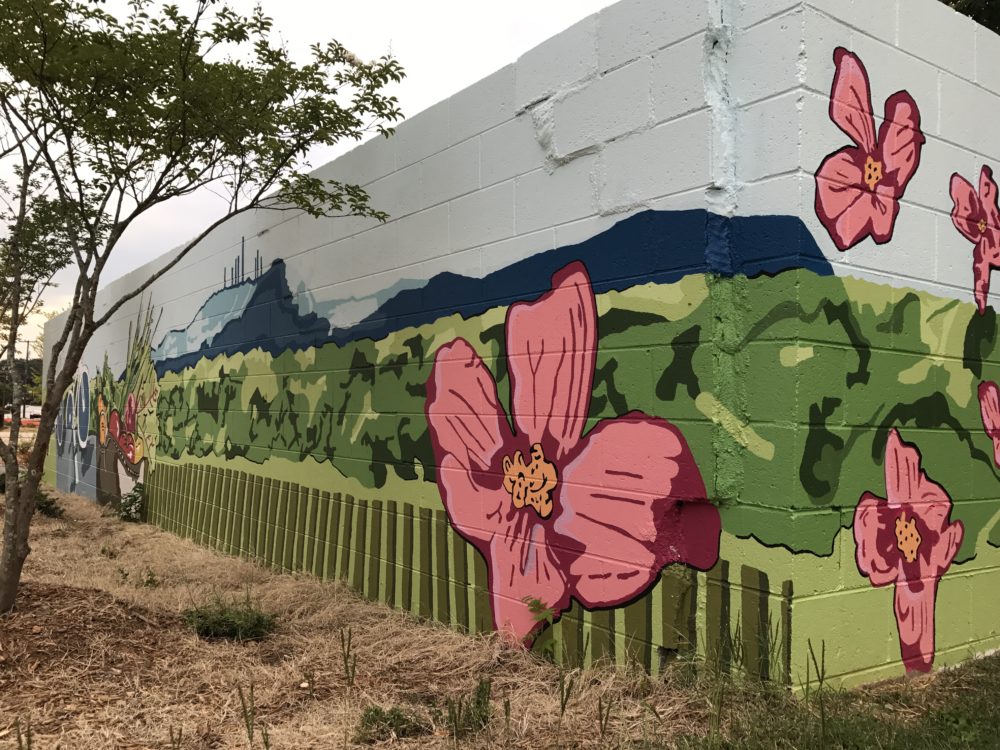 Six years ago, Ross McClain, the art department chair at Furman University, decided to offer a course in community art.  This took place during May X, a three-week Maymester class. It focused on showing how arts can have a big effect on a community.  Their first projects were in the San Souci community.
"What came out of that is that people wanted to have a central place to rally around and have pride in."  Since McClain's kids go to Stone Academy, he naturally wanted to connect to the ongoing mural projects there.  Those projects were begun some time ago by Stephanie Burnette, a parent at Stone.  McClain wanted to get Furman students, not just art majors, but students from various disciplines, involved.  "I wanted to use art as a switch to turn back on creativity."  It was a way to get them involved with the community and enhance their creativity through applied learning.
Other mural projects near The Universal Joint and at Horizon Records followed.  Grade school students also got involved and the city of Greenville donated money to the effort. Then came the conversation with the Travelers Rest Chamber of Commerce.  Art has been an "economic driver for T.R." says McClain.  The owners of the mural wall offered their blank canvas.
Enter Emily Clanton, professional artist. "It was important to Furman Art that they work with an artist in the TR area" Emily says. "TRAA had a design contest and my watercolor sketch was chosen."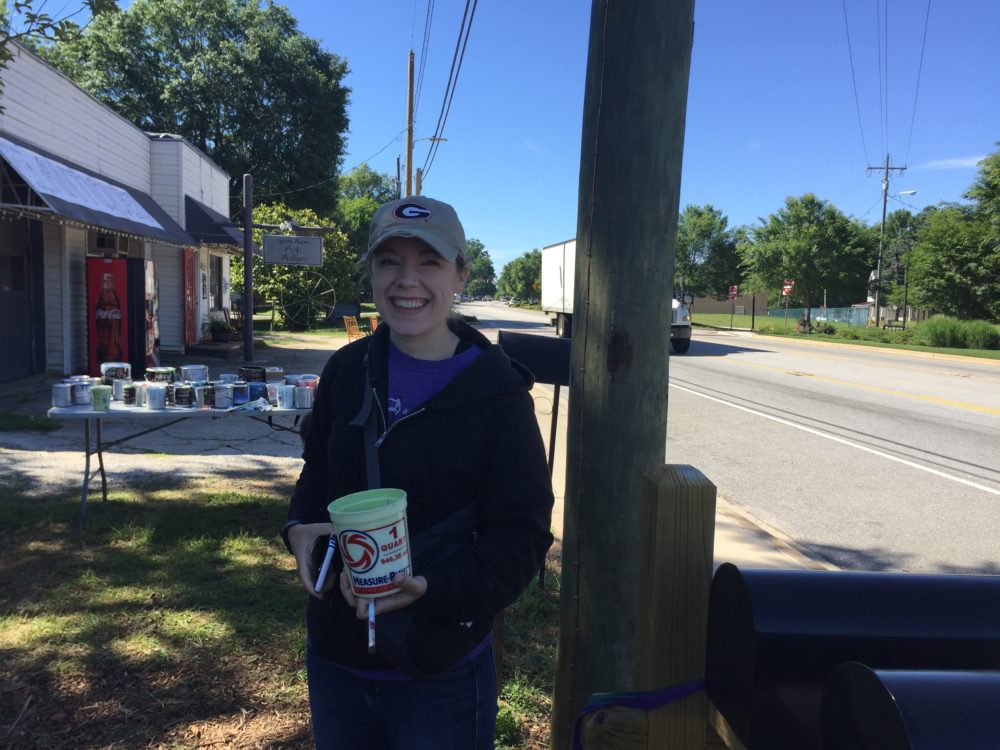 "To me, the image represents TR in late spring/early summer. It's a creative reimagining where you can see Paris Mountain, the Swamp Rabbit Trail, and a basket full of vegetables – calling to mind the Travelers Rest Farmers Market as well as the farm-fresh produce used at Farmhouse Tacos. There is also a landscape full of potential. At this time of year, growers have harvested a few things – as seen in the basket – but the farm rows and the flowering tree remind us of the larger harvest yet to come. TR is like that landscape. Great things are happening now, but with all the planning and work happening behind the scenes, we know that so many exciting and beneficial things are quietly growing and will become visible and accessible in the years to come."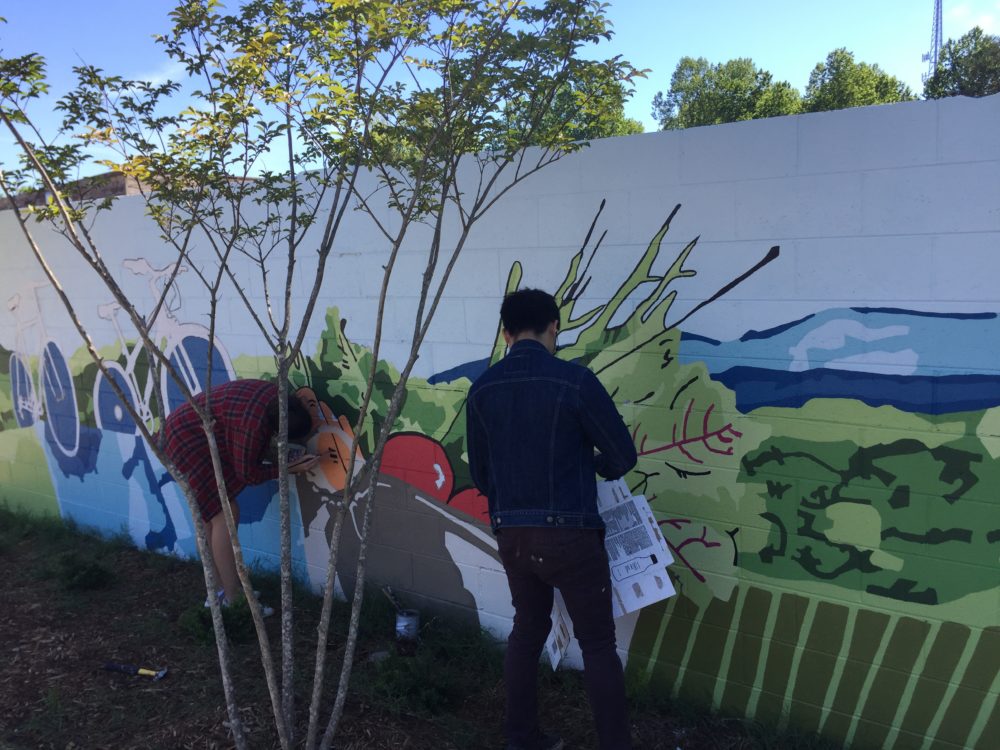 The mural is being done in latex house paint with a design that allows students to use a paint by number type concept.  Emily transferred the final design to the wall using a grid format.  "I wanted everyone, regardless of experience, to feel comfortable with jumping right into painting. And almost everyone can understand matching a letter and number on a paint can to the corresponding letter and number on the wall."
Marta Lanier is the Fine Arts Program Specialist at Furman.  She worked with the White Rabbit Fine Arts Gallery to choose an artist from the Travelers Rest area.  "For me, the most challenging thing is making sure everyone is able to get what they need out of the project." Marta says.  "The Furman students need hands on experience in public art while the artists need their voice to be heard and finally we need community support behind the mural to make it a success."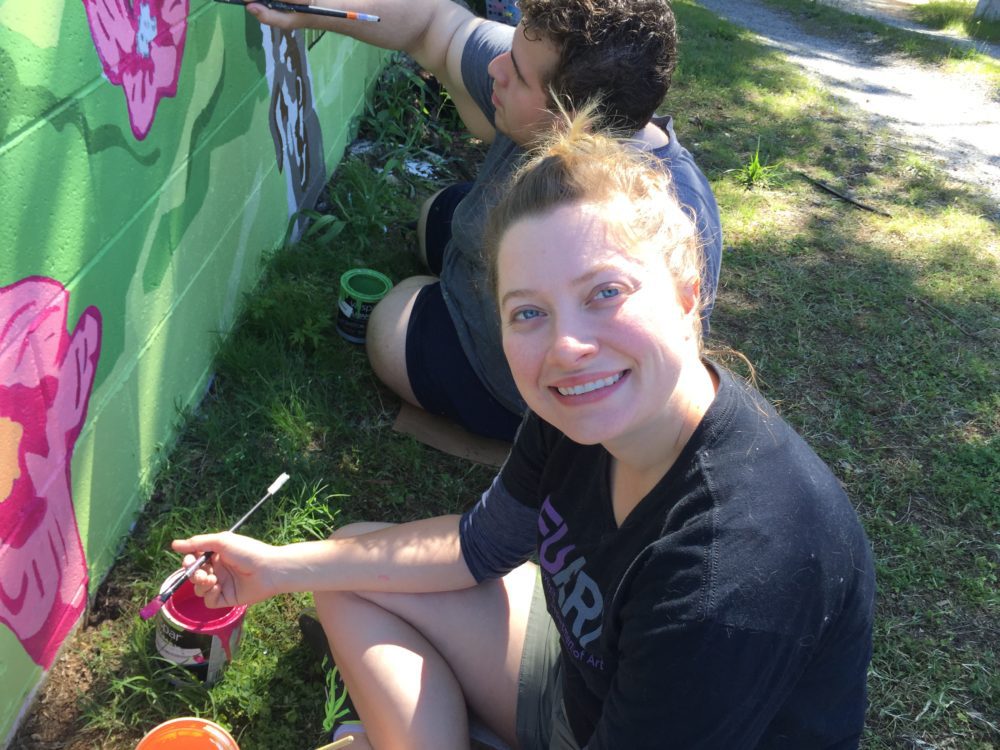 Quandarius Weems, a Communication Studies major at Furman, adds touches of color to a large flower.  "I like working on the mural," he tells me between brush strokes, "because it introduced me to a different perspective.  Where I'm from, you don't see a lot of artsy stuff.   Growing up, I was always an artistic, open-minded child, but I never had everyone else around me to actually engage in something like this."  He's happy to have the chance to work with others that enjoy this type of project.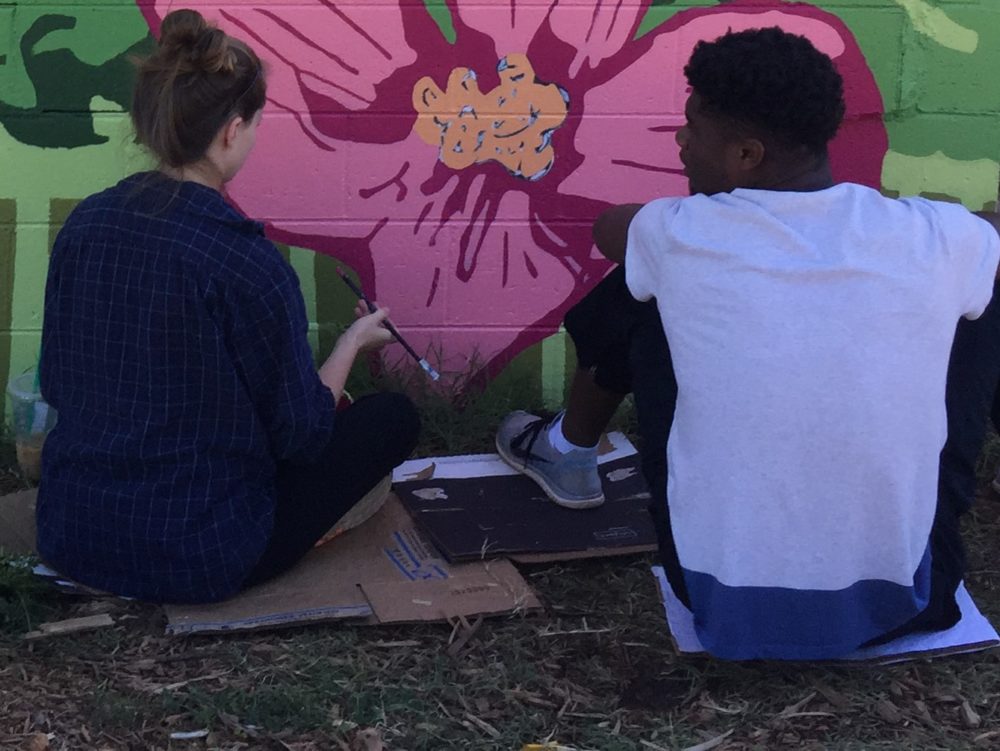 Emily Sandlin, sitting cross-legged on the ground, is a Health Science major.  "I've been taking a lot of science classes.  I've never taken an art class and it's a nice change of pace.  It's really fun and I've come to learn that I really enjoy painting because you can zone out and not really think about your worries."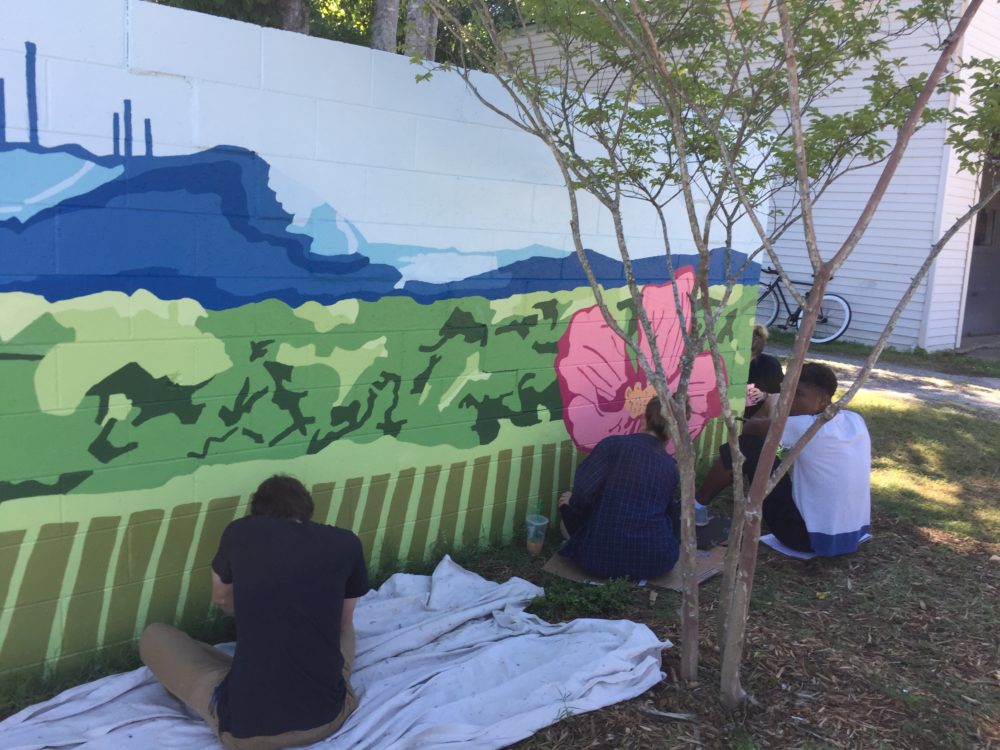 McClain indicates the line of students on the ground brandishing paint brushes. "A lot of students that come to Furman: they get talked out of the arts because they don't think it will be profitable," he says. "But really, what we're talking about here is grit, resilience, creativity and just applied processes.  That just helps support the other things they're interested in."
And it provides a beautiful legacy for Travelers Rest.  Maybe one day those students will tell their children or grandchildren, "Hey, I helped to paint that mural."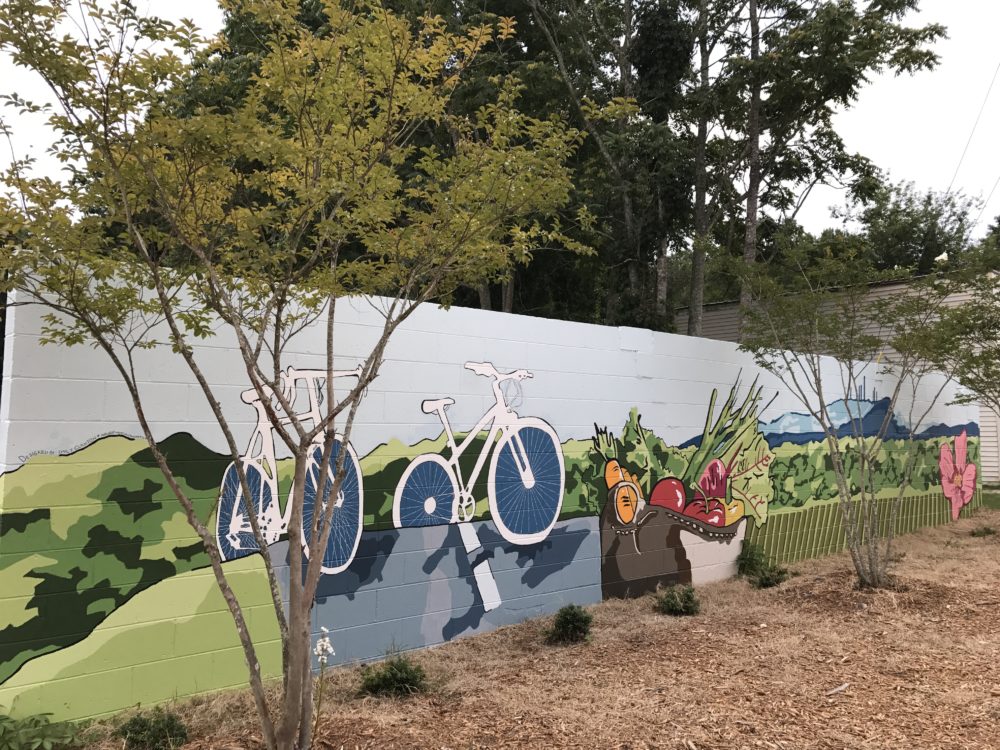 ____________________
Photos by Melinda Long