Get ready to get your groove back – at The Grove!
Once upon a time, there was a Friday night regular event in Travelers Rest called Groovin' in the Grove.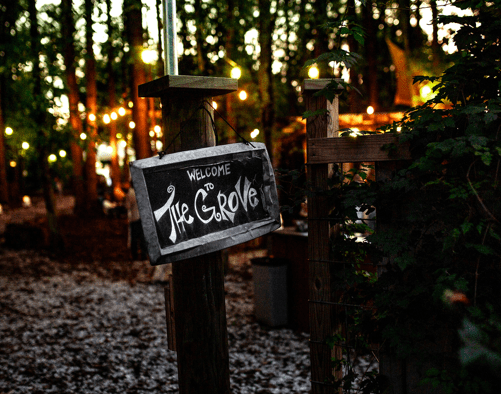 This popular Friday night of music and food, relaxing with old friends and making new ones took place at The Grove, the lovely and inviting outdoor space beside Upcountry Provisions on State Park Road.
The event paused a few years back, but that is all about to change.
THIS Friday night, April 15, you can get your groove back on!
The event begins at 6:00 and the band takes the stage at 6:30 and plays until 9:30.
This is a truly family-friendly event and we're so glad to see it back in rotation!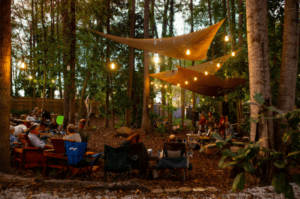 "Groovin in the Grove is a celebration," owner Cheryl Kraus shares, as she recalls the event's early days years ago. "Grabbing fresh local food and listening to live music is how we want to spend our past-time and naturally we wanted to use our venue to offer just that kind of community space that felt welcoming to every member of a family. We had young kids at the time and it was the highlight to their week, and as a parent I love that!"
Cheryl says folks frequently asked about The Grove and reopening it. "Their questions and wishes to have Groovin' in the Grove back really reignited my passion to launch The Grove again," she says.
The power of the people – right?
Thank goodness for that because there's nothing quite like the twinkly lights on a warm Friday evening, your best buddies gathered around sharing a drink and good tunes drifting through the air. That's getting your groove on!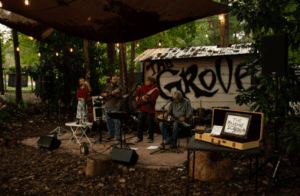 There's no fee to enter and food will be available to purchase inside The Grove. You can purchase focaccia pizza by the slice, hot dogs, and other snacks at the bar.  Plus, on Friday nights, Upcountry Provisions will stay open until 8 pm for you to order at the restaurant and walk over to the woods. (Bring your own chairs or a blanket! There are some tables and chairs available, but those can fill up quickly and it's nice to be able to spread your picnic out and lounge as you listen!) We don't want to be bossy, but you might want to order extra cookies and peanut butter diablos. You'll thank us later!
Another item you can bring for now is your own drinks if you're interested. For now, until they gain their ABL, it's a BYOB event. (Good thing we've got great choices at W.E. Willis and Tasting Room.) Your pets are welcome too – as long as they are leashed and with you at all times!
"I love the fairytale feel of music in the forest with friendly people and my family," Cheryl says. "The Grove is an overflow of Upcountry Provisions and it's nice to spend time with our restaurant customers in a different setting where we have time to talk and many of us have become friends over the years."
We couldn't agree more. That is exactly the atmosphere and the community that TR inspires and creates. And these are the sorts of events that are born from this type of team spirit and camaraderie.
Groovin' in the Grove happens every Friday night in April and May and then again in September and October.
Now that The Grove is back open, you also can host your event in the woodsy setting.
If you're interested in hosting your own event at the space, email info@upcountryprovisions.com and coordinate with Rebecca.
As for THIS Friday night, we'll see you there! We'll be the one ordering the warm bacon salad with the kouign-amann for dessert!