Quirky. A kindred. Quick to smile and a laugh that lets you know she gets you.
Mandy Chapman-Crain is the moving force behind Carolina Moon Realty.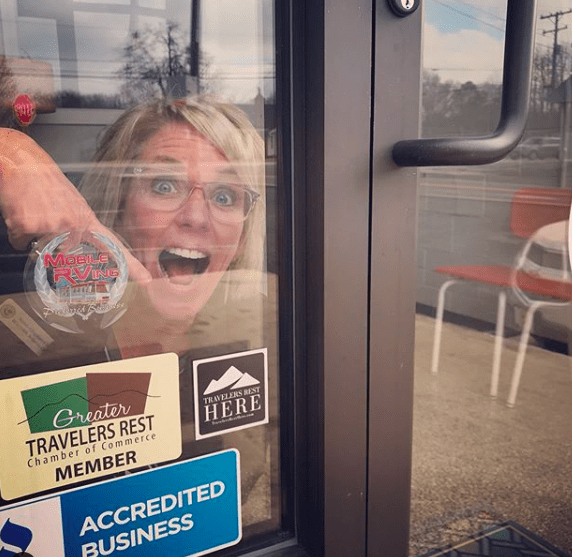 Perhaps you've seen their signs go up on their first Upstate brick and mortar office on Poinsett Corridor.
It's almost as if real estate was drawing Mandy in from an early age.
As a new driver in high school, Mandy tells the story of a game she would play when she saw homes that were for sale.  She would pull over to the home and take one of the free brochures.  "I would pull out the flyer and then immediately use my hand to cover the price."  It sounds like a confession.  "Then, I would read the description and try to guess the price and see if I was right."
This was a habit she kept up through high school and into young adulthood.
Her career path veered from the start though as she began working toward a teaching degree.  "I was misguided," she laughs.  But also she is serious.  She has a Masters Degree in Language Arts from Furman University but never fully used her degree.  After having several children, she realized that her hobby with homes on the market was more than just a hobby.  She pursued a real estate license and worked toward that career.
It didn't take long for Mandy to realize that real estate was both a passion and a calling.  "I realized that I could do great things, I could be a positive influence in my community.  I didn't have to embrace mediocrity.  I could thrive," she shared, hand gestures emphasizing her words.  After that realization, business opportunities began to grow.
In 2013 Mandy opened her company, mostly born of frustration and in an effort to solve some problems.  "I wanted the freedom to make my own choices," she confesses.  But after that company's opening, she would have people approach her to work under her company.  Although that wasn't her first plan, it worked out well for all parties and she currently has many agents working with her.  Her office represents nine agents that work across the entire Upstate region, with several agents working and focusing on the Travelers Rest market.
Mandy has been in Greenville since she left Clemson after graduating with her undergraduate degree.  She and her family live in Travelers Rest.  Her husband, Ronnie Crain, is a lifelong TR resident.  Mandy sings the praises of her husband – a stay at home dad who is really great at his job.  "He's a fabulous stay at home dad," she smiles.  The couple hold several investment properties and the Swamp Hutch, an Air BnB you can find in our Town Guide.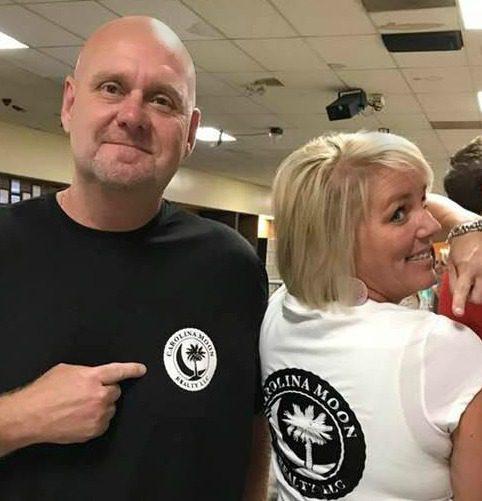 Mandy and Ronnie have a blended family of six children, ranging in ages from 6 to 21.  Plus, she's got a famous connection – her third cousin, once removed, is Johnny Cash.  That's a lucky family tree.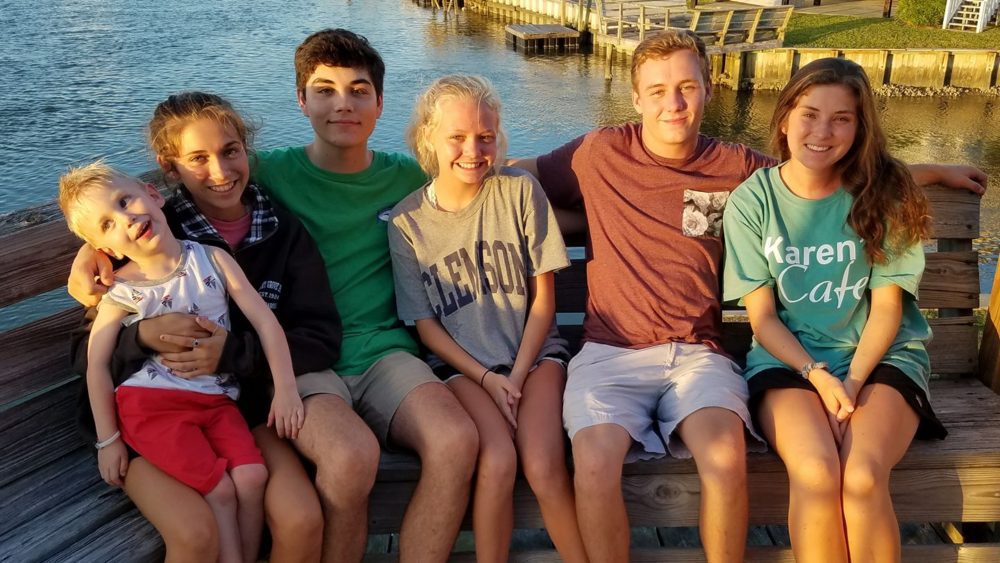 While many real estate companies are moving to a more virtual existence, Mandy is moving Carolina Moon in a different direction.  "It just fell into place in so many ways," Mandy laughs, eyes rolling a little at the cliche soundings of her own words.
She shares space with an attorney, which works well for both of their businesses.
"We've been established in this community all this time, but it was for the community to know how committed we are to this particular market and this particular community," Mandy shares.  "I'm passionate about the people in the community. I'm passionate about the terrain. The mountains are so worshipful to me, I wouldn't live anywhere else now at this point. We're very involved in the chamber. I'm excited about bringing my skill set to the chamber and to our area," Mandy says.  "It might feel counter-intuitive for our industry, to open a brick and mortar space, but it fell in place so clearly that it was obvious to me that this was the step I needed to take."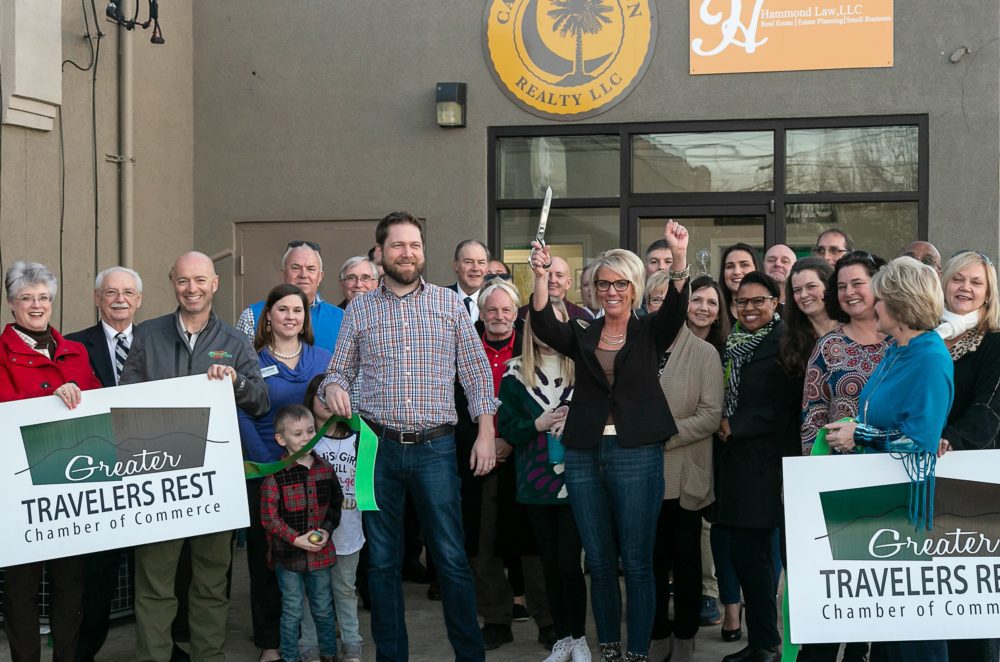 Mandy currently serves on the Greater Travelers Rest Chamber of Commerce as a member at large and as the Communications Chair.
In fact, her accolades and leadership roles are frankly too numerous to list.  But they do include a recent Realtor of the Year title from the Greater Greenville Association of Realtors.  She currently serves as their treasurer.  Additionally, she serves on the Professional Standards Committee for the National Association of Realtors.
Mandy is the first to admit that when it comes to real estate teams and options in the Upstate, your choices are varied and plenty.
"We're not a fit for everyone,"  she smiles and says with sincerity.  "I always tell people that."
Even with those words and that guiding thought, Mandy is crystal clear on who she is and what her business is about.
"I am a fit for people who are interested in building a trust based relationship," Mandy states. "One hundred percent of my business is through referral and repeat. I don't do cold calling or recruit agents, it's all very organic," she explains. "We are a boutique style company. We're interested in quality.  If you're working with us – as a buyer or seller, or as an agent – we want to offer a different level of service."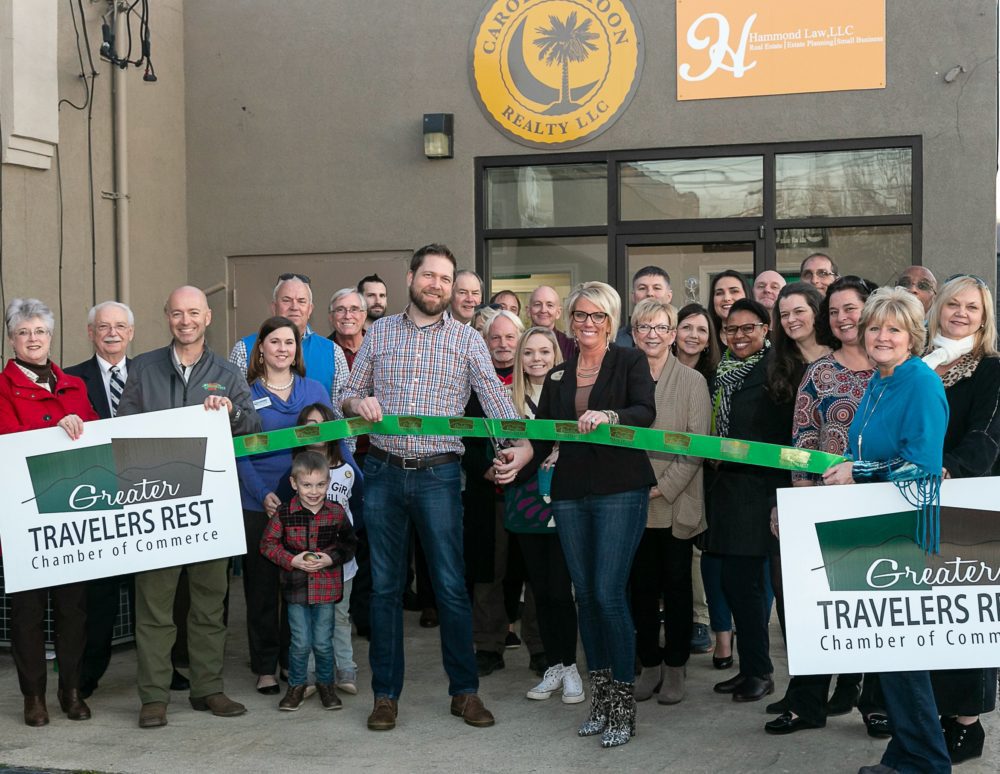 Mandy loves developing systems and shines in that area.  She has a list and maybe she's a little addicted to checking items off – ever feel that way yourself?  In fact, Mandy confesses that she's been known to finish a task and if she discovers it wasn't already on the list, she'll add it just for the pleasure of marking off again.
You know what else Mandy excels in?  Vintage decorations.  When you stop in to meet Mandy and see the office – you'll notice her trademark style right away.  It's charming – and we want to copy it right in our own home.
Carolina Moon's focus and goal is what Mandy calls "best practices".  It's a term that she says means that it's important to her and her company that they adhere to a certain standard and that specific standard influences and informs all of their decisions in business.  It's a standard that achieves superior results, Mandy says, and is used for their benchmarks of success.
The brick and mortar location of Carolina Moon is a great asset to our town and we're glad to have Mandy and her team serving the Upstate.  There's a whole lot more that's ahead for Mandy and her team through Carolina Moon and we're excited to see what comes next.
____________________________
We asked Mandy to share some of her expertise with our readers.
Although we are experiencing a housing shortage in the Upstate, folks still have to be on their A game to expect top dollar. A few tips for all you sellers out there… 
When entering into a contract with a purchaser who is obtaining financing, make sure they are conditionally approved through underwriting, not just "pre-qualified".
It's important to consider the market absorption rate and reconcile data from various sources and valuation models when determining the value of your home.
Allow potential buyers to tour your home on their schedule even it if inconveniences yours.