There are many fantastic trail and outdoor adventure opportunities near Travelers Rest, but perhaps one of the most unique is also little known. While Travelers Rest and much of Greenville County has developed at a rapid pace the last few decades, there are still large areas set aside that have some of the most unusual natural wonders in the eastern US. Just about 15 miles from Travelers Rest, northeast of Tigerville, is the Blue Wall Preserve – 575 acres of land and water with spectacular and sublime views.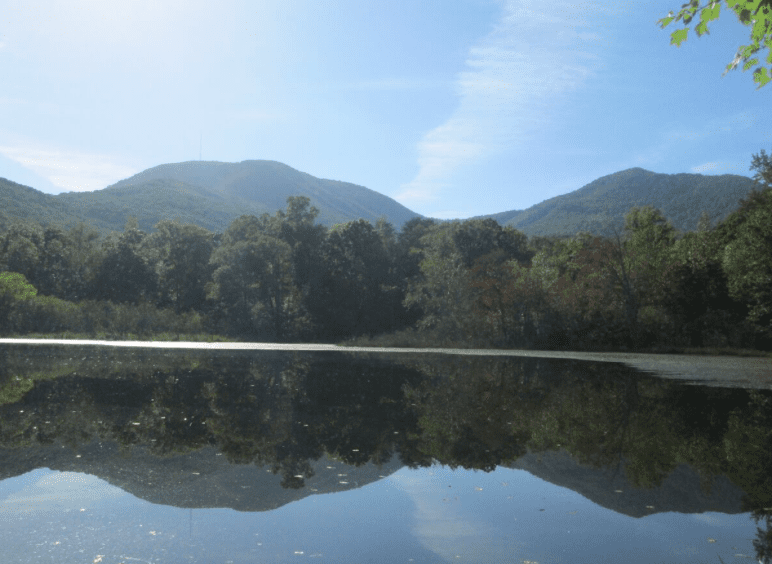 While our state and county parks receive a lot of well-deserved traffic, the Blue Wall Preserve, set aside over twenty years ago by the Nature Conservancy, contains one of the most unique natural settings anywhere in eastern North America. Part of the more than 20,000 acres of nearby preserved land, this property is the eastern border area of what the Cherokee called the Blue Wall and the rising into the southern borders of the Appalachian mountains.
South Carolina's Palmetto Trail enters the mountains here. The trail begins at the coast and slowly rises upland for nearly 200 miles. Here this trail rises over 1,500 feet in a little over a mile. This land is also part of a relatively small, temperate rain forest, where, naturally, Greenville County's watershed is located.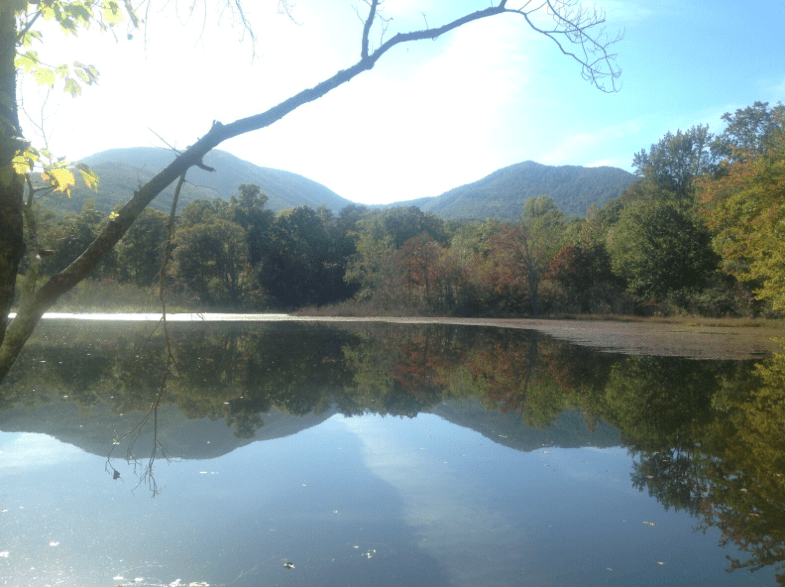 The day this writer last visited the Blue Wall preserve, it was as quiet as the local area can be. The stillness of early autumn was in the air, with only the sound of small animals scurrying about on the forest floor and the nearby streams cascading through a small valley. From the small parking lot, the hike is about a mile via an old road to one of the more stunning ground views in this area, as you come to a small lake with Hogback Mountain, Vaughn Gap and Rocky Spur Mountain directly in front of you. The main trail is nearly three miles and connects with the Palmetto Trail at Vaughn Gap up a very steep climb. There is also a one mile waterfall trail around the north side of the small lake with views of a waterfall that is quite loud after a rain storm.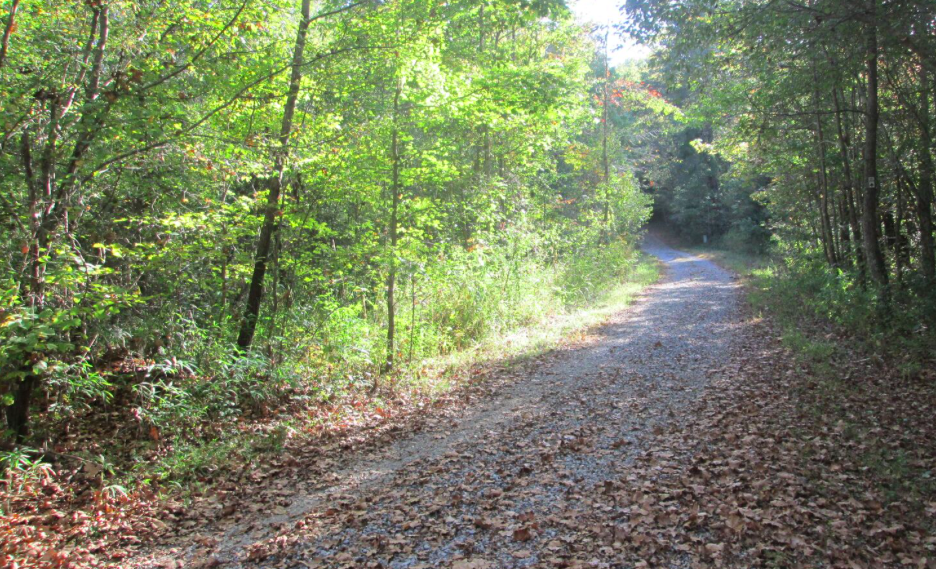 Unless you decide to ascend up the Palmetto Trail towards Vaughn's Gap, the rise is not too steep a climb and the trails hold incredible natural wonders to observe, if you are patient enough.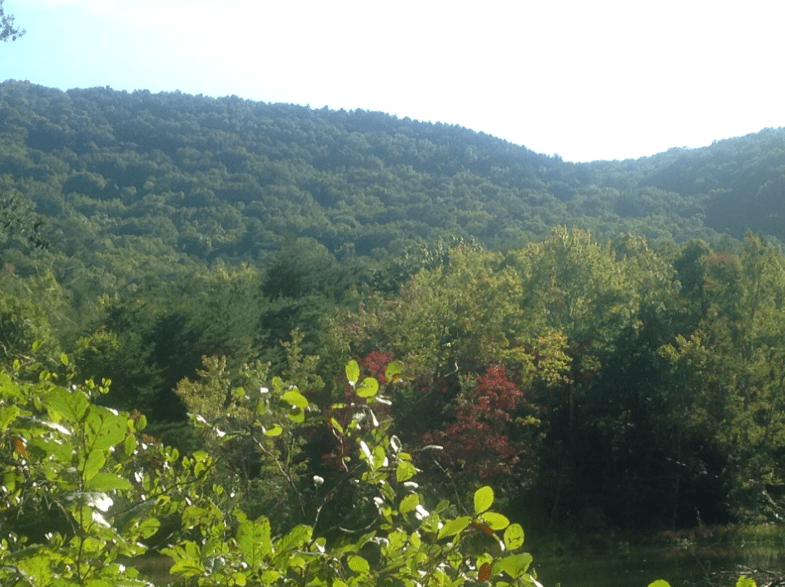 An astonishing number of over a 110 different types of birds visit this preserve over the course of a year's seasons, making this a must see birders destination. Rare native plants, hardwood forests and wild meadows are also a large part of the appeal. Furman University's Furman Forest program has been using this land an an outdoor laboratory and field study area for biology, ecology and botany students. This preserve is a fantastic opportunity for young learners to understand our native woodlands and mountains and to be educated about healthy ways to interact with them.
While particularly stunning in autumn and early spring, this quiet preserve makes for a very unique destination all year long.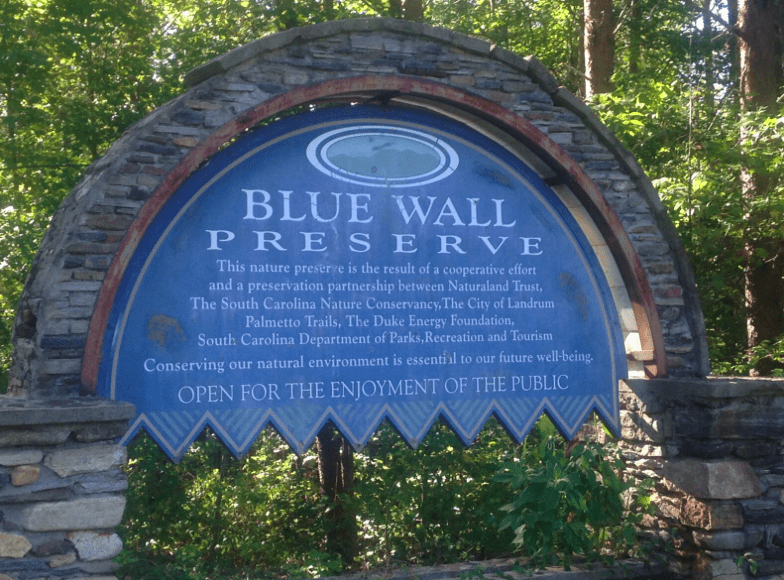 DIRECTIONS
From Greenville/Hwy 25:
From the intersection of Hwy 25 and Hwy 11, head east on Hwy 11 towards Gowensville.
Drive approximately 9.5 miles and turn left onto Oak Grove Road. This is roughly 1 mile past the entrance of the Cliffs of Glassy development.
Go approximately 5.5 miles on Oak Grove Road and turn sharply left onto Lake Road, just past the Oak Grove Baptist Church.
Follow Lake Road for approximately 1.2 miles and come to a dead end at stop sign.
Turn left onto Lakeshore Road.
Go 0.4 miles and turn left onto Dug Hill Road.
At 0.2 miles, turn left onto Pennell Road
Please park in the upper parking area and walk down Pennell Road to the Palmetto Trail and kiosk.
_______________
Story & Photos by Jason Greer