Written by Lacey Eibert Keigley and Kristin LaRoy
It's time for the crawl, y'all.
Once a month during the TR Town & Art Crawl season, Friday night comes alive in the most fun sort of way.
Last month we celebrated the first crawl of the 2018 season with an Earth Day themed event up and down Main Street.  The turn out was fabulous and we were thrilled hear so many of you say that you had heard about the Crawl right here!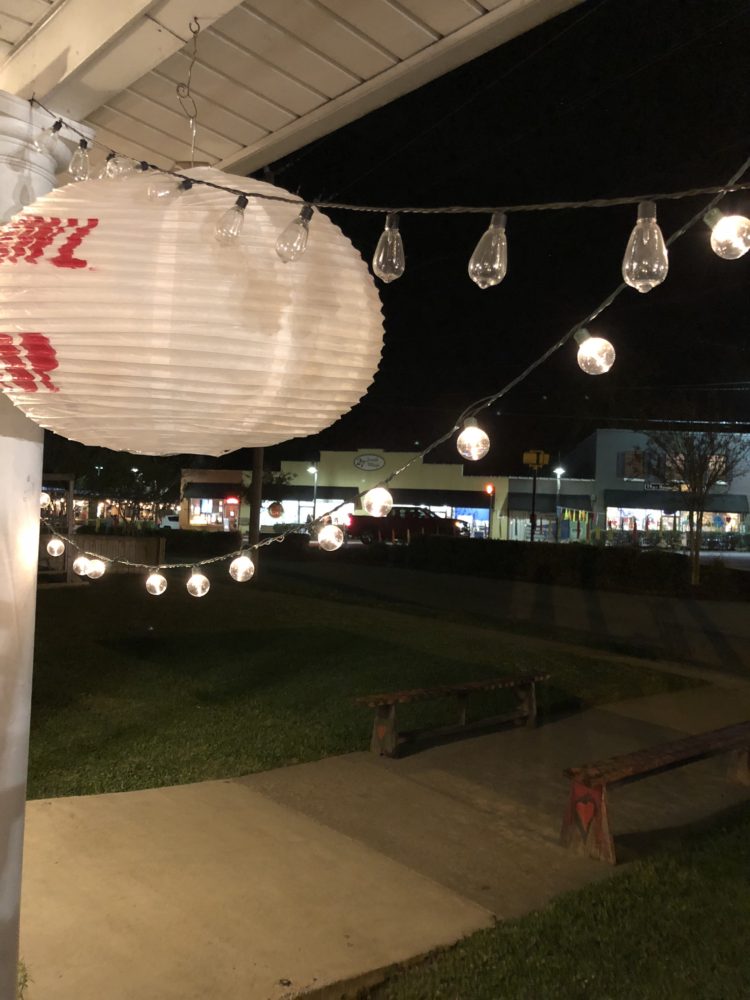 This month the Crawl is happening Friday, May 11 from 6 to 9 pm.
We'll be celebrating May with a festival of flowers, Mom's Night with free massages for Mom (yes, you should probably get in line now!) and sidewalk chalk art.
During the Crawl all of the local participating businesses stay open late and many have Crawl specials that make stopping in and picking out some treats an extra good deal.  There will be live music, food, friends and more.
Don't forget to pick up your Crawl Card to help you travel around the Crawl route. Use the Crawl Card to take advantage of free events, food specials, shop discounts AND it can help you win $50. Read all the details about the Crawl Card here.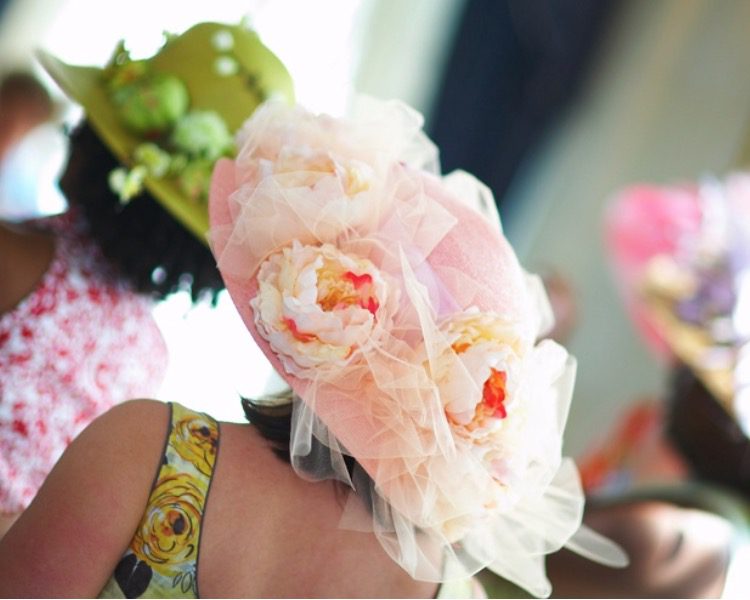 Dress for the occasion and win Arts Cash! Ladies of all ages can come to the Crawl wearing their best Sunday hat decorated with the festival of flowers theme. We will be looking to award Arts Cash to the Best Dressed Hat, Most Unique and Greatest Kids Creation! Make sure you come by the TR Makers Co to show off your hat and register yourself in the contest. We will be giving out the Arts Cash awards at 7:30.
There are events happening at several different downtown spots.
Events at The Gazebo
Take part in your own Sidewalk Chalk Art here at the green space! Kids and adults can add some color to our sidewalks with their own chalk art drawings. Then meander down the crawl route to see the chalk work of the other artists.
Visit with the ladies of the Travelers Rest Historical Society as they are dressed in period costumes and hear their tales of town.
Kids face painting and other games will be here too, thanks to Gateway Baptist Church.
Local artists will be set up under tents on Main Street!  Here you'll find artists like jewelry maker Dana Reynolds of Abee Artistry, soy candle maker Laura Dixon of Six O Five Candle Co., woodwork by Andrew Ballew and team of BALLEW WOODWORKS and original artwork by Grace Blanche McDowell of Peaceful Pines Studio.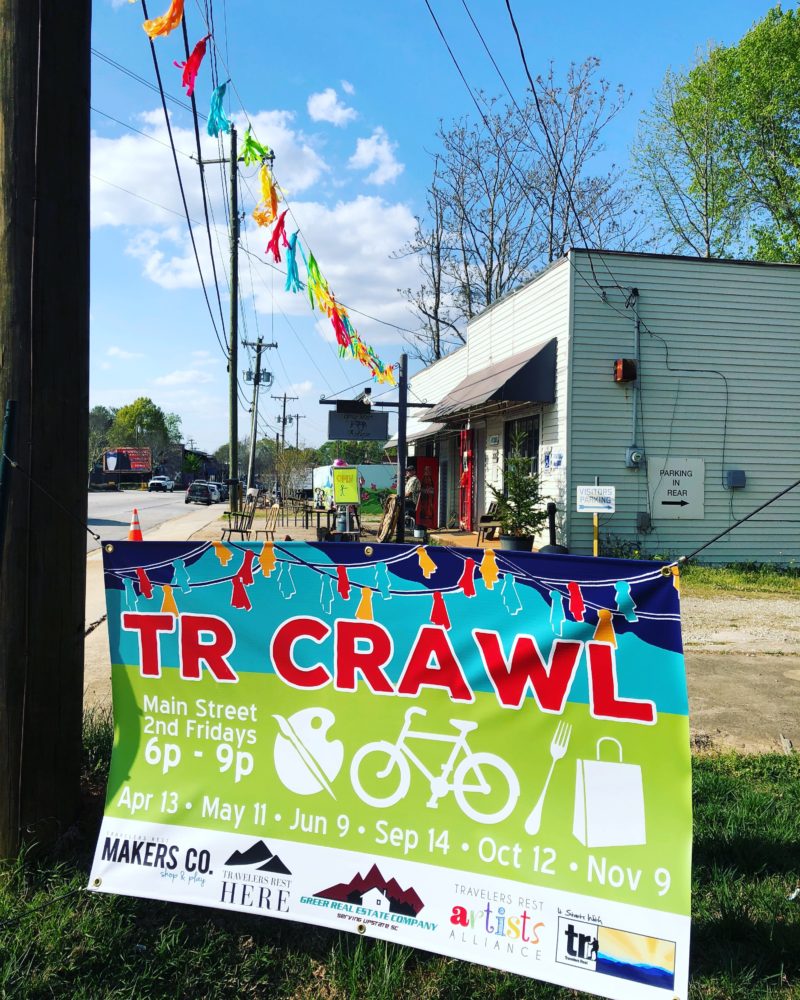 Highlight at RetroMarketplace
Over at RetroMarketplace (remember their story we just shared here?) you can find the work of several local artists as well, including the work of upcycled artist Christine Bowman of Paper Flowerz and jewelry maker Amie Kobler of Hey Moon.
Events at Poinsett and Main (Front Lawn outside My Sister's Store)
Massages for Mom!
Greer Real Estate knows what moms really want!  (Their TR office is located right inside My Sister's Store.  Read more about them here!) Thanks to their sponsorship, moms can come take part in free six minute massages. Local massage therapists from Crystal Day Spa and Star Massage and Bodywork will be on hand to relax and treat our moms to a little something special. You don't need to sign up ahead of time, just come put your name on the list and we will give you a massage time.
Plants and More! Come learn about the Generous Garden project and their work to help create inclusion and employment opportunities for those with disabilities through teaching skills in cultivation, growing, and harvesting vegetables, plants, flowers and trees. They will be here with some of their garden goods too.
Listen to the sound of Shane Ericks, a local favorite and internationally touring artist, at 6:45 pm on the front porch, followed by the Friday Night Jam Session.  (She's great, y'all.  Don't mis the chance to hear her!)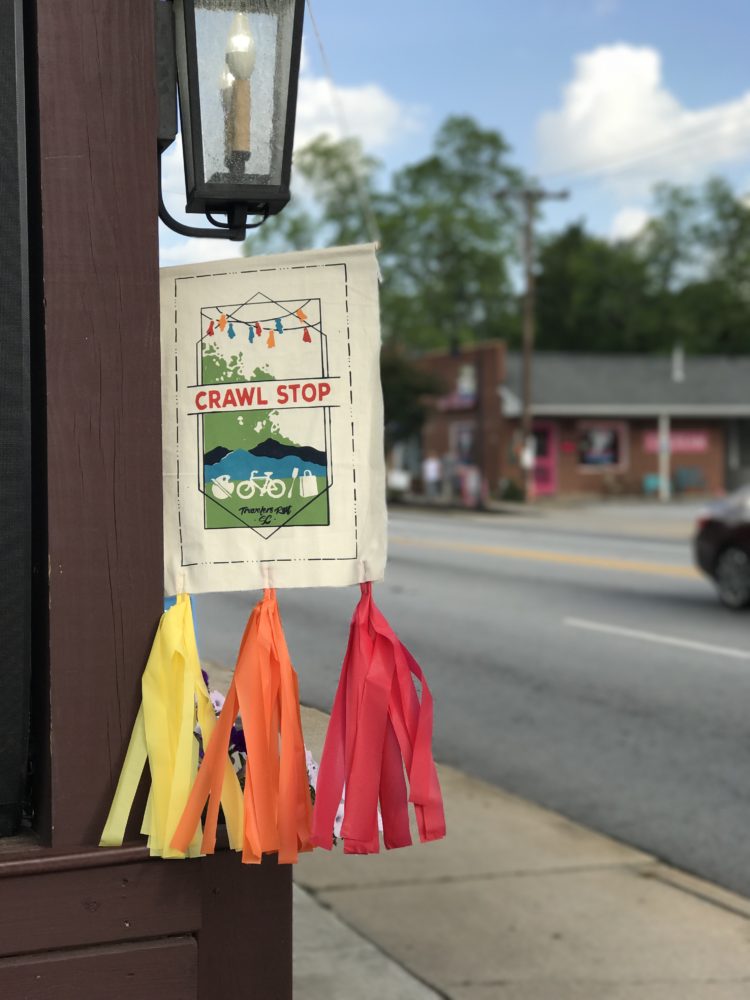 Events at The Grove
Live music from Shufflebutton will be on the stage at The Grove from 5p-9p. You can also try one of their wood-fired pizzas and sip on a beverage while listening!  This is great spot to finish your night off with after you've been up and down the streets and used your Crawl Card.
Events at Arts Square (Parking Lot of TR Makers Co and White Rabbit Gallery)
Right here is where the kids will want to be!  Join in on the Kids Art Activities inside TR Makers Co. Kids can come make their own flower fascinator style hat! Wear it while you crawl and even enter your hat in the Greatest Kids Creation hat decorating competition that night. Your little artist could win Arts Cash!  (And you don't even have get your kitchen messy in the creative process – that's a win win, right parents?)
Plant a flower for Mom at the Patio Flavor Arts Lounge. With the help of PatioFlavor and Leopard Forest, you can plant your own flower for Mom. This is a free activity and makes a great Mother's Day gift!
The local artists featured in this section include the work of jewelry designer Jorie Browder of JBJ Designs Artisan Jewelry, photographer Joe Hiltabidel, original electrified artwork by Will and Sherry Pelletier of Eclectic Adventures and jewelry makers Katie Mann of My Celestial Phoenix- Consciously Crafted Jewelry.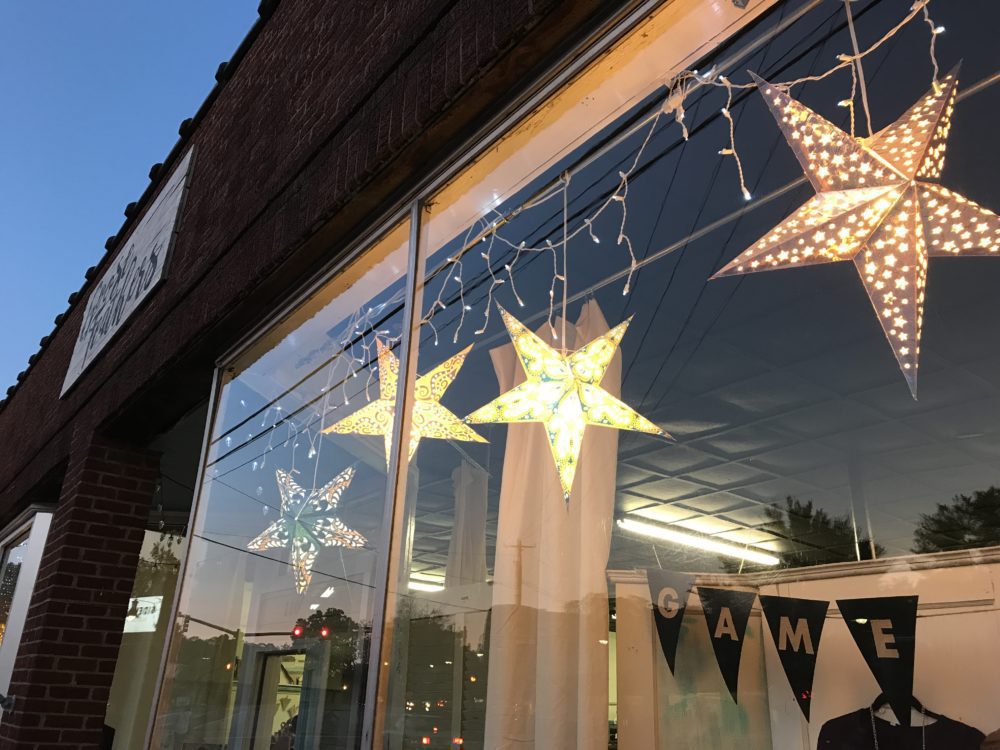 Crawl Cards and Route Map: Here's the Details You Need
Don't forget to pick up a Crawl Card before you get started Crawling at these three locations – the gazebo, My Sister's Store or TR Makers Co.
Use your Crawl Card to help you navigate the route, take advantage of the great deals listed below AND to help you play along in our find-and-seek game, which might win you $50!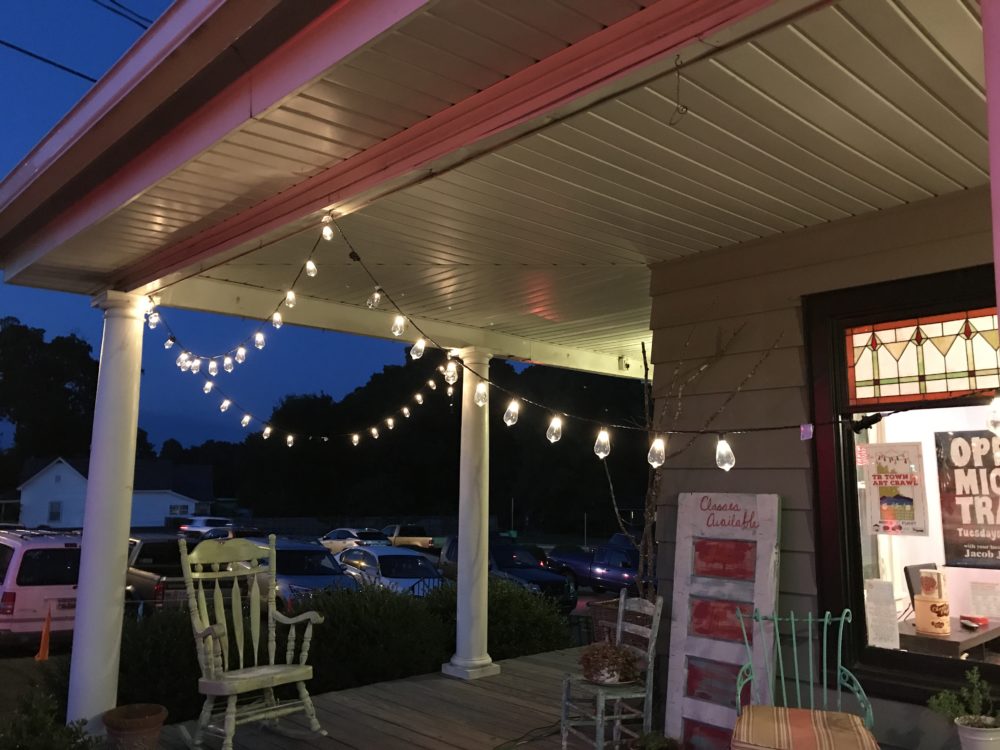 CRAWL DEALS and FREE EVENTS
Take advantage of these special deals exclusive for Crawl night. Don't forget to show your Crawl Card at checkout to get your discount!
Massages for Mom Sponsored by Greer Real Estate – FREE for Moms to take advantage of these 6 minute mini massages on the front lawn of My Sister's Store!
Plant a Flower for Mom Sponsored by PatioFlavor and Lepord Forest Coffeehouse at Arts Square – FREE for all, come plant a flower and decorate your pot for Mom
White Rabbit Gallery of Fine Art – FREE tour of the Gallery Artists and find out about the work of the Travelers Rest Artists Alliance
The Grove at Upcountry Provisions – FREE live music on The Grove Stage
My Sister's Store – FREE to enjoy the sounds of the Friday Night Jam Session
TR Makers Co. – FREE make your own Flower Fascinator Hat -and – 20% off any regular price item over $10 (Sale items excluded)
TRee House Cafe & Studio – FREE Art Play at the Cafe
The Whistle Stop at The American – FREE live music and Dinner Specials all night
Boho Indigo TR – FREE gift with $10 purchase
RetroMarketplace – 20% off any regular price item over $10 (Sale items excluded)
Silver Lily Boutique – Extra 20% off all SALE items
Gray Mare Antiques – 10% off your entire purchase
Homebody – 10% off your entire purchase
Goose Feathers – 10% off all clothing
Charlie's Southern Rustiques – 10% off any item
Find-and-Seek Game – Win $50!
Hidden around the Crawl route are 4 TR Crawl painted rocks. Use the clues we provide to find the rocks and stamp your Crawl Card. For each stamp you put on your Crawl Card you get an entry for your chance to win $50 in Crawl Gift Certificates. Don't forget to pick up your Crawl Card to start playing along. Cards can be turned in to TR Makers Co or the information booth at the Gazebo when you are done.
Clues will be announced at 5:00pm on Friday, May 11th. Stay Tuned!
See you Friday night!
Happy Crawl, y'all!