It's common knowledge that the South is a welcoming region.  And most people associate small towns with friendly people.  It also seems true that friendly and kind can often be synonymous with one another.
In our fast-paced, social media driven world, we sometimes forget how essential face to face genuine kindness actually is to the success and the joy in our real daily lives.
Now, where does the omnipresent nature of social media meet the local presence of being kind?
In this case, it meets us right here in our own small town of Travelers Rest and it comes through the combining of one man's search for kindness across the world and one man's search for kindness in our town.
The Travelers Rest Police Department's Captain Randy Fisher was at home relaxing with his wife Anne Marie in the same manner most of us relax at some point in our week.
Netflix.
The show they were watching is called The Kindness Diaries and it features a man named Leon Logothetis and his quest to prove that the world is not such an awful place after all.  Logothetis is traveling across the world on a vintage yellow motorcycle in the television series and he is relying completely on the kindness of strangers to help him find food and lodging on his journey.  When he encounters a certain depth of kindness to an unusual degree, Logothetis surprises those people with generous offerings of kindness himself.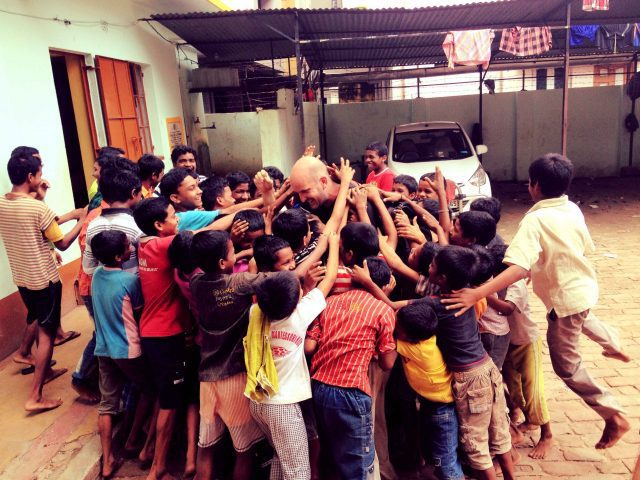 "The show touched me deeply, for many reasons," Fisher shared.  "It was refreshing – an alternative to foul language and the violent and disconnected series."  It helped that Logothetis was riding a motorcycle, as that is an interest he and Fisher share.  But the motorcycle was just the draw in for Fisher.  As he watched more episodes, he began to really gain an appreciation for the scope of what Logothetis was attempting to do.  "I mostly found interest in the fact he was highlighting kindness, something this world needs a whole lot more of. I was moved by his interaction with others and showing that it is all about connection, about seeing other people. More importantly he took self out of the picture. We need a whole lot less self in this world today."
Fisher has been a police officer for nearly twenty years.  He has seen his share of haunting and horrific images that can never leave his mind.  "I have seen society become so self-absorbed and disconnected. We think that because we spend hours on Facebook or tweeting, that we are connecting. We have lost human connection, the human condition. Through all the horrific things I have seen – the corruption, the hateful acts – I still know that kindness changes everything. I also have found that most of the police officers that I have worked with are some of the kindest people I know. I have seen them sacrifice so much to help others, spiritually, physically and monetarily," Fisher says.
After he had finished the series, Fisher felt moved to contact Logothetis.  He just wanted to say thank you to him.  Fisher sent Logothetis an email.  "I told him that I loved the message he was sending and it was a message that needed to be heard. I sent it with no intention of anything in return, just a hopeful thought that it may make its way to him. To my amazement, I received a response within 15 minutes asking me if he could send books for the department and if he could come talk, all for free. I was stunned by this most generous offer and accepted."
(Are you getting excited yet, readers?  We're getting to the part where you get to be involved!)
Leon Logothetis will be rolling into TR on May 1 at 10 a.m.  His free talk will be held in Travelers Rest at the police department.  Although it is free, Fisher is requesting that you RSVP so he can have an idea of how many people to expect and to be certain he can accommodate the listeners.  You can RSVP here.  (And you can keep an eye on their Facebook page in case there are any venue changes.  Of course, we'll share that information with you as well.)
Fisher was so inspired that he started brainstorming ways to keep the kindness going here locally.  Fisher has created a Facebook page and website that he's calling The Kindness Factor to promote simple acts of charity and generosity locally.
"The idea of spreading kindness really appeals to me. It is time to take back this world and show that despite all the evil that is walking around that there are still people who care, who love and who will show kindness to others. It is not hard, it doesn't have to be expensive, it can just be a small act of kindness," Fisher shares.
In addition to the two online resources, Fisher has teamed up with the local organization Let's Keep Travelers Rest Beautiful and they have created Kindness Cards that can be given to others when you have done an act of kindness, with the idea being that the card will help encourage the receiver to keep the kindness going – to spread it forward.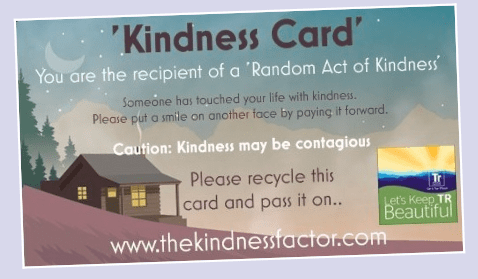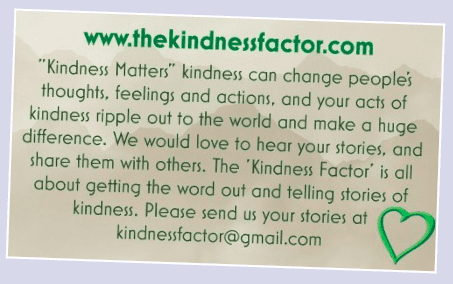 Partnering with LKTRB seemed like a natural fit to Fisher.  "The organization does small and large acts of kindness every day. Every day they take steps, create plans and conduct beautification projects in TR. Every time they add beauty to the community it is contagious, causing others to step up and make the town even more beautiful. This is how kindness works, each small act ripples through mankind, creating never ending blessings for others."
Fisher has created all of this through a simple desire to watch kindness spread in his own town.  "I hope that Leon's visit will be a kickoff for the Kindness Challenge throughout the upstate.  I love upstate South Carolina and adore the city of Travelers Rest. I have met so many incredible and kind people here. I just want to spread that joy, that kindness, as far as it will go. So many people need a small act of kindness, and it is easy to give. I personally think kindness is important because we live in a world that is broken. I think that we get so caught up in all this crazy media, media that is so difficult to trust, that we lose sight of the important things. That we are here to love one another, to care for one another, to be kind to one another.  As a believer, I feel this is vital to changing the world."
We agree wholeheartedly with Fisher's views on kindness.  And we think the little acts matter as much as the big ones.  And we know you've been reading for a long time here (and that's a kindness to us, actually) – and so maybe Netflix is already calling your name.  We get it.
Which is why we are going to let this post be a "to be continued …." post.
After hearing Randy Fisher share his story and after watching The Kindness Diaries ourselves on Netflix, we couldn't help but put in an email of our own to Leon Logothetis.  And, just as Fisher experienced, we received a kind and thoughtful response as well.  We were able to have a phone interview with the vintage motorcycle driving world adventurer himself before he drives into Travelers Rest on the first day of May.  (Did you notice his tour schedule?  We're between the much larger cities of Indianapolis and Charlotte!)
We'll save our post featuring Logothetis' interview for next week – which should give you plenty of time to binge watch his series and then check back in with us next week to hear what he has to say to us.  (We'll give you one little bit now …. the motorcycle that Logothetis drives, he's dubbed it Kindness One, will not be making the trek to TR.  It's safely parked in his garage.)