Coming soon to a stage near you!
Think Shakespeare. Think Puck and a Midsummer Night's Dream. Think Christine and the Phantom of the Opera.
Think Trailblazer Park too.
This month Broadway is coming to Travelers Rest.
In partnership with the City of Travelers Rest, the South Carolina Repertory Theatre presents A Midsummer Night's Dream and Phantom in the Park. These shows are free to the public in the amphitheater at Trailblazer Park. The productions include four dates.
A Midsummer Night's Dream:

Friday, Aug 13th at 7pm
Sunday, Aug 15th at 7pm
Phantom in the Park:

Friday, Aug 20th at 7pm
Sunday Aug 22nd at 7pm
Come on out to Trailblazer and enjoy free, live, local theatre. You can grab dinner AND a show – food trucks will be on sited food will be available for purchase as well.
These shows are being put together and performed with both local and direct from Broadway talent. The South Carolina Repertory Theatre is a new non profit theatre company led by Co-founder and Artistic Director Kimilee Bryant and Co-Founder Candice Bryant. This theatre group is particularly active in its outreach for youth, senior adults and the autistic community.
"My son was diagnosed at age 2," Bryant shares, "and we have partnered often with Project Hope Foundation, teaching kids music & dance. The kids have performed with us on two occasions and we have had several actors/crew on the spectrum involved in our productions." The SC team has also partnered with the Autism Academy in Columbia and they plan to be involved with The Spectrum Theatre Company as well.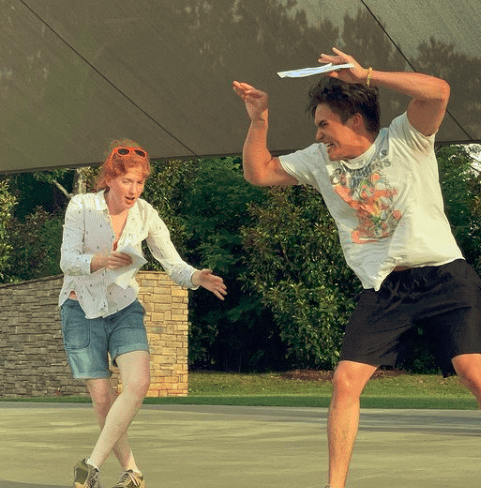 Bryant is no stranger to theatre. In fact, she is the only actor to play all three leading lady roles in The Phantom of the Opera on Broadway. Bryant is a native Greenvillian and lives in TR now. She won the talent award when she competed in the Miss America competition, representing South Carolina. That award actually helped secure her place at Manhattan School of Music where she earned her Master's. Bryant attended Converse University in nearby Spartanburg.
The mission statement of the SC Repertory Theatre is, in part, to strive to expose all members of the community to the brilliant wonders of opera, plays, and musical theatre with professional productions of new and classic works. They are committed to diverse casting. "I feel like people in the theatre have always been more open to inclusion of all kinds," Bryant shares. "Talent is talent and all are welcome!"
The team at SC Rep. Theatre hopes that this is just the beginning of a wonderful relationship with TR and local theatre. "I envision a Performing Arts Center of our own here," Bryant says. She plans to continue Shakespeare in the Park, as well as other free theatrical events in Trailblazer Park. "I actually would like us to be a bit like Flat Rock Playhouse, which utilizes professional actors alongside local talent."
We're excited to see theatre being brought center stage right here in Travelers Rest.
________________________
Find out more at the SC Repertory Theatre website.