The lights are low, and guitar strums fill the air, followed by the lilting but powerful voice of Christiana Davis Mayfield, singing a song she wrote for her husband.
Oh to learn
that anywhere I go
I can find a home
(Dear, you are my home)
It's Open Mic on the Trail in Travelers Rest, a real joy for music-lovers young and old. Some artists sing acapella, their only instrument a well-tuned voice. Others sing to recorded tracks. Many bring along a guitar.
But while the show feels in the moment, almost impromptu, none of this happens without the prep work.
At 6 p.m. every Tuesday evening, recording artist Jacob Johnson arrives at My Sister's Store, located at the corner of Main Street and Poinsett Highway in Travelers Rest, to set up sound equipment on a cozy stage in front of a handful of tables, chairs, books, and drawings of George Jones and Kenny Rogers.
At 6:30, Jacob's cohost, Gray Lee, puts out a sign-up sheet. Some 10 to 12 performers usually sign up. Later, he'll run sound for the event. He's also responsible for the Internet graphic ads.
Jacob and Gray cohost the event beginning at 7 p.m., giving those of us lucky enough to attend a chance to hear some pretty amazing music from some extremely talented local people. Some are accompanied by the masterful Rick Singer on pedal steel.
Then around 9 p.m., they usually close out the evening with a song performed by Gray and Jacob themselves.
They've been doing this for years. In fact, they've just celebrated 11 years total.
It started out in May 2005 at what was then Leopard Forest Coffee. Then, just over a year ago, when The Forest underwent some changes, they moved to My Sister's Store across the street, with the blessings of owner Pam Campbell.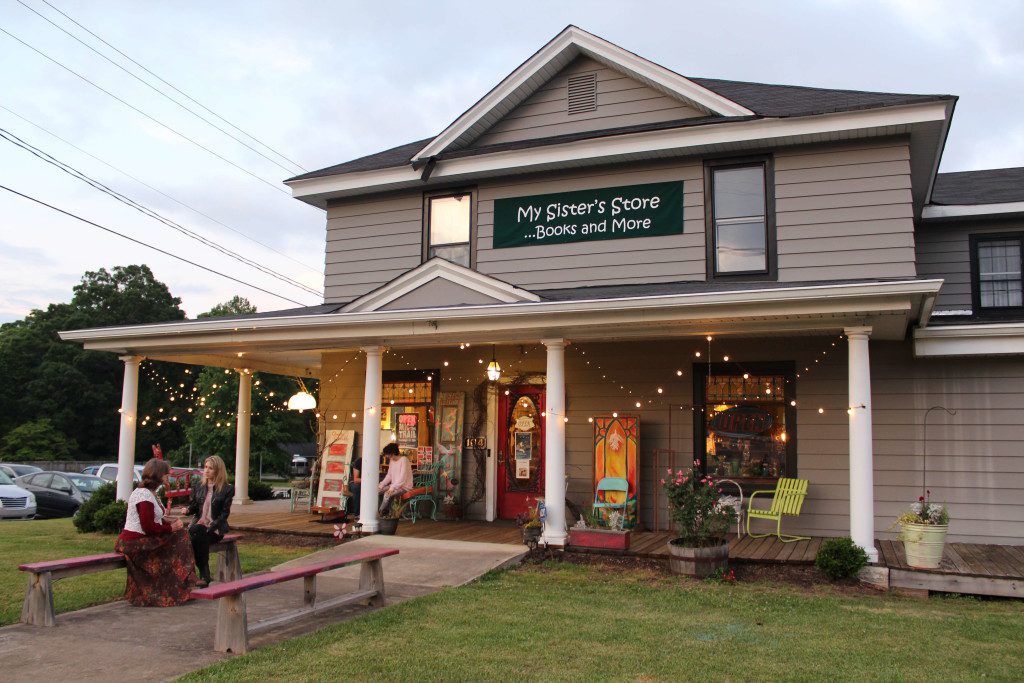 Jacob, a guitarist and singer-songwriter, can usually be found touring the Southeast and playing addictive melodies like "Treat Her Right," "The Goodnight Chorus," and "The Ferryboat Waltz." But at open mic night, it's all about promoting the music of the artists in the area.
How does he feel about being both an artist and a co-host?
"I think every artist should in some way be a presenter, be on both sides," says Jacob. "It's inspiring to see people get out of their comfort zone and try something."
Gray, a lover of pirates and the macabre, is also a musician himself. He classifies his music as Southern Gothic. He's currently working on a new album called Merely Departed.
About Open Mic on the Trail and his partnership with Jacob, he says, "Working as a team has allowed us take the time to enjoy the performances and have a real communication and fellowship with the folks that show up. There really is a sense of community there."
One of the regulars at Open Mic on the Trail is the above-mentioned Christiana. She's been performing Christian folk music in various venues like Smiley's, Mojo's, and Open Mic on the Trail for about five years.
So what does she love the most about Open Mic?
"The community environment. The way people encourage each other," she says.
That seems to be a consistent theme.
Shane Ericks — who just won Global Pinoy Singing Idol, the Filipino version of American Idol — talks about affirmation, encouragement, and transformation. She sees music as her way of spreading God's word, and she's just recently released her latest single, called "Your Love is Enough."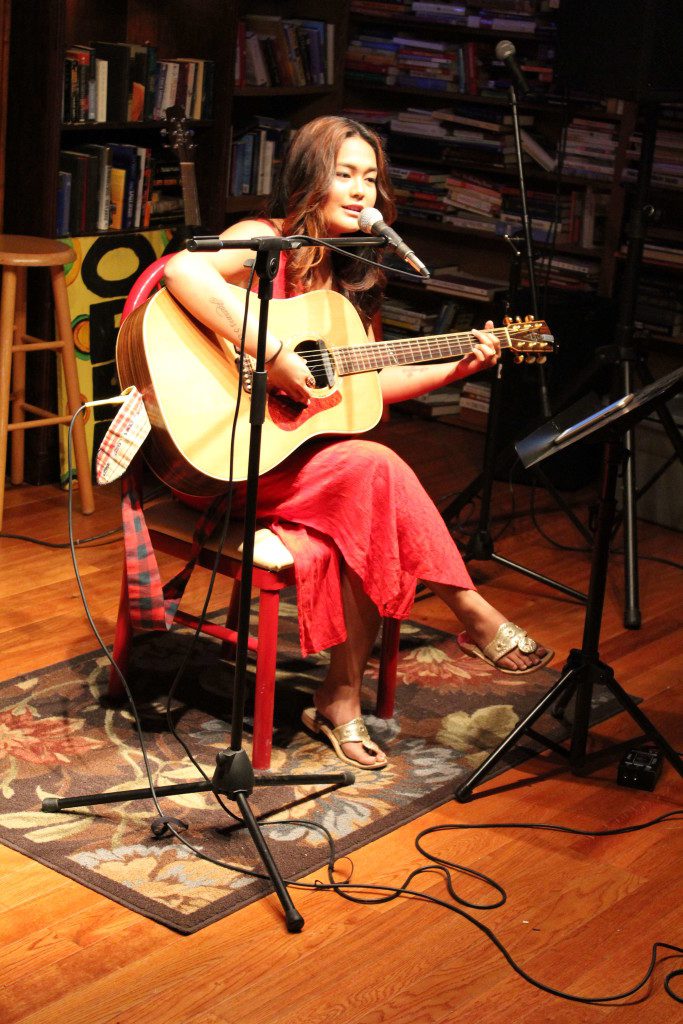 J. Hames May, who can surely belt out a tune, says it's the people that make this worthwhile, with their love and support. He points out Mona Hustek, a self-taught musician who says the same about him, Jacob, and Gray.
To quote one audience member, "I could listen to her all night."
It seems the feeling extends to the entire group, this community brought together by music.
And you can join in anytime. The music begins every Tuesday evening at 7 p.m. at My Sister's Store in Travelers Rest. The show is family friendly and free, but participants are encouraged to bring a donation to help keep this community of music alive.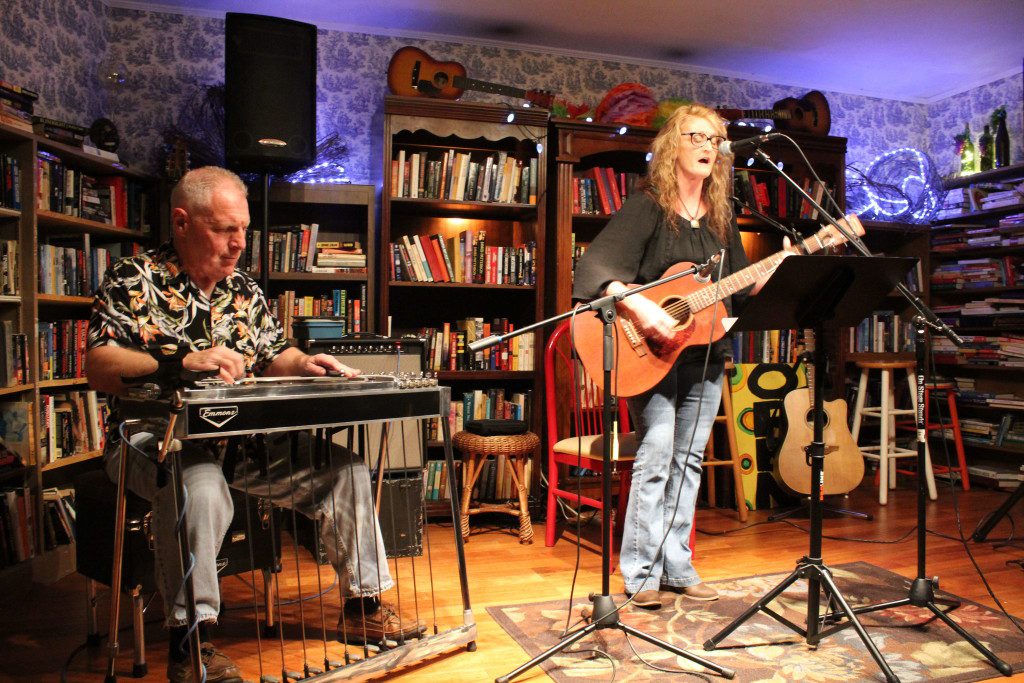 ---
Notes
Writer: Melinda Long
Editor: Celeste Hawkins
Photography: David Church / From Chapel to Cheers
You can find out more about the artists mentioned in this post by following the links below:
Christiana Davis
Shane Ericks
Mona Hustek
Jacob Johnson
Gray Lee