Earlier this year local writer Andrea Beam took over our Instagram story for us.  At Christmas she wrote about the best places to find fresh cut Christmas trees in TR.  Andrea also often writes for Greenville 360 and Kidding Around Greenville, two publications we love for what they offer to their communities.
Recently Andrea and her son enjoyed a weekend in Travelers Rest.  They stayed at the Swamp Rabbit Inn and although they live in Greenville, they had the opportunity to treat TR like both a tourist and a local.
She shared her experiences with us.
Thanks Andrea – we're certain you'll be back soon!
________________________
by Andrea Beam
Travelers Rest, once a pit-stop for hikers and bikers headed to the mountains, has turned into a genuine oasis for travelers from all over.  Recently I had an opportunity to discover for myself all TR has to offer.  Friday afternoon, I drove a few short miles and checked into the Swamp Rabbit Inn to spend an entire weekend. I'm going to 'pause' here and give a shout-out to the owner, Wendy Lynam. She was so kind and accommodating throughout our stay. We loved everything from the privacy of the grounds to the creaky floors that led to our cozy room. My son, JP's, only complaint was the fact that we didn't have a sit-down meal with the other occupants.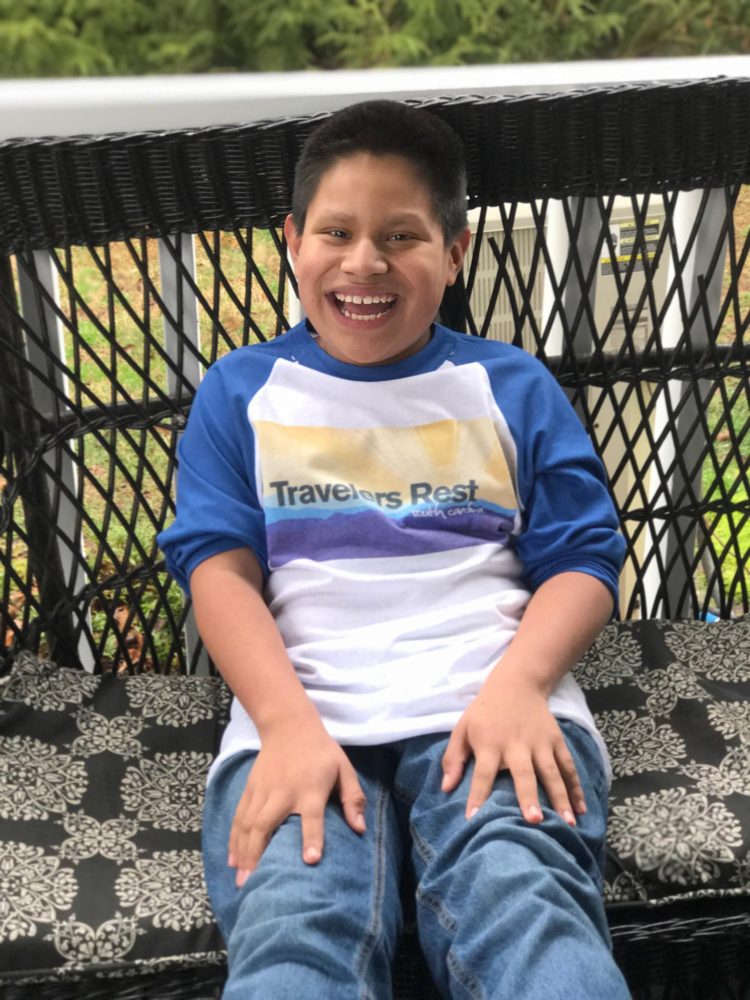 The beauty of a small town is that it's small. Dinner was only a short walk from the Inn. I'd heard so many good things about Farmhouse Tacos, we made it our restaurant of choice.  SO glad this was my first stop. The only thing better than the service was the food. I could write an entire article describing what was on my plate. The first taco I ordered (notice I said 'first') was the BBQ Chicken. If you do nothing else with your time in TR, stop in and order one of these. You can thank me later. When the food is good, I'm typically not one to notice presentation, but the "Smores for Four" on the dessert menu was exceptional. It comes with marshmallows, chocolate, graham crackers and a miniature campfire for roasting the marshmallows. This is a must-try for all ages. It was a dining experience in and of itself.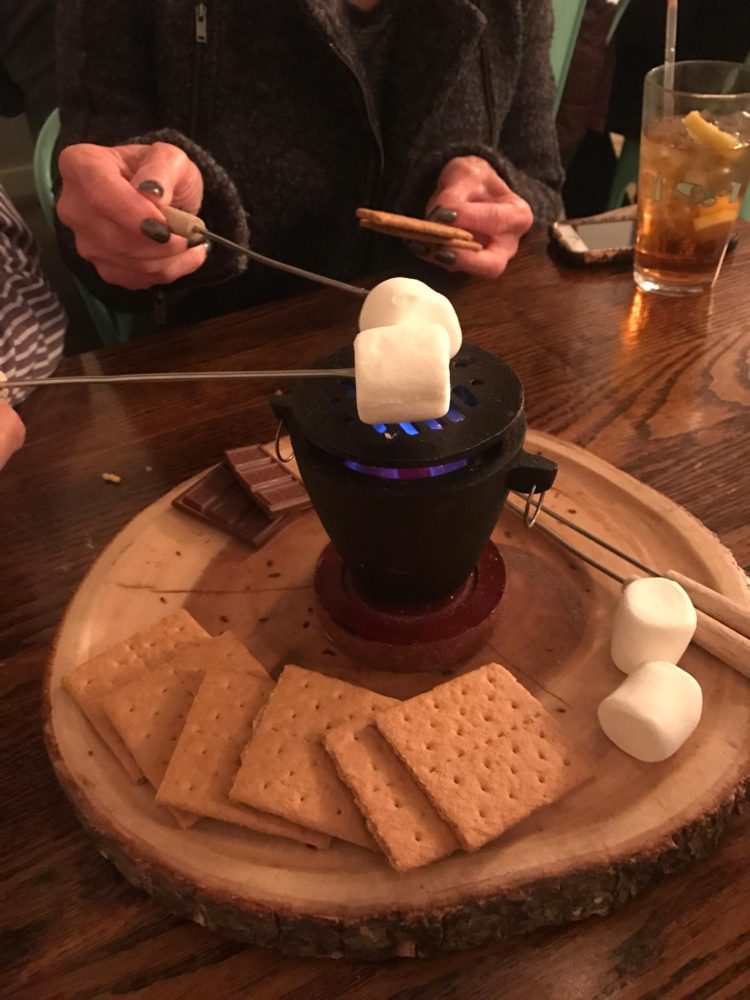 Main Street was lit and it was a perfect night for a stroll after dinner. I didn't say I took a stroll. Being the lazy humans we are, we headed straight back to our room and crashed, but I'm sure it was the perfect night for someone. 
After a comfortable sleep at the Inn, I had breakfast Saturday morning at The Hungry Drover. This family-style restaurant is a diamond in the rough (literally, the parking lot is not entirely paved). A little off the beaten path, it's a place only the locals know. Breakfast is my favorite meal of the day so finding the perfect place was of upmost importance. I ordered a sausage omelet with a side pancake and left fat and happy. Hungry Drover exceeded my expectations and will do the same for you!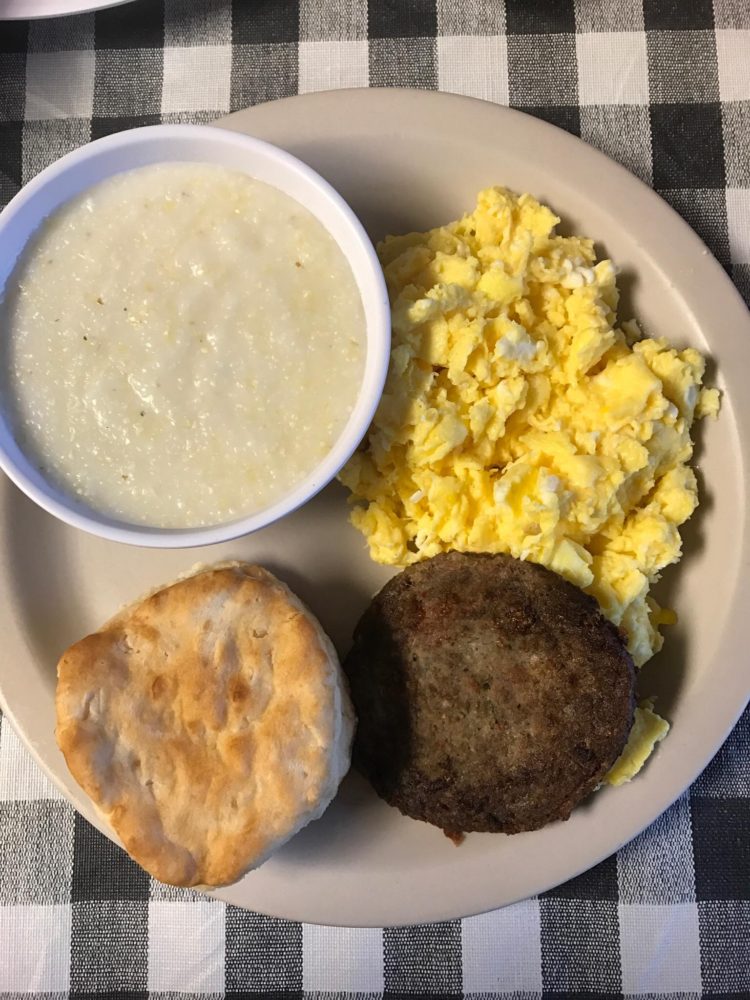 Breakfast was followed by a little shopping. After the gluttonous display at the Drover, I needed to walk. I enjoyed dipping in and out of the eclectic stores on Main. I picked up a few t-shirts and met a new friend at Swamp Rabbit Tees (Hi, Shelby!). Goose Feathers was my next stop. What an adorable store. It was filled with everything a girl could want. I somehow managed to leave with money in my wallet. I can't wait to go back!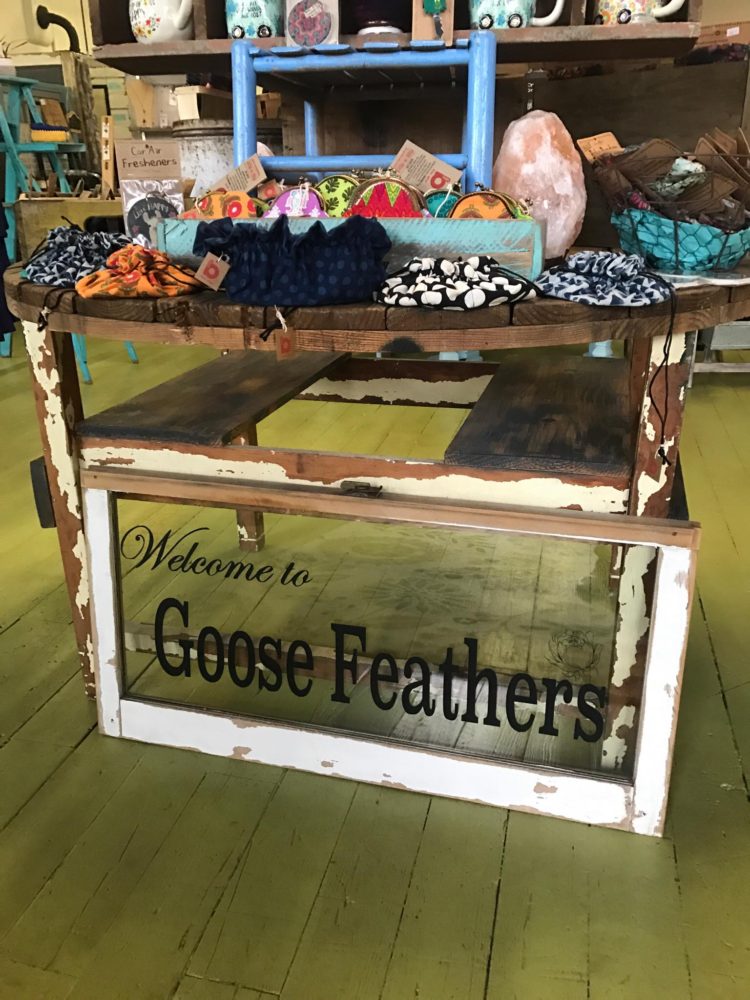 Since the weather was not inviting, the remainder of our afternoon was spent indoors. I had a six-year old boy in tow so we practically camped out at The TReehouse Café and Studio being creative with paints, chalk and various other art supplies.  The Café served up a tasty lunch and entertained my sidekick at the same time. Finally, a place where moms and dads can enjoy a meal with ALL the children and leave without losing any hair. Never again should you feel trapped indoors on a rainy Saturday (or rainy ANY day). TReehouse Café and Studio is there for you.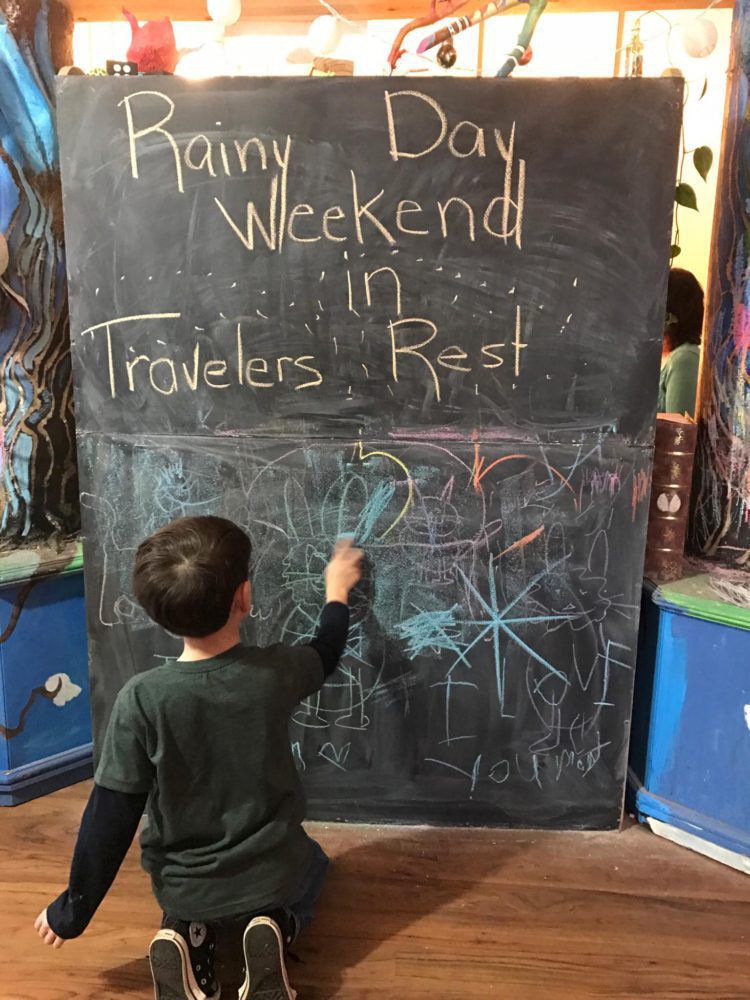 TR offers many restaurants to please any palate, but when you have children (four to be exact) you can't go wrong with pizza. Saturday night's dinner was some of the best pizza around.  My crew highly recommends Sidewall Pizza. Weekends can get pretty crowded, so you'll want to make a reservation if you plan to try it on a Friday or Saturday night. After bread twists, pizza, ice cream, (did I mention bread twists?), I was DONE for the day.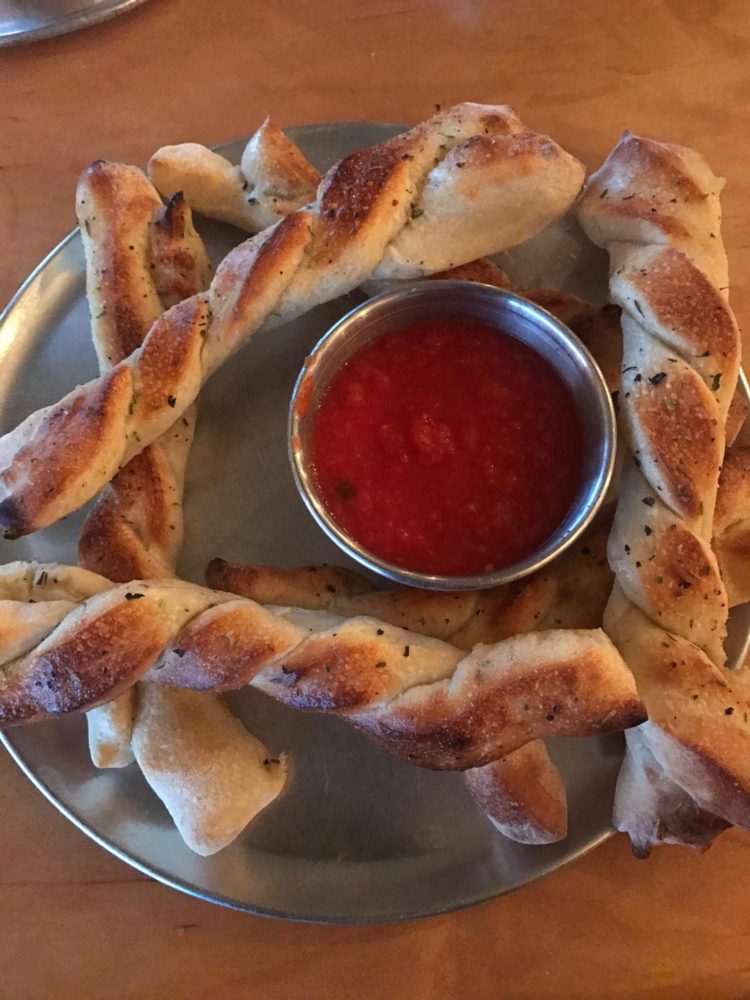 We headed back to our room.
Swamp Rabbit Inn's kitchen was stocked with coffee, bagels, yogurt and various other breakfast foods. The only thing on our Sunday's agenda was a little bit of work on the computer. Rain was a welcomed friend on this morning.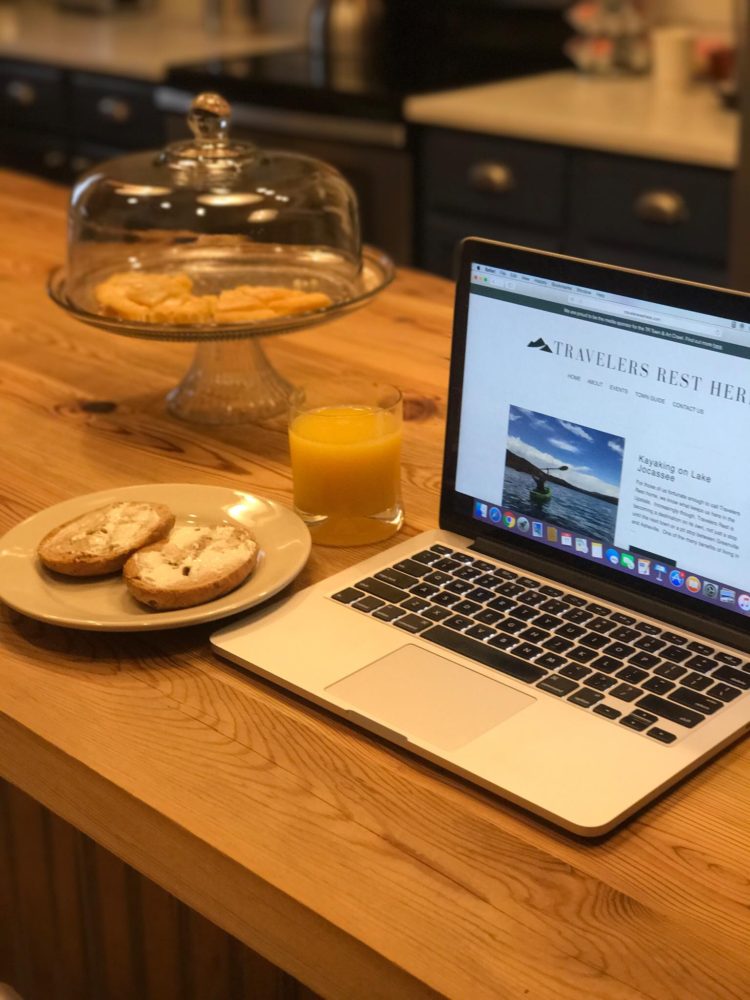 The weekend was just enough to whet my appetite for more of Travelers Rest. So many restaurants, novelty, craft and antique shops and even a driving range I didn't get to visit.  And that's just on Main Street.
We've already made plans to return to this mountain town.  Two days just wasn't enough.