Spacious dining room.
Open kitchen.
Gleaming red meat slicer imported from Italy.
Floor to ceiling windows showing off the rolling hills of the golf course.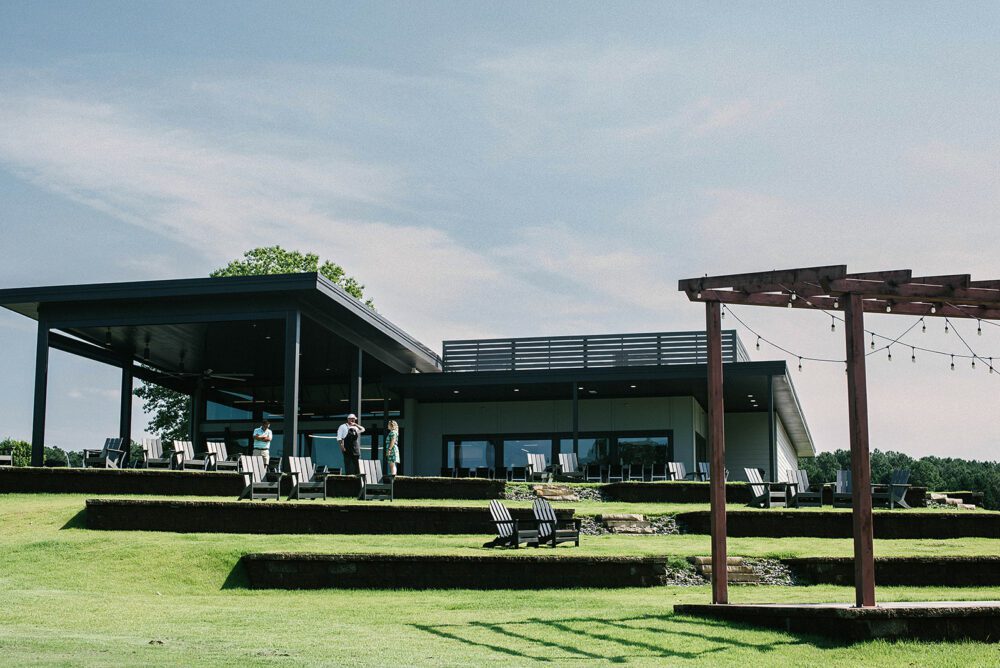 Core 450 is a bit of a show off as soon as you close the car door behind you in the parking lot.
First, it's a lovely drive out to Cherokee Valley Course & Club, no matter what direction you come from. Then there's the pristine landscaping. And the waterfall and rock work as you climb the stairs to the entrance. Next there's the heavy front doors and the sense of both spaciousness and coziness as you enter.
Yes, please serve me something delicious and unusual in this beautiful space.
Of course, a restaurant cannot succeed on a beautiful space alone.
Sure, we love a good view and a warm atmosphere, but the food has to deliver. The menu needs variety and flavor.
And, let's not forget the people pulling all this together – the real stars of the show. The cooks and the chefs and the servers. The executive chef assembling all the puzzle pieces together and presenting a final big picture product.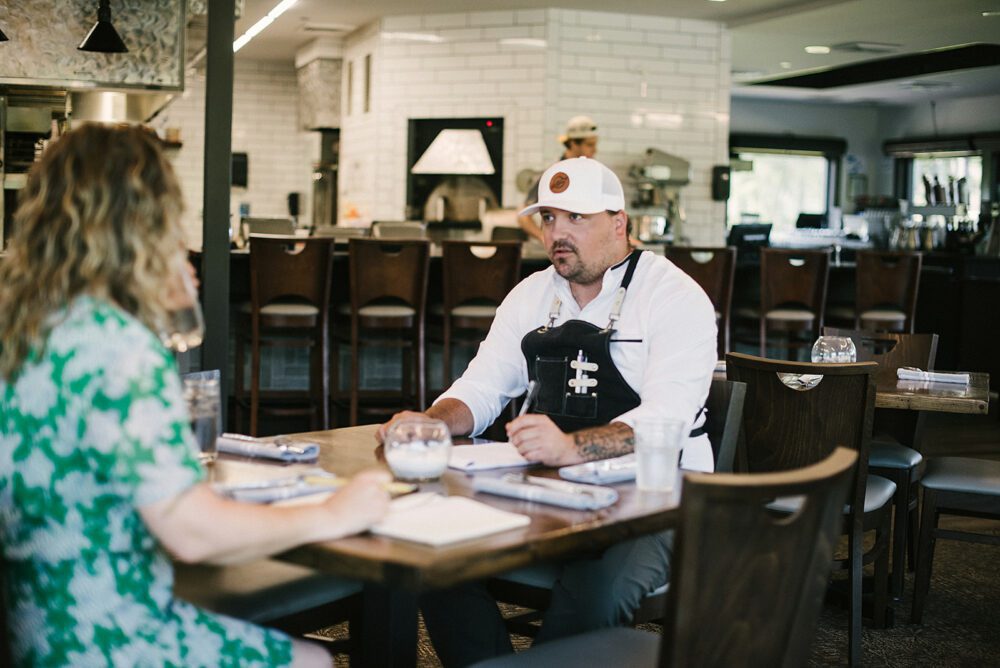 Direct eye contact, a firm handshake and a friendly smile – those are the first things I noticed when I was greeted at Core 450 by their Executive Chef Gene Magliaro.
He's welcoming, proud of his team and generous with his praise of their work.
Chef Gene has been at Core 450 for a few months, coming from Maestro Bistro in downtown Greenville and Farm Fresh Fast. The leadership at Core 450 heard of Gene and reached out to him to invite him to join their crew at Cherokee Valley.
It was just about love at first sight for Gene and Core 450. "You know, it's pretty easy to fall in love with it," Gene shares, wearing his crisp white jacket, sleeves rolled up to see the hints of an arm of tattoos. "It meets a lot of needs, as a chef. I see the outdoors, we've got this state of the art kitchen," he looks around the space we're sitting in.
You know, as he talks, Gene might come across as serious, confident and maybe with a bit of a competitive edge, and he has reason to be. He's good at what he does. His team likes him. The proficient vibe is tangible and that takes a good leader to create. He jokingly refers to himself as dad and to his crew as family. One of his staff has even been a friend since college.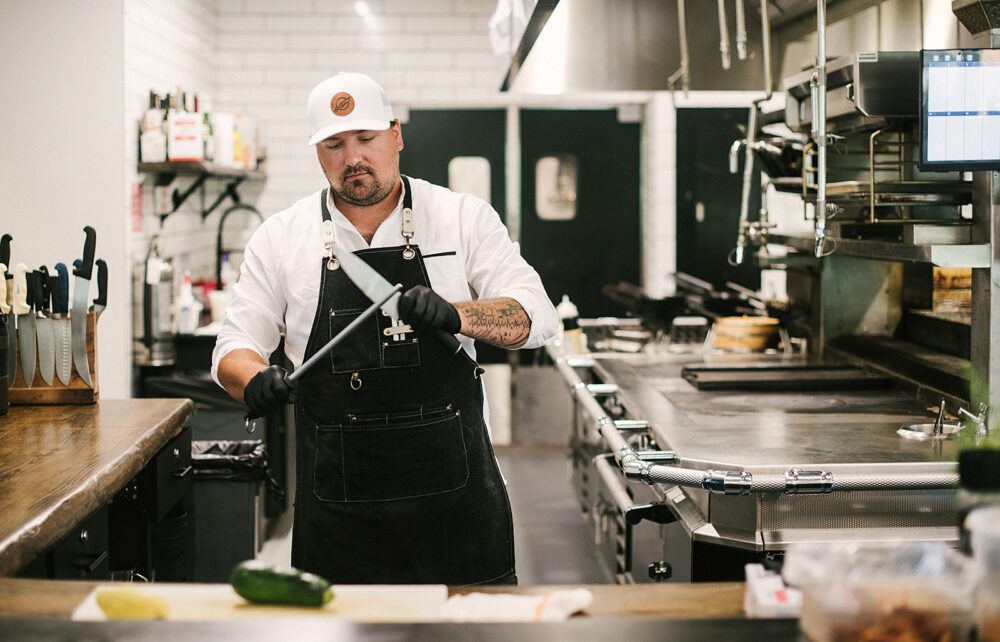 But the softer side of Gene is evident nearly as quickly as the confident and capable side is. Here's my first clue of that other side of Gene. One of his staff had his son with him – a three year old with a quick grin and a lilting voice. When we headed out for the tour of the golf course, via a golf cart, young Sebastian jumped right up to join in. Gene took his hand and grinned, "This is my godson," he told me. And Sebastian fell in natural step with us, along for the golf cart ride with enthusiasm and joy. Listen, if a three year old gives you the stamp of approval, you've earned it indeed.
Core 450 is walking a bit of a tightrope, and they're doing it well. They're approachable – you've got traditional golf course fare on the menu – a stellar burger, phillies, tacos, pizza (But better than you're thinking if you imagine golf course pizza. The one we sampled had RIBEYE and bacon jam on it. Enough said.) But they're also upscale dining – perfect for special dinners, anniversaries, birthdays and date night.
Another unique food offering at Core 450 is the shrimp – the jumbo black tiger shrimp. You can't just get those just anywhere. There are only two restaurants in the United States where those proprietary shrimp can be served – and yes Core 450 in Travelers Rest is one of them!
Completely open to the public, the restaurant is not a members only sort of environment. (Sure, members of Cherokee Valley Course & Club receive some special discounts, so if you're a golfer, it could be worth your while to join.) Open seven days a week: Monday & Tuesday from 11 to 8, Wednesday to Saturday 11 to 9 and on Sundays brunch is served from 10:30 to 2 and you can get dinner until 6.
Another reason Gene has been a great fit for Core 450 and Core 450 has been a great fit for him is his flexibility in the kitchen. "My niche is really not having one," almost a smile spreading across his face. "I am obsessed with food." Gene talks about his love for the wide variety of options – for his deep desire to experience food across cultures – in diverse and complex ways and in simple and straight forward ways. His special passion is butchering. "We bring in whole loins and I break those down myself," he says. "It's almost a lost art – but it's coming back."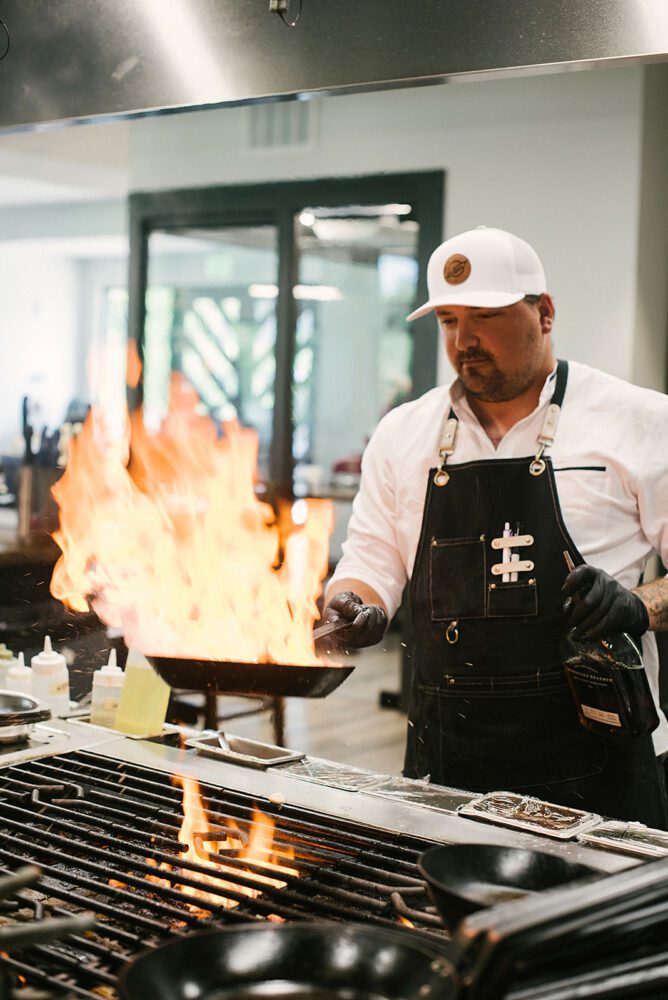 At this point we veer off into a discussion of the term lollipop cowboy – that's a phrase with which I am unfamiliar. Turns out, it's a cut of meat – a bone in ribeye. And, as you might imagine, Chef Gene prefers his steak to be rare. Which sends us down another rabbit trail of a conversation discussing rare vs. well done. (Which side do you land on?) I asked him if he's bothered when a guest orders a steak well done. In his good natured way, he says of course not – he never wants to tell a customer no. But, he laughs, "I would love to come out and have a sit down conversation with him," he leans back. "I'd like to say – I know where you're coming from, but I have to tell you – you're wrong."
During our chat, we were presented with small cups of cafecito – which Gene explained is Cuban coffee. Small cups, one for each of us, a morning tradition for the team – the taste of crisp fresh energy. Brewed in a little metal pot – whipping the brown sugar creates some sort of little magical elixir and it's a delightful part of our morning together.
After we chatted inside with Gene, Head Golf Pro Robbie Edwards joined us and we toured the golf course together – watching Robbie show us how it's done. Sure, I tried to hit the golf ball once. It wasn't pretty. But the views sure were! (We're crafting a second article about Cherokee Valley Course & Club for y'all too.)
By the way, there's a real perk of having an impressive restaurant like Core 450 on a golf course. Whilst golfing, should you perhaps desire a burger – or maybe a lollipop cowboy – all you have to do is press a button. Yes – an actual button on your golf cart connects you directly to the restaurant and your order will shortly be carted right out to you – whatever hole you're on. (How's that for delicious service?)
After we toured the golf course, watched Robbie show his skills (he can teach you lessons too) and helped one fellow golfer rescue his cart from the bushes – true story – we headed back to the restaurant for lunch.
"We've got the right team," Gene speaks highly of his people and that sort of pride is contagious. "Everyone here is someone I would invite over to my house. I trust them all."
Lunch was an incredible spread and although we really tried, we couldn't actually finish it all.
Robbie ordered that ribeye plus bacon jam pizza – don't underestimate that when you visit! I ordered the Southern Salad and that buttermilk lime dressing was top notch. Jane's plate was loaded with shrimp tacos and before we even got to our orders, Gene sent us out a plate of pork buns that were perfectly messy and ridiculously delicious.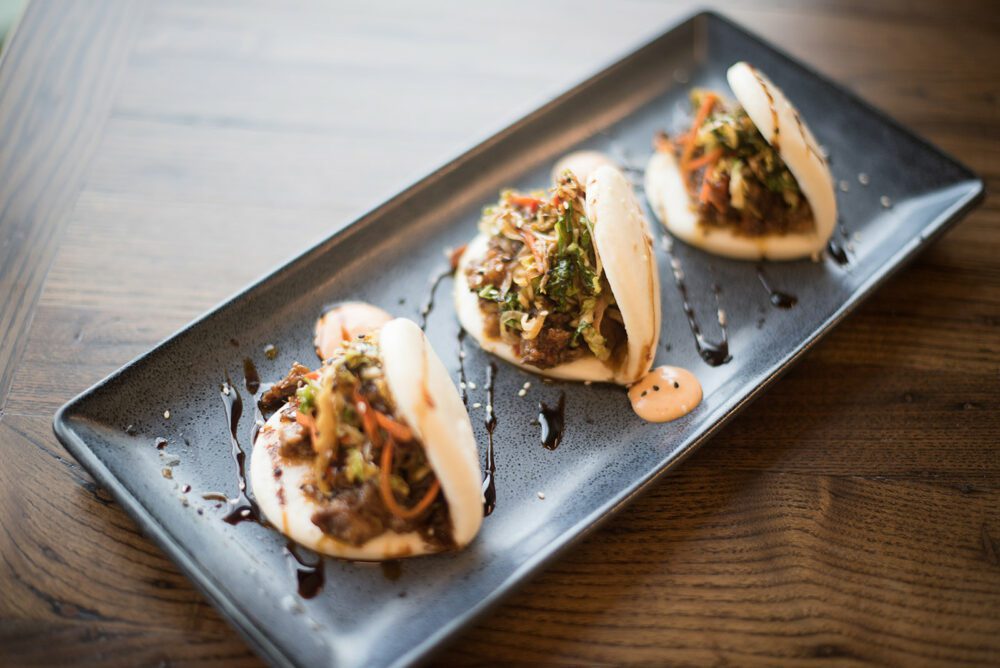 Jane and I sampled the cutest drink – a watermelon margarita. The alcohol was served inside the glass inside a small glass vial that you could either drink directly or blend in your drink. We choose to blend it and it was the right choice! I'm a fan!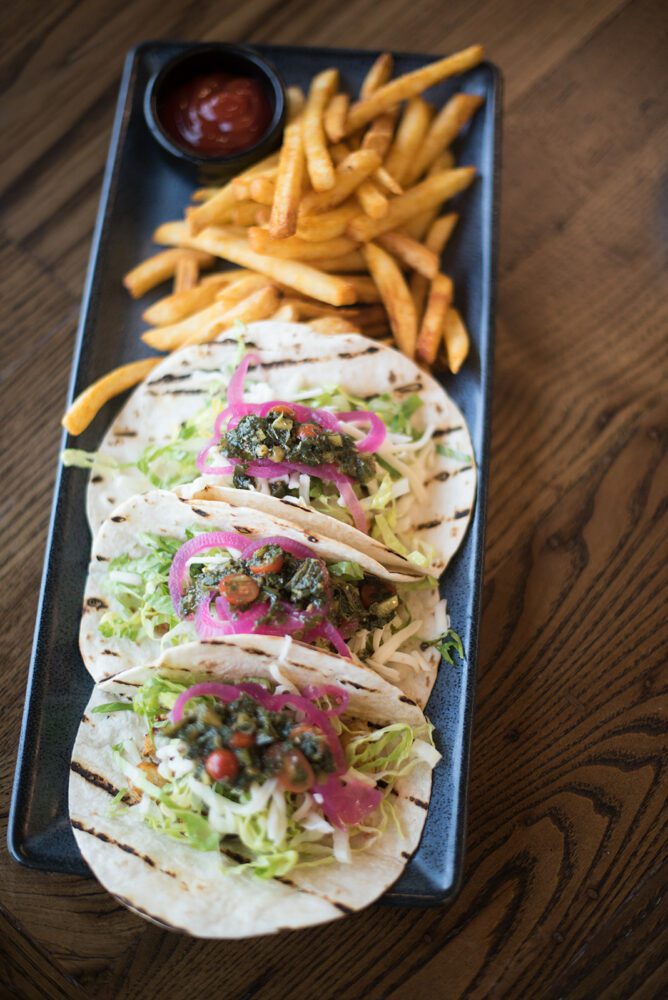 You know, TV shows featuring kitchens and chefs are a bit of a mess – mean-spirited and constant high volume. Anxiety overdose. While we were on the golf course watching Robbie hit a golf ball out of the sand, I asked Gene if he watched those shows. He shrugged, "Not so much," he said. "That yelling. That stress. That anxiety – nobody needs that. Kitchens shouldn't run that way," he said, holding a hand with Sebastian while recording his friend hitting the golf ball. Sebastian ran back to the golf cart and Gene added, "Kitchens only run like that if you're an ass and your kitchen staff is untrained."
And that's not what's happening at Core 450.
______________________