Summer means lemonade and sunny weather and outdoor fun. If you need a few ideas for ways to spend your days in the great outdoors this summer, then check out this list of 10 outdoor activities you can't miss in and near Travelers Rest.
1. Get in the water.
There's no time like summer for dipping into a sparking pool or calm lake to cool off.
Family-friendly Otter Creek waterpark, just outside Travelers Rest, opens in late May. And come early June, Paris Mountain allows swimming in Lake Placid every day but Monday.
2. Plan your own photo shoot.
There are plenty of picturesque nooks and crannies in northern Greenville County. Pack your camera and get a few photos of these memorable landmarks, like Campbell's Covered Bridge or Furman's bell tower.
For more ideas, look back at our post "5 Photo-Worthy Landmarks in the Travelers Rest Area."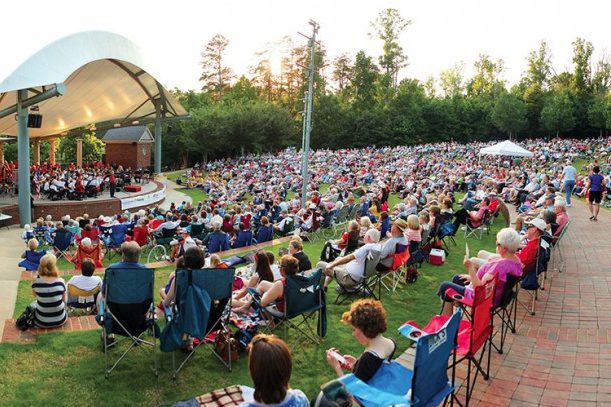 3. Attend an outdoor concert.
Somehow, music sounds even better in an outdoor venue during summer, as you tap your toes to the tunes and munch on delicious snacks from the area's best food trucks.
Music in the Park at Trailblazer Park, Furman's Music by the Lake, and South Carolina BLUE Reedy River Concerts are just a few of the weekly outdoor concert series set during the summer months.
4. Take a walk. Or a hike.
We probably don't need to tell you that Travelers Rest is surrounded by a host of incredible state and county parks, where shaded walking trails and challenging climbs make for a low-impact workout as you take in the scenic natural settings around you.
Caesars Head State Park, Paris Mountain State Park, Jones Gap State Park, Falls Park, and Pleasant Ridge Camp & Retreat Center are a few of the parks you might consider for a hike or walk.
5. Plan a picnic.
Once again, northern Greenville's parks shine when it comes to offering picnic accommodations.
Take a look back at our post "Picnicking in the Parks of Northern Greenville County" for some of the best spots, including a few water-side options.

6. Go out on a boat.
For a sunny weekend, plan a trip up to the lake. Lake Keowee and Lake Jocassee are both within daytrip distance.
You can opt for a canoe or a pontoon for a half-day, day, weekend, or even a whole week through Jocassee-Keowee Rentals.
7. Get lost on a scenic backroad.
Trust us: Northern Greenville County has no shortage of backroads with incredible views. Just roll down the windows and start driving.
One of our favorite winding backroads, however, is Mountain View Road. Highway 11 is pretty remarkable, too.
8. Ride the Swamp Rabbit Trail.
Hop on your bike in Travelers Rest and ride the GHS Swamp Rabbit Trail all the way to downtown Greenville and back for an enjoyable time. Thankfully, most of the route is well shaded.
As if you need a better incentive than the views and the exercise, you'll be passing plenty of great places to rest for a water break, snack, or even a delicious meal both in town and in Greenville.
9. Find fresh produce.
Roadside produce stands and weekly farmers markets dot the northern Greenville area.
For a starting point, look to this list of "Fresh Produce Stands and Stops in the Travelers Rest Area."
10. Face your fears.
Do something scary.
Maybe that means riding a zip line through the trees of the Blue Ridge Mountains or taking a hot air balloon adventure with SkyScapes of America in Anderson or whitewater rafting on the French Broad River near Asheville this summer.
Yes, these adventures might be a little further up the road, but they'll be worth the experience.
---
Photo Credits
Featured image / Fresh produce – Celeste Hawkins
Furman concert – Tina Underwood / Furman University
Lake Jocassee – anoldent
---