From the coast to the mountains, South Carolina is a sight to behold. But in the hands of Travelers Rest-based artist Marie Scott, this Southern state is all the more bright, beautiful, and simply stunning.
Scott – known for her cheery, upbeat paintings of subjects like blooming flowers (i.e. Sunflower Love, featured image) and city scenes — was recently commissioned by public television network SCETV to paint a collection of landscapes that span across the state.
The series of paintings, more or less a "visual snapshot" of South Carolina, depicts memorable scenes that range from the mountain peaks in Pickens to the shoreline of Hunting Island.
Each painting helps to embody one of the state's various regions.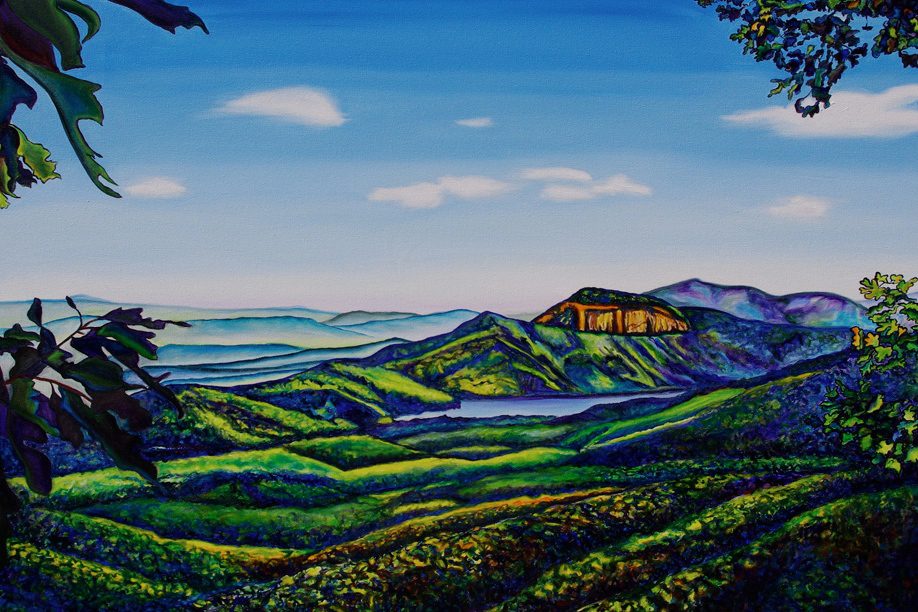 For the Upstate, for example, Scott painted Table Rock, inspired by a photograph she captured during her 20th wedding anniversary, as she and her husband drove aimlessly through the Blue Ridge Mountains in the upper part of South Carolina.
"I can't really think of anything I'd rather be doing on a day off than wandering around the countryside, with nothing on the agenda other than being together," Scott says, remembering that day in particular.
For this one, Scott wanted a leafy frame for the glorious peaks, rather than mountains standing alone without any context.
"You feel like you're sitting in a tree," says Scott, regarding the painting's perspective.
The image offers the most contrast of the collection, with dark shadows characteristic of the mountainous Upstate.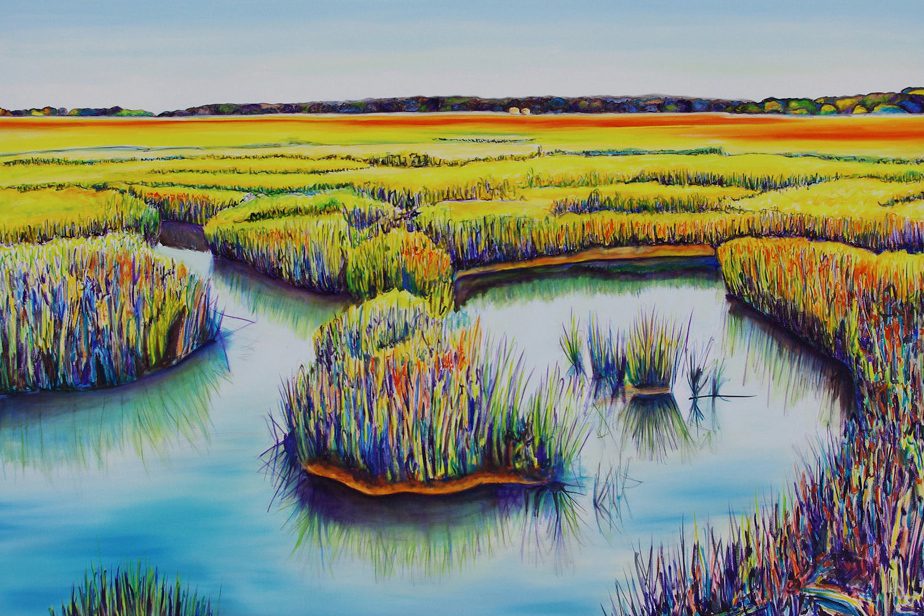 But despite the darker tones, Table Rock still makes use of Scott's characteristic color palette of bright blues, greens, and yellows. You see those even more clearly on her coastal paintings, like the one simply titled Salt Marsh Peace.
"This is what I like to hang in my house," Scott admits. "There's something in me that wants to see the horizon."
Maybe that's her Midwest roots speaking, or her subsequent camaraderie with the flat Lowcountry, where she and her family vacation often.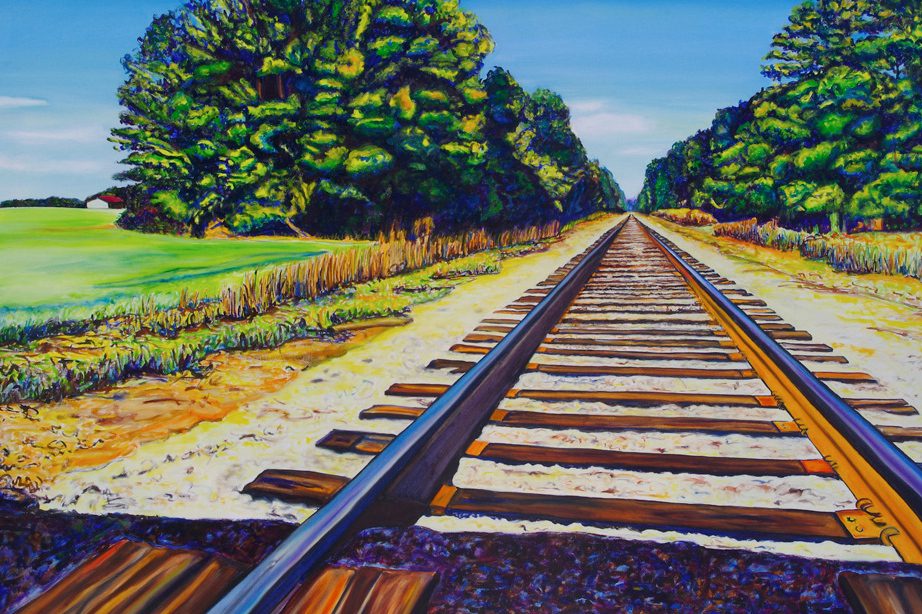 Train Tracks is yet another piece with bright tones and blue skies. The photograph that inspired it was taken along one such trip to the beach in a town called Govan, a little "blip on the map" that represents the Midlands of South Carolina.
Yet for all the cheeriness of her paintings, Scott admits that it's often hardship that drives her to pick up the paintbrush.
"As I'm painting, whatever I'm struggling with works itself out," she says.
Oftentimes, it's the subject matter itself that causes her to ponder deeper questions and to hope, amidst her struggle, for another world.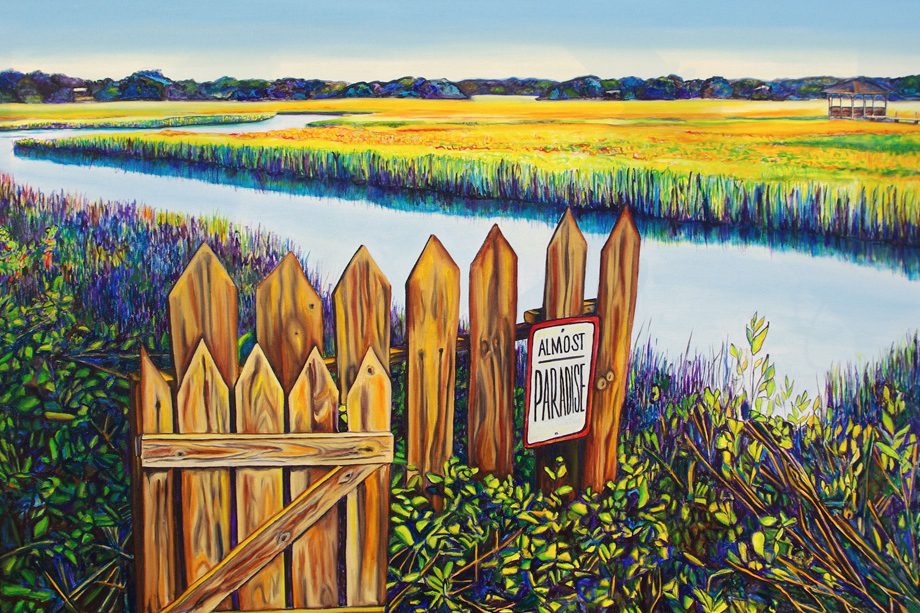 With Almost Paradise, for example, Scott grappled with how people can spend so much energy in order to create perfect escapes for themselves — like this Pawleys Island oasis. Much of the private docks were closed off by locked gates and "No Trespassing" signs.
"It struck me that perhaps the island was full of people who were trying to stake out their own piece of paradise. People like me, who were trying to protect all the many things that they thought they needed to be truly happy," Scott says.
But as the sign in the painting clues in, even the best places on earth are "Almost Paradise" at best, but not quite. Scott says she paints with a longing for heaven, a sensibility that seeps through her work, manifesting itself in bright colors on sunny days.
"Even your perfect vacation is just a glimpse," she says.
And thanks to her, our "glimpse" of South Carolina is a pretty incredible one.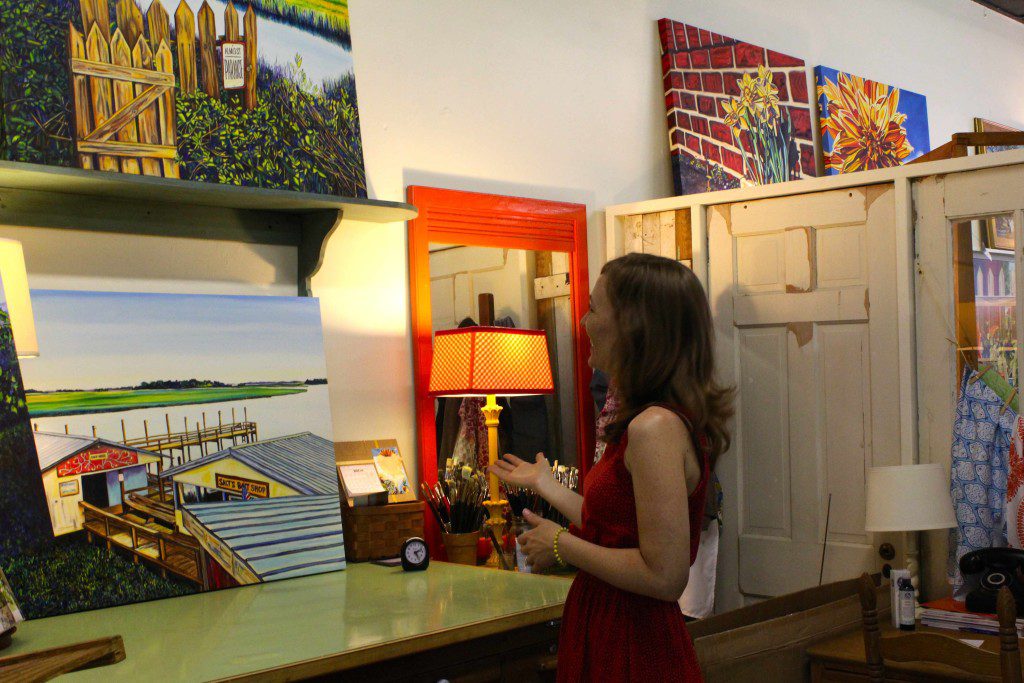 For more on her work, visit MarieScottStudios.com.
---
Photo Credits: Marie Scott with her artwork – Celeste Hawkins; All other images – Marie Scott