Photos and Story by Dave McAda
A cooler than normal day and a little cloud cover was all the encouragement I needed to strike out and explore a new waterfall recently.
Now in the past I could have spent a couple frustrating hours trying to decide where to go, but on this particular day I consulted a list I maintain on my iPhone's Notes app titled 'Bucket List' where I categorize possible exploration sites by state.
My wife and I didn't want to drive longer than one and a half hours from Travelers Rest, so Brasstown Falls in Oconee County fit right at that time limit.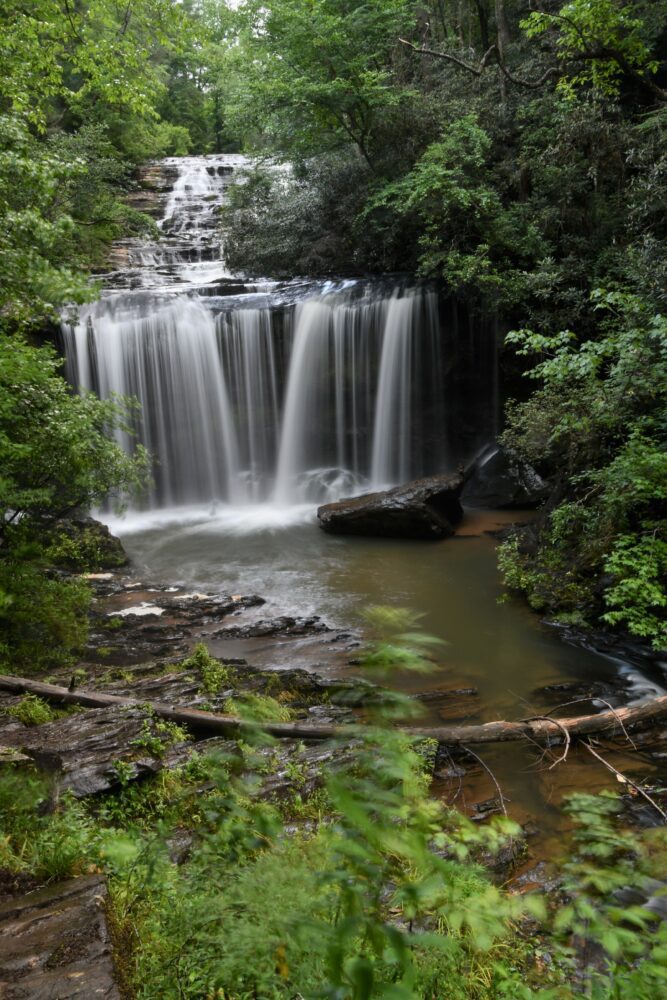 There were several ways to get there but I chose the route with less curves through Westminster, ultimately taking US 76 towards Long Creek and the Georgia/South Carolina line. We slapped a couple turkey sandwiches together, filled the water bottles, told the dog she was in charge of the house, and headed out the door! About 11 miles outside Westminster on US 76 we made a left turn onto Brasstown Road and followed it to the trailhead.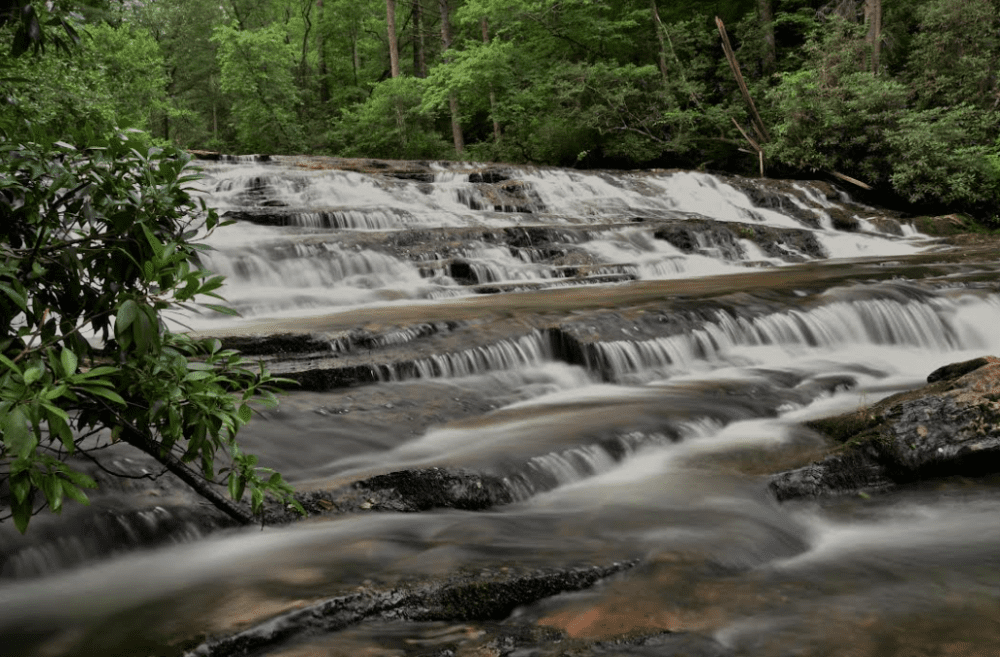 Reaching the Brasstown Falls Trailhead does require a mile and a half of dirt/gravel roads but it was well maintained by the county and nothing our Honda Civic couldn't handle. You have to make one right turn just before a narrow bridge in order to reach the trailhead. Parking at the trailhead was a little loosey-goosey, so just be considerate of others in order not to block them. (There are no restroom facilities and the area is considered Day Use only—no camping.)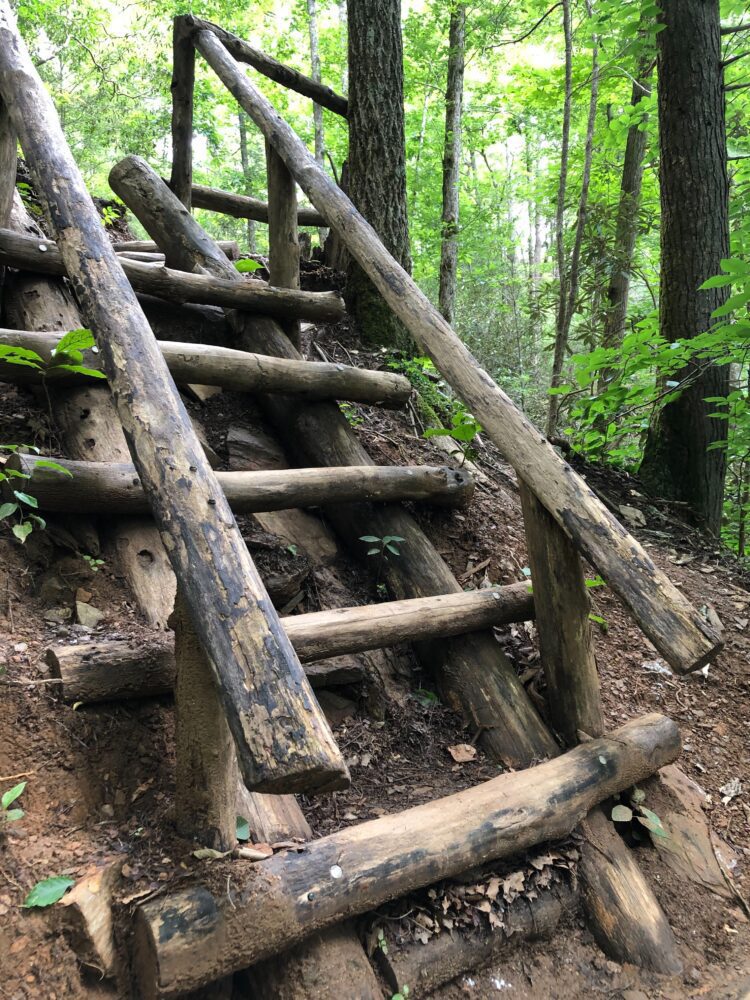 We could hear the waterfall from the trailhead. In fact, a well-traveled dirt path led us through the trees to the top of the triple waterfall in less than a third of a mile. The upper falls cascade over a wide rocky area, often stair-stepping a foot or two at a time. In total, the upper falls descend about 35 feet. You can step off the dirt/gravel trail for a closer view or continue to a very nice wooden observation platform, built in 2021.
From the upper falls observation deck there are well maintained wooden steps down to another observation deck. In fact, many online descriptions of this waterfall hike omit the wooden decks and steps because they are so new. This second deck gives you a tremendous view of the middle falls.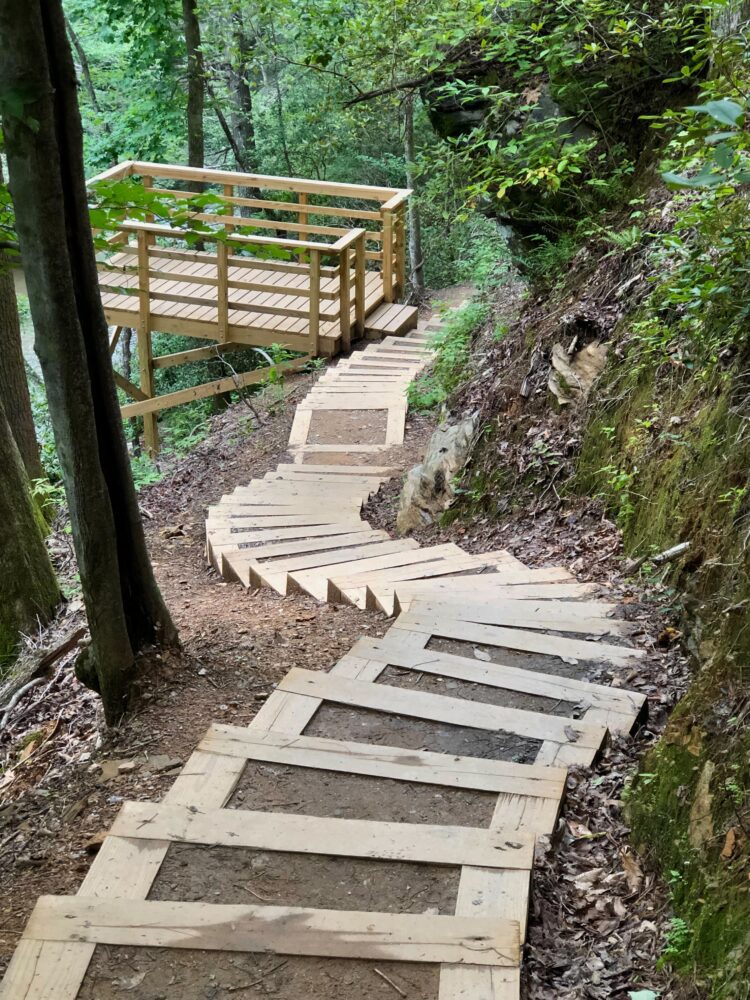 The middle falls are probably the most photogenic of the three stages of falls. They pour straight down 25 ft in a double veil producing a fine mist that floats to the base of the observation deck.
From there the creek goes through the final, lower stage referred to as a sluice. It is a narrower outlet for the rushing water and is actually turned away from the trail, making it less visible. The best way to view it is by descending more primitive log steps, and even a log ladder, so exercise extreme caution on this lower segment of the trail. This lower waterfall drops about 20 feet into a large pool with a sandy bottom. We watched several people and dogs wading in the cool water. In my opinion you wouldn't miss much if you chose to stay on the second observation deck and return from there. It makes for a long climb out if you go to the very bottom and that is probably what gives the overall hike a 'strenuous' ranking in some publications.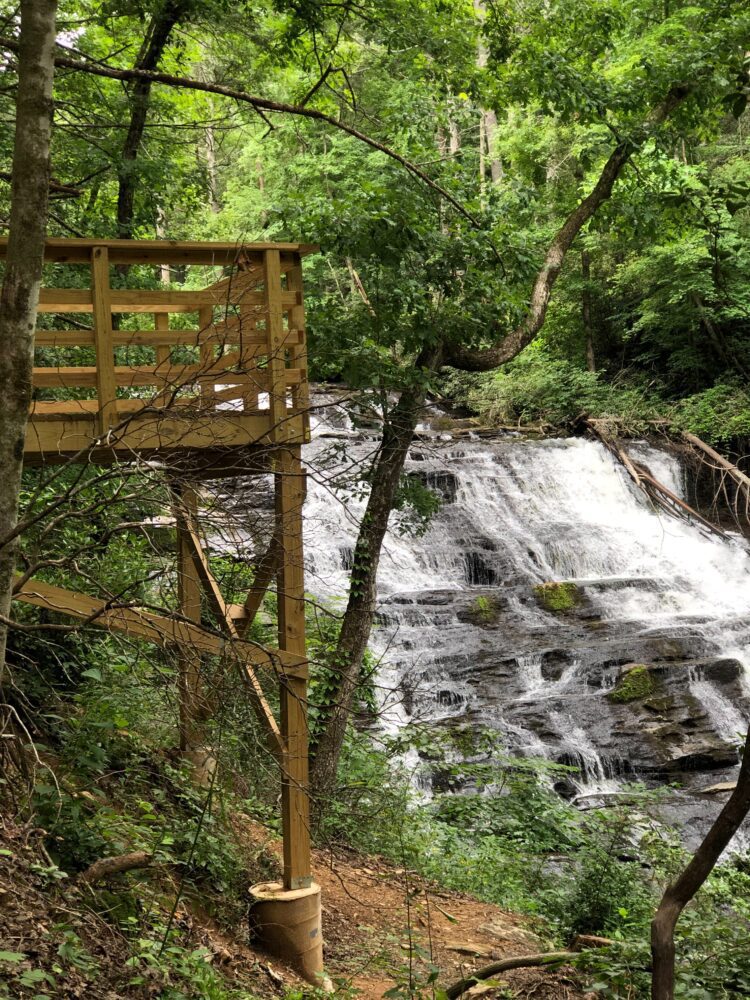 During the ninety minutes we were there, we saw hikers from about age 4 to 65, as well as a few dogs.
One or two people thought their momma was coming behind them to pick up their trash but otherwise it was a pretty clean trail. When we reached the parking area, we evidently startled a large family that had just arrived. I'm guessing they were all trying to pick a bush to pee behind because all the kids looked guilty and kept glancing at each other.
Oh, that reminds me of one more thing …. keep an eye out for poison ivy! 
______________________
For more trail stories and photos by Dave, check out these other posts: